EmpowHER program encourages women's strength training 
College of Health and Behavioral Studies
---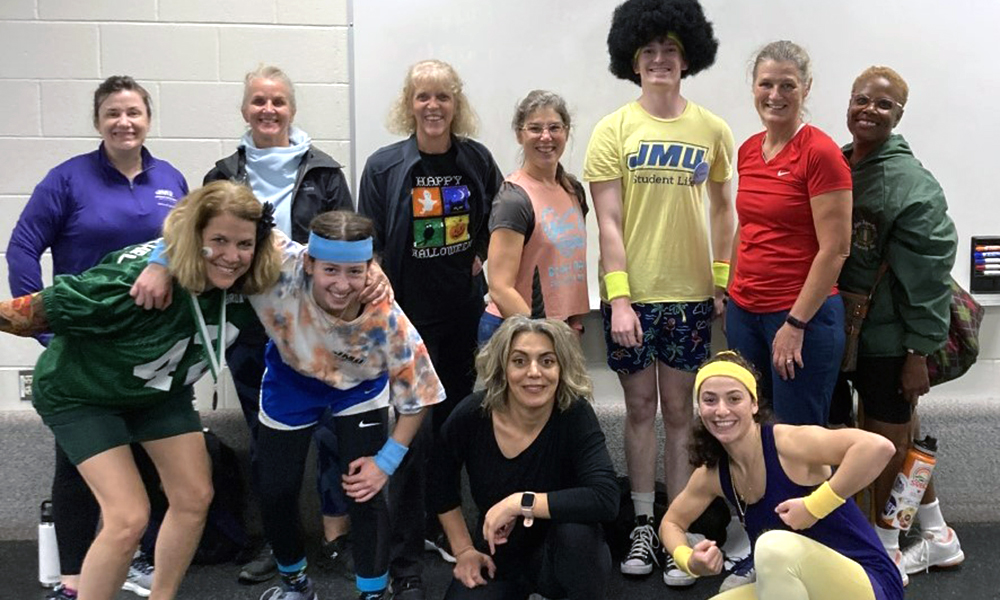 The Morrison Bruce Center's EmpowHER program opens an avenue for women to feel at home in a weight room. The program has existed in one form or another for more than five years, and its primary focus has always been helping women become more comfortable with resistance and weight training.    
Due to a need in the local community and a desire from students to create a resistance training program, EmpowHER was developed by former graduate student, KaciAnna Hardsock ('17), as a once-a-year program. Liz Edwards, director of the Morrison Bruce Center, said the program was needed because physical activity rates are often lower among women due to the fact that they sometimes feel intimidated by large exercise spaces.   
"Women are often not encouraged to lift," Edwards said. "We wanted to create a space that women could feel comfortable learning and gaining the skills they need to make resistance training part of their exercise routine."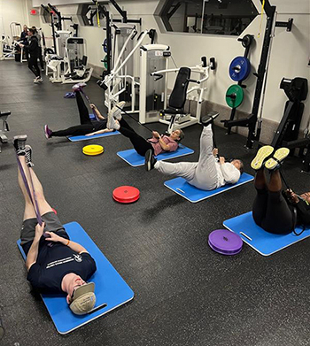 Lila Abu-Saleh is a senior Kinesiology student who is involved with EmpowHER. She said resistance training is an important skill to learn because knowing how to exercise correctly can help women avoid serious health issues in the future. She said osteoporosis is a major risk for women as they get older and resistance training reduces the rate of progression.   
Resistance training can also help women with functional fitness, especially as they get older, Abu-Saleh said. She said practicing resistance training can make everyday tasks like moving things around the house or picking up items easier.     
"Some people just get started later in life," Abu-Saleh said. "They know they want to go to the gym but they don't know where to start. We provide that foundation to help them understand how to go to the gym, how to perform different types of exercises, and how to train what they want to train without feeling like they don't know what they're doing."   
Current graduate student director Catie Cavallaro has evolved EmpowHER into a nine-week program. In her role, Cavallaro leads the undergraduate students who are involved with the program. Together they conduct weekly classes where they teach participants how to use different equipment, ranging from resistance bands to squat racks, as well as how to exercise at home if they are unable to go to a gym.   
Along with weekly meetings, EmpowHER also holds several events each semester. For fall 2022 these events included: "Talk to the Band: Working with Resistance Bands," "Raise the Bar: Learning Olympic Lifts," "Fitness Fountain of Youth: Optimizing Balance and Mobility."    
For undergraduate students who help out with the program as part of their practicum, like Abu-Saleh and senior kinesiology majors Mason Anderson and Olivia Beirne, teaching classes and helping women increase their lifting skills is a great way to gain real experience in the Kinesiology field.   
Anderson said he's become more confident when it comes to teaching classes and that he's become more comfortable with creating mock workouts and coming up with changes on the spot.    
"Everybody's done a great job of learning how to adapt workouts to fit different people," Cavallaro said. "One major aspect of the program is finding exercises that will specifically help certain people as well as finding exercises that are linked to certain outcomes."    
After helping at an EmpowHER event for her Kinesiology class, Abu-Saleh said she knew she wanted to be a part of it. Similarly, Beirne said seeing the program in action and its message made her want to help out with it during her practicum.    
"After seeing one of the classes, I really liked the program and its message," Beirne said. "It's all about making women of all ages feel confident in the gym. [EmpowHER] sends a really good message of the importance of women feeling empowered while doing physical activity."     
This semester, reactions from program participants have been positive Anderson, Beirne and Abu-Saleh agree that it's been rewarding to see women in the program go outside of their comfort zones and to really push themselves.   
"For me, I've been teaching a group how to bench press for a few weeks," Beirne said. "At first there were a few who were nervous to get under the barbell but I've been able to help them do that and to start adding weight. It's been really nice to see their faces when they've achieved a goal like that."