College of Health and Behavioral Studies
Health sciences alum recruits fellow Dukes
Q&A with Kristen Krupa ('19)
---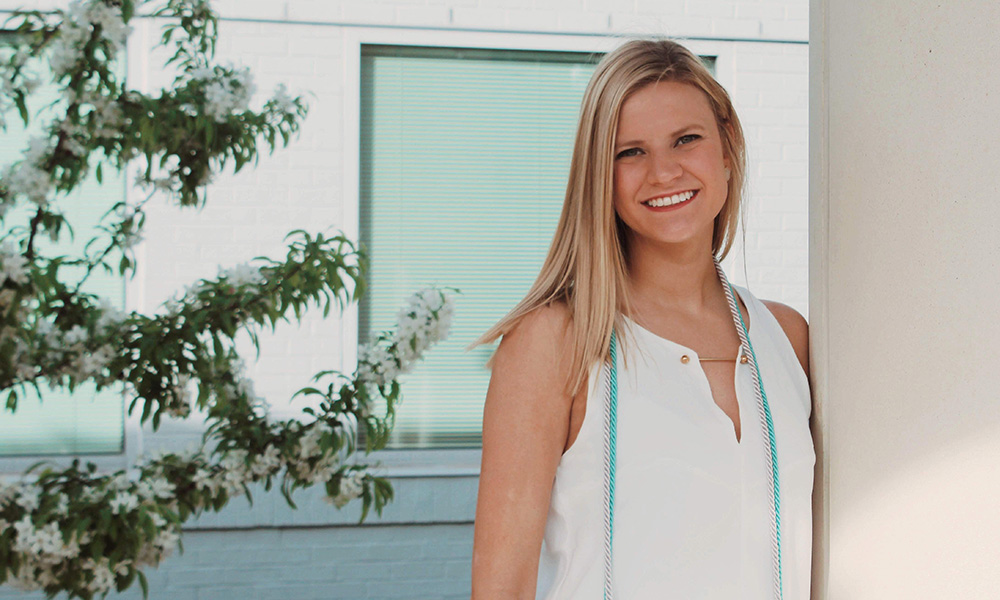 SUMMARY: Health sciences alumna Kristen Krupa ('19) met her future employer, Medix, at the JMU career fair during the second semester of her senior year. She was intrigued by the organization's focus on health and life science-specific job recruitment. Krupa wasn't sure what she wanted to do with her major, but Medix has offered her a unique opportunity to blend her interest in healthcare with her growing communication skills.
---
Why did you choose JMU? 
I, like many other people, first stepped foot on JMU's campus on a tour and absolutely fell in love with it and the people here, everyone was so friendly and nice. But I also had a bit more of a sneak peek at JMU since my sister went here. Since she's two years older than me, I was able to visit her and see the campus and see what it was like to go to football games and things like that. 
What made you decide on Health Sciences as your major?  
In high school, I was on a health science track where I was part of this specialty center program where we got immersed in different health fields. So going to JMU, I knew I wanted to be part of something with healthcare, I just wasn't sure what. So, I declared Health Sciences as my major to help me explore my options. At first, I thought I wanted to do occupational therapy but after junior year and some volunteer experiences, I realized that it wasn't for me. At that point I decided to pick up the general business minor. The business minor JMU offers helped me pivot my career into something less patient facing and more administrative within the healthcare field.  
What was your favorite class while you were at JMU? Do you have any favorite memories/ or stories of your time in the Health Sciences program?  
One of my favorite classes was population health with Dr. Katherine Ott Walter. One reason I loved that class is because I learned so much. I feel like there wasn't a lot I knew from a public health perspective about population health. We learned a lot about the social and physical impacts of individuals health as well. Many things in this class were new for me and it was really interesting because I think especially today, a lot of healthcare topics are brought up in the media and discussed more.
Did you participate in any health sciences related internships, research or jobs while at JMU?   
I did have an internship going into my senior year. I interned for the executive director at the Mid Atlantic Kidney Center. The director basically ran the business side of the clinic and I helped her with administrative tasks. A lot of my work had to do with working with patient charts and calling different patients which was an awesome experience. I was working more on the business side of healthcare and I really, really enjoyed it.  
When did you get your current job with Medix and how do you think the Health Sciences program prepared you for your career?  
I met my company, Medix, at the JMU career fair during the second semester of my senior year. What really intrigued me about the organization is that it's a health and life science specific sales and recruitment firm and that's really what drew me into it. I wasn't exactly sure what I wanted to do upon graduating with my major, but I did know that I still wanted to be within the healthcare field. I was interested in sales and possibly medical device sales and Medix is recruitment which is selling a service, not a product in the traditional sense, but it's still in the healthcare field. Ultimately, after meeting them at the career fair and moving forward with the interview process, I really enjoyed the individuals I was talking to and the conversations I was having. So, when I was offered the job my senior year, it was kind of a no brainer for me to accept based on how I felt about the company and what I do.  
How do you think you've grown professionally since graduating from JMU?  
I think I've grown a lot professionally since graduating. One of the things that I've learned in terms of professionalism is how to interview. It's funny being on this side of the conversation right now since a lot of my job is interviewing different individuals and finding qualified candidates for jobs. I am in more of a sales role now so a lot of my job is communicating with senior level managers so I think professionally how my job has helped me is through communication. I've learned a lot about communication styles and how to communicate effectively and in a timely manner with everyone that I'm speaking to.  
Why did you decide to participate in the recent JMU career fair? 
I would never pass up an opportunity to come back to campus. I graduated in 2019 and not a day goes by that I don't miss JMU. When I was offered the opportunity to go to the career fair to speak to students about opportunities at Medix, no questions asked, I was there. But from an alumni standpoint, we try to get as many alumni back on campus throughout the year as we can just to be able to spread the word about our company and provide current students with information.  
What advice would you give current Health Sciences majors who are starting the job search?   
I would say be open-minded. If you asked me at the beginning of my career or at the beginning of college in general, if I would be in a sales role, I would have said no. I thought I would be more patient facing in a clinical setting. I think it's important to keep your options open and to go for something that you might not totally be interested in at first or something that isn't exactly what you were looking to do. If you have good conversations, find the right people and find the right company that fits your expertise and what you're looking to do, then I say go for it; the opportunities on the other side are going to be really great.