News
IIHHS showcases programs and services through iTalks event 
---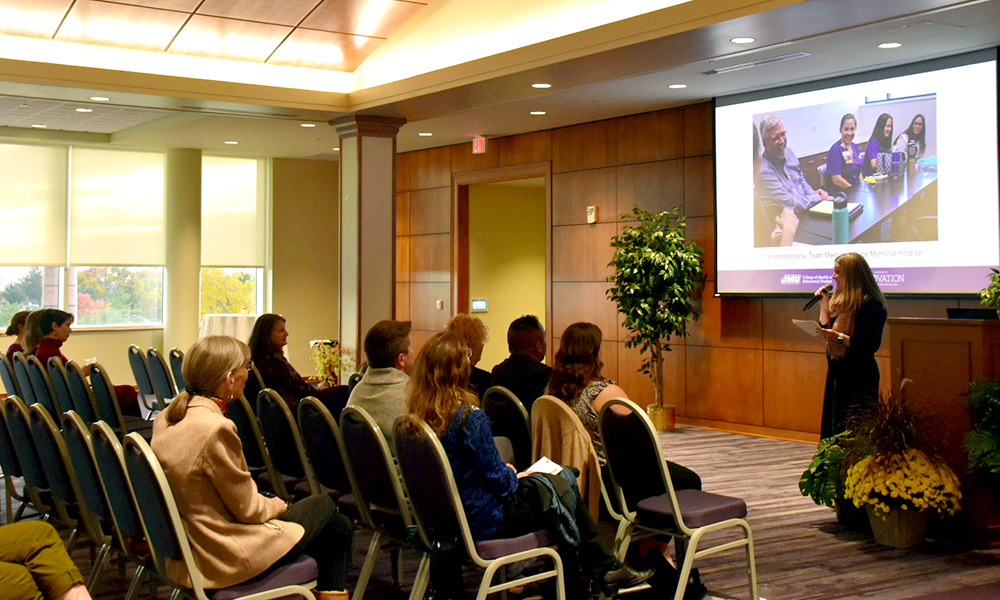 "The Institute for Innovation in Health and Human Services (IIHHS) is a shining example of how to bring students, faculty and community members together to collectively be the change and to create a better world," James Madison University President Jonathan Alger said in a video presented at the event.   
IIHHS is home to more than 25 community engagement and clinical services programs all of which were present at the recent iTalks event on Oct. 26. Institute services were highlighted at this event with the night ending with three presentations. These presentations were given by Kelly Atwood, Onesimo Baltazar Corona and Kayla McKean who work with Counseling and Psychological Services (CAPS), Community Health Education and SexEdVA, respectively.   
Throughout the event, each IIHHS program had a chance to educate attendees about what they do. Shenandoah Valley Migrant Education Program (SVMEP) director Nancy Resendiz Mejia said she enjoyed being able to see all of her colleagues from IIHHS since they're not often all together in one place but she said her favorite part of the event was getting to have people from the community come and learn about SVMEP, which helps migrant children to overcome academic challenges and prepares them for further learning.   
"I think a lot of people don't realize how big the Institute is," Resendiz Mejia said. "A lot of times we're referred to as the hidden gem of JMU and I think it's been amazing to have people come and get to know about our different programs."  
Other programs such as the Campus Suicide Prevention Center of Virginia and Shenandoah Valley Child Development Clinic (SVCDC) are unique because they don't exist in all communities. While the Campus Suicide Prevention Center serves colleges and universities all around Virginia, program manager Tara Nunley said this is resource that not all colleges have.   
She said mental health is often something that many people, especially college students, don't know how to address. So, the goal of the center is to start that conversation and make people aware of ways they can prevent suicide. She said she was glad to be at the IIHHS event because the center itself is quite small and this event allows them to get the word out about what they do.   
"We teach people how to have a public health approach to suicide prevention and mental wellness," Nunley said. We've always been a small office so letting people know that we're here has been difficult but we try to help campuses across the state navigate these challenging times."   
SVCDC is one of the only programs of its kind in the area. The program sees children from ages 2-16 and offers evaluations for children with behavioral problems, developmental delays, autism, anxiety, depression and other challenges and disabilities. After an evaluation is conducted, SVCDC clinical director Ginger Griffin said the center will provide the child's parents with recommendations for referrals, follow-up care or any other service they might need access to in the community.   
"There's no other program in our community that provides this interdisciplinary comprehensive evaluation," SVCDC clinical director Ginger Griffin said. "I think we fit well at the Institute because we're an outreach program; we want to serve children and people in the community."   
IIHHS Director and CHBS Associate Dean, Linda Plitt Donaldson oversees all of IIHHS' community-based programs in partnership with the IIHHS Leadership Team. She said that the commitment to community engagement is what drew her to JMU in the first place. She said her main goal for this event was to spread the word about IIHHS in hopes that it will become more recognized within the JMU community.   
"I feel like IIHHS is a hidden gem," Plitt Donaldson said. "I think we need to have a lot more visibility and we need to be better recognized for helping JMU achieve its vision of being an engaged university. The transformational learning experiences that our students have at IIHHS inspire them to make a difference in their communities, and the staff, faculty, students, and community members who make that possible deserve to be lifted up."