News
Blankenship receives Outstanding Junior Faculty Award
---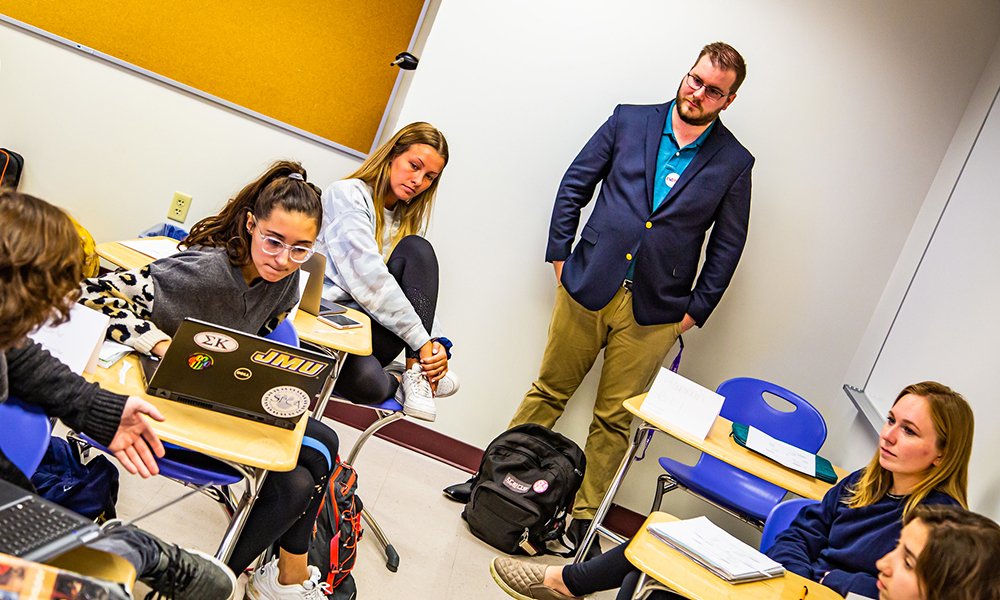 Each year, the College of Health and Behavioral Studies (CHBS) selects recipients for the annual CHBS Faculty Awards. For 2021-22, Psychology professor and faculty expert Ben Blankenship was given the Outstanding Junior Faculty award for his exceptional teaching skills and his research on stigma, social identity and socio-political outcomes. He was nominated by the Department of Psychology's Personnel Advisory Committee (PAC).
Blankenship came to JMU in 2019 after getting his Ph.D. in Psychology from the University of Michigan. One of the main reasons Blankenship chose JMU is because of the focus that the university puts on teaching. Through gaining teaching and research experience as a graduate assistant at Michigan, Blankenship said he knew he wanted to go somewhere where he could continue to do both.   
"I've found an academic home at JMU," Blankenship said. "There are a lot of people here who are really invested in teaching. I really like the focus on not only doing high- quality research but also making sure that teaching isn't just a side part of the job."   
Along with teaching, Blankenship assists students with research through the Structural Oppression as Feelings, Attitudes and Behaviors (SOFAB) Psychology Lab where he is primary investigator. At the lab, Blankenship works with students to research how structural oppression is created and reinforced by personality and social processes. He said it's important to him that students are as involved with the research as they can be.   
"I make sure my students are super- active in the research process," Blankenship said. "Every student in my lab last year presented their research in one way or another, whether that was through going to a conference or presenting a poster. The students here have been excited and interested in every opportunity which makes the job worth it."  
The most recent studies done by the SOFAB Lab include "Place Identity Dimensionality and Politics Among College Students" and "Feelings Towards People with Health Conditions, COVID-19 Prevention Behaviors and Vaccine Hesitancy Beliefs." These studies looked at how place identity influences political behaviors and factors that influence compliance with COVID-19 prevention, negative beliefs about COVID-19 and vaccine hesitancy.   
Because of his research and work with students, 2021-2022 PAC chair Jaime Kurtz said the committee decided that Blankenship should receive the department's nomination for the Outstanding Junior Faculty award. She said the topics that Blankenship looks at in his research, like voting behaviors and how different identities affect social outcomes, are important because they allow students to be exposed to different types of people and identities and they reinforce the Psychology department's values.   
"As we read about [Blankenship's] achievements and all he has done during his time at JMU, we kept talking about how extraordinary he is," Kurtz said. "The work he's doing is not easy, but it's so impactful, which made our decision to nominate him for the award very easy."   
While Blankenship said he's humbled and honored to receive the faculty award, he said he couldn't have done it without help from his fellow faculty members, who have helped him come into his own during his short time at JMU.   
"I'd be remiss if I didn't acknowledge the faculty who helped me with teaching when I first got here," Blankenship said. "They helped me navigate the pandemic and we all troubleshot during that time together. I don't think I could've gotten the award without having help from my colleagues in the Psychology Department."