College of Health and Behavioral Studies
CSD student selected for ASHA Minority Student Leadership Program
---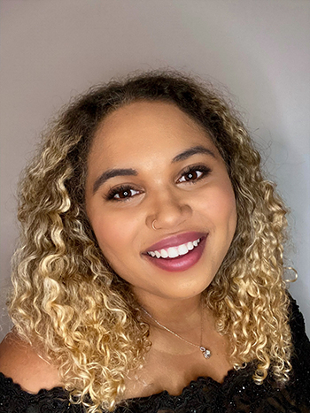 Josephine Miller, a graduate student in the Online M.S. SLP program was accepted into 2022 cohort of the American Speech-Language-Hearing Association (ASHA) Minority Student Leadership Program (MSLP).
She earned a B.S. in Communication Sciences & Disorders and Music Performance from the University of Virginia where she was an active member of the National Student Speech-Language-Hearing Association. Currently, in addition to working on her master's in SLP, she also works as a professional opera singer and event planner.
Josie was drawn to the field of speech-language pathology through her musical career, and love for languages and communication. She loves nothing more than helping others connect with the world around them, whether through music, language or other forms of communication, and she is thrilled to empower others through speech-language pathology.
ASHA MSLP is a leadership development program that is dedicated to supporting the development of diverse leaders in Communication Sciences and Disorders. The purposes of the program are:
To recruit and retain racial/ethnic minorities that have been historically under-represented in the professions of audiology and speech-language pathology
To provide focused educational programming and activities to build and enhance leadership skills
To provide an understanding of how the association works
To provide an opportunity for program participants to interact with leaders in the professions of audiology, speech-language pathology, and speech, language, and hearing sciences
Through the program, Josie will participate in a variety of leadership development activities and will attend the 2022 ASHA Convention in New Orleans. She will also have an opportunity to network with ASHA leaders, university faculty, clinicians, alumni, and others who can support their success and development as future leaders in the field. Josie is looking forward to connecting with other students and professionals in speech pathology and learning through collaboration throughout this program.