College of Health and Behavioral Studies
CSD offers speech and language intervention services to community
---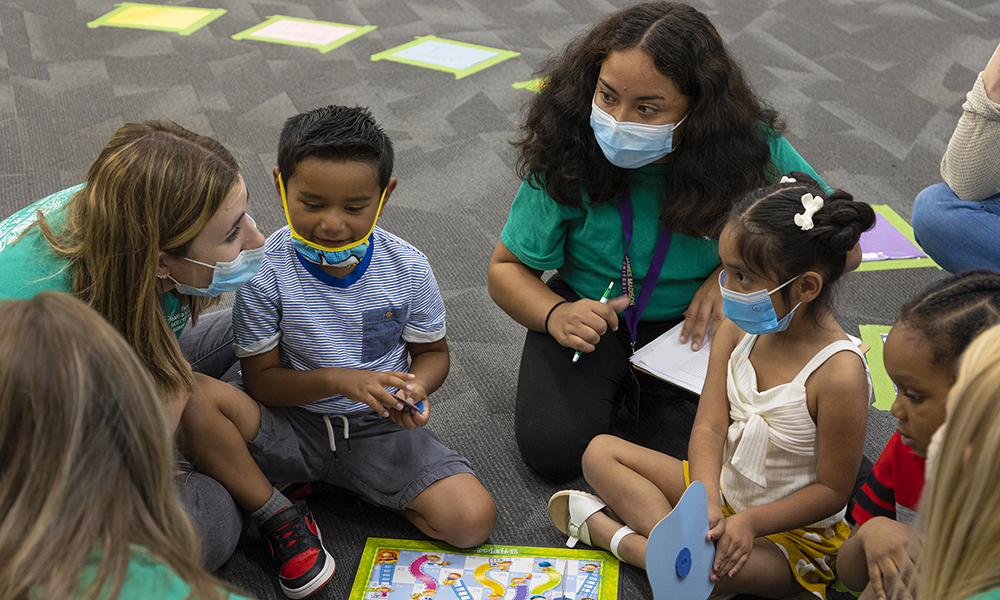 Students in the online and residential Master of Science (M.S.) in Speech-Language Pathology (SLP) programs worked together this summer to provide intensive speech and language intervention services for individuals in the Harrisonburg and neighboring communities. Summer clinic programming included experience with three models of service delivery: individual in-person, telehealth, and group intervention.
Twenty-seven graduate students from the Online MS SLP program moved to Harrisonburg from across the country for six weeks this summer. During their time in the Friendly City these online students worked collaboratively with the 25 graduate students in the residential MS SLP program. Together, these graduate clinicians provided speech and language intervention for 73 pediatric and adult clients. Graduate clinicians were supported in their learning by a group of 10 amazing clinical educators.
The David Kruger Scottish Rite Summer Speech-Language Program has been offered at JMU for 38 years and is funded in part by the Scottish Rite Valleys in Virginia. This summer camp program provided intensive services which included 3 hours of intervention per day (Monday-Thursday) across two 5-week sessions. Children were referred by their school or local speech-language pathologists and 46 children received these intensive services free of charge. Children in the Scottish Rite program also received free hearing screenings provided by the graduate clinicians and clinical educators in the JMU Audiology Clinic.
In addition to the morning summer camp program, graduate clinicians provided services in the JMU Speech-Language Clinic every afternoon. These individual sessions were offered both in-person and via telehealth for pediatric and adult clients.
When not providing direct services, SLP graduate clinicians participated in professional development workshops and also had the opportunity to engage in interprofessional education with Occupational Therapy. Topics included ethics, clinical supervision, cultural humility/competence, and interprofessional education and practice in the management of self-regulation among clients. 
Through these diverse clinical opportunities and peer collaboration, graduate clinicians integrated their classroom knowledge and gained skills in assessment and intervention (both individual and group). They developed skills in planning and implementing services as a team and facilitating speech-language development across naturalistic settings. Additionally, clinicians worked with their clinical educators as they refined skills in clinical documentation, behavior management, and progress monitoring.