College of Health and Behavioral Studies
Occupational Therapy - Alumna Q&A with Savanah Howe
---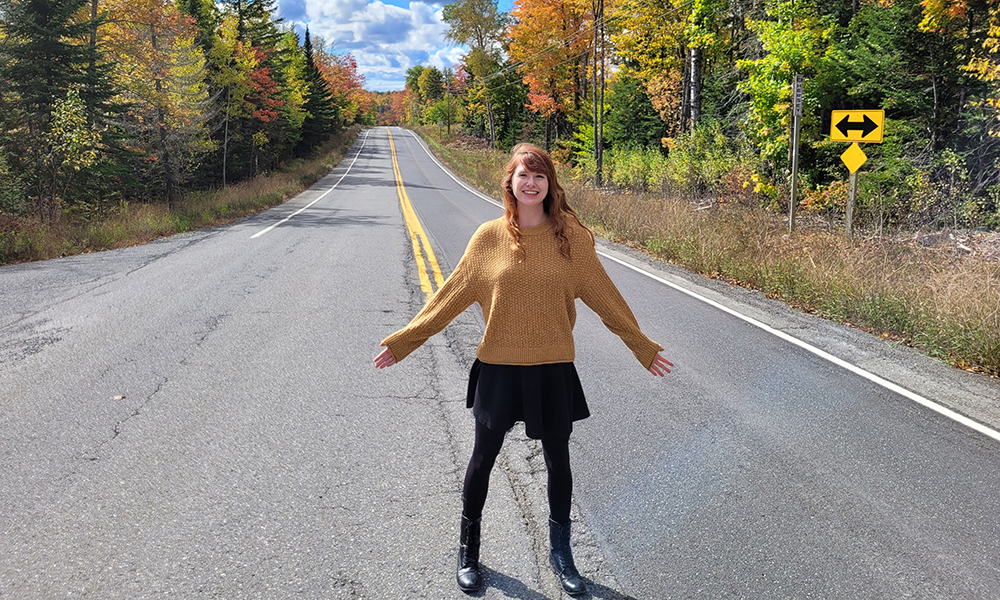 Why did you choose JMU for Occupational Therapy? 
I grew up in Harrisonburg and I loved the community. Through my experience as an undergraduate at JMU, I knew I loved the culture of campus. The JMU occupational therapy (OT) program epitomized what I already loved about JMU. The students are engaged in the community, there are opportunities to build meaningful connections with peers and faculty, and they have a reputation for excellence in the broader OT community. JMU OT offered me the opportunity to begin my OT education by starting my first year of grad school during my senior year of undergrad, which allowed for me to get a head start on my career. 
What were some of the unique opportunities you had as a student in the MOT program? 
For my master's thesis, I had the opportunity to collaborate with faculty from the JMU School of Theater and Dance to design a creative movement group for new caregivers and their infants. It was amazing to be able to combine our perspectives and skillsets to best serve the new parents who came to our groups.  
I also had the opportunity to attend the American Occupational Therapy Association's national annual conference to present my master's research. I received a grant from the Graduate School to help fund the trip. It was incredible to stand alongside my peers and get to share research I was passionate about with OT practitioners from across the country. The sessions I attended during the conference inspired me and made me even more dedicated to learn all I could about my chosen profession.  
We also traveled as a cohort to both Washington D.C. and Richmond for legislative events to participate in advocacy for bills related to the OT profession. I had the opportunity to speak with representatives about the profession of OT and how legislation could enable us to better serve our clients. These experiences shaped my desire to participate in advocacy as a professional. I have continued to attend these events, often alongside JMU OT students. 
What is the faculty-student relationship like in the program? 
As a student in the JMU OT program, I knew the faculty cared about me not only as a student, but as a person. They invested their time and energy into shaping us not only in terms of our clinical skills, but also our personal and professional skills. There are many aspects of myself as a clinician that I can directly attribute to the values instilled in me by my professors. Although I felt challenged academically, I also felt I had the support I needed to succeed. Faculty are open to new ideas and feedback on students' current needs. I remain in touch with the faculty both personally and professionally. After graduating, I have had the opportunity to present at the Virginia Occupational Therapy Association (VOTA) Annual Conference as a peer on a topic of shared passion and interest ("Addressing the psychosocial needs of patients within traditional physical disability focused practice settings") with my past research advisor., Amy Russell Yun. 
What advice would you give to someone considering JMU for their graduate studies in OT? 
Consider the culture you want to be surrounded with for the years you will spend learning. Take any opportunity you have to meet the faculty and current students in the program. There is an energy and enthusiasm for our profession that radiates through the people. The students in the program invest their own time outside of classes into community programming because they have a passion for what they are learning. The faculty work tirelessly to support the students and to continue to improve the program.  
What are you doing professionally now? 
I work full time as an occupational therapist in acute care at UVA Medical Center. I have the opportunity to serve a wide variety of patient populations. My passion is for working with patients with neurologic conditions including traumatic brain injury, stroke, and spinal cord injury. I have the opportunity to work with these individuals all the way from their admission to the ICU to when they leave the hospital. Oftentimes, I get to be the first person to help them get out of bed and start engaging in the daily activities that are important to all of us, but often taken for granted. I also have the opportunity to work PRN in inpatient psychiatry at the same medical center. On the psychiatric unit, I work with individuals considered to be at risk of harming themselves or others, or being unable to care for themselves due to mental health symptoms. My role in this setting is to assess and promote life skills, from concrete skills like sleep hygiene and medication management to softer skills like coping and boundary setting. I love being able to take complicated concepts and distill them into an accessible activity-based group. 
I teach adjunct in the occupational therapy program at JMU. I initially started with one course over the summer and now I teach year-round in three different courses: OT process, Functional Neuroscience, and Adult-based Practice. It has been an incredible experience to return to the program and work alongside my professors as a peer and share my passion for the profession with students. The students are full of enthusiasm and it is humbling to get to play a role in their development as future practitioners. 
I have been serving as a board member for the Virginia Occupational Therapy Association since shortly after I graduated in 2017. I served as the Fundraising Chair and am quite excited as next month I step into the role of President after serving as the President Elect for the past year. As President, I will be serving alongside my colleagues on the board to advocate and further the development of occupational therapy within the state of Virginia.  
What is the best thing about working as an occupational therapist? 
My role and my skillset enables me to form meaningful connections with people, often at one of the most vulnerable times in their lives. I have the opportunity to bring hope about what life could look like after an illness or traumatic event, even if it may look very different than it did before. The work is intellectually and emotionally challenging but incredibly rewarding. I am genuinely humbled and energized by the work I get to do. It teaches me to treat life like a blessing, even when challenges come my way.
How did the JMU MOT program help you prepare to develop and advance your evidence-based practice, teaching, and leadership? 
My peers and faculty filled me with an energy and passion for profession of OT, both in its current state and all of the future possibilities it holds. I had the opportunity to serve in leadership in the program as the vice president for the student OT association, which allowed me to develop my leadership skills and a confidence in my ability to take on future leadership roles. The program encourages advocacy and my experiences within the program led to my involvement in the state organization after graduation. The faculty helped me develop my personal and professional skills, as well as a belief in my own competence. The influence of the faculty on my development as a future clinician inspired me to come back to teach. I graduated from the program with a foundation of knowledge needed to start my career as well as a passion for continued learning that has driven me to seek out continuing education regularly. I know the more I learn, the better I can serve the students and the patients I have the privilege of knowing.