College of Health and Behavioral Studies
Audiology student completes research funded by a grant
---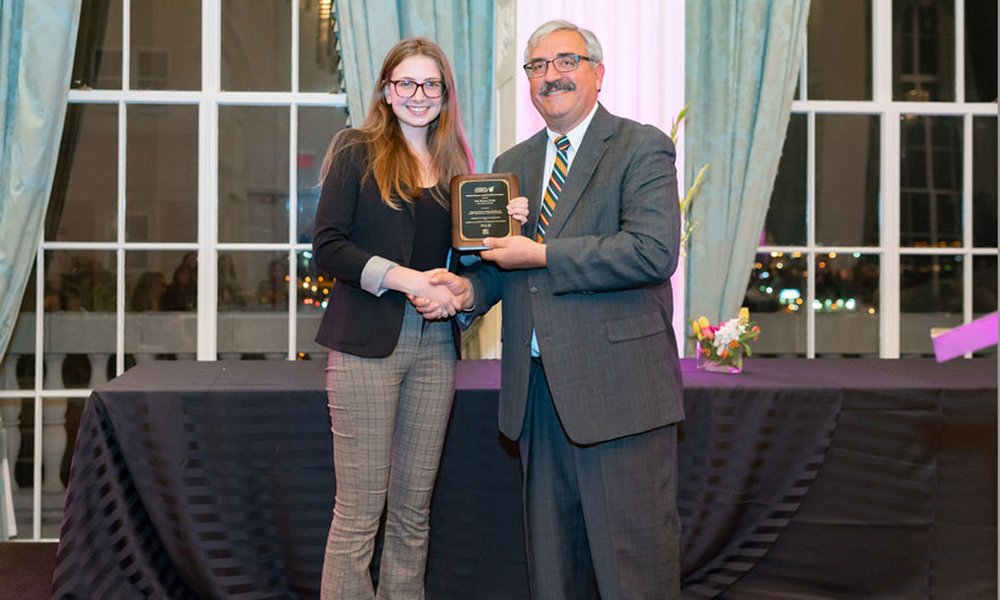 Each year, the American Academy of Audiology (AAA) awards research grants to graduate students studying hearing and balance. Third-year audiology graduate student Erin Hernon was selected last April as a recipient for her research study titled Magnitude Estimates of Speed of Rotation and Angular Displacement as a Function of Frequency. 
On March 31, Hernon had the opportunity to attend the annual AAA conference in St. Louis. At the conference, which she attended with four other members of JMU's Student Academy of Audiology (SAA), Hernon was recognized for receiving the grant. 
She said the conference was highly attended by other audiology students in her field and gave her the opportunity to network with future audiology professionals. Hernon also said that her involvement in SAA enabled her to have this opportunity.
Hernon's research focuses on the vestibular system. She has been examining the relationship between a physical vestibular stimulus and an individual's perception of the stimulus. She said Communications Sciences and Disorders professor Erin Piker has been a mentor for her through the process, and that she's thankful that this grant will allow her to continue her research.   
For Hernon, receiving this grant has allowed her to recruit participants, purchase equipment and to conduct studies on the vestibular system. She said eventually, she will have the opportunity to disseminate her research at future AAA conferences.
"Without this grant, I wouldn't be able to do this study," Hernon said. "I think with the money the grant gave us, I'll be able to expand more on previous research and hopefully learn something new."  
Hernon said she chose to research the vestibular system because it's a subsection of hearing research that not many people know about.   
"I feel so lucky to be able to work with [Piker] who's a well-respected vestibular researcher. Not all programs have someone like her who will advocate for the vestibular side of things, so I feel really lucky to be working with her."   
Outside of the actual research, she said receiving this grant has taught her a lot about the audiology profession. Through filling out the application for the grant, she became a better writer and she now better understands how to more critically read scientific journal articles. She said she's now more aware of what details are and aren't important to include when conducting research.   
After receiving the grant, Hernon said she was able to hone her skills in the lab and to pass on her knowledge to undergraduate students who helped her conduct her study.   
"It's made me aware of the research in the field that's coming out," Hernon said. "It's important to keep up with the research in your field even if you're not a researcher. I've gained the skills to effectively and efficiently read research and decide what's worth implementing."