College of Health and Behavioral Studies
Freshman health sciences student raises Alzheimer's awareness
---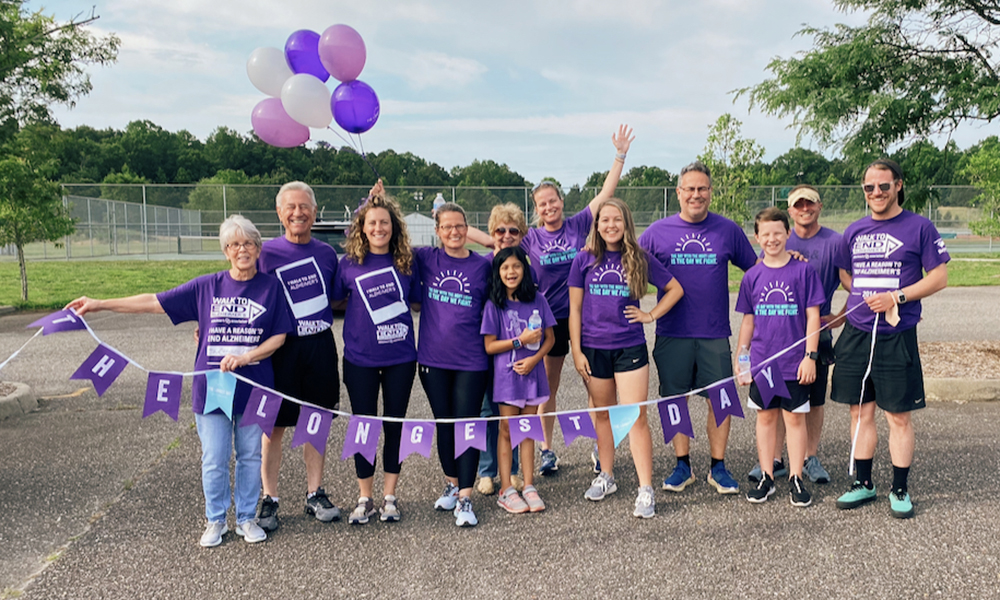 Freshman Health Sciences major Emma Howell became passionate about raising awareness for Alzheimer's Disease after growing up with a grandmother who had dementia.  
Before coming to JMU, Howell learned of The Longest Day fundraiser which allows people to raise money for Alzheimer's through a fundraiser of their choice, held on June 21st, the longest day of the year. For her fundraiser in 2021, Howell chose a running event and said she raised $2,000 for the Alzheimer's Foundation.  
After hosting her Longest Day event last summer, Howell said she wanted to continue planning events to raise awareness for Alzheimer's.  She was inspired to plan an event for JMU students, and found her Health 100 class to be an open avenue for building awareness.
Health 100 students are required to attend JMU Passport events, which talk about different aspects of health from physical to social. In March, Howell organized one of these events about understanding the disease. She said 35 to 40 people attended and that she enjoyed being able to share her knowledge on the subject with other JMU students.
"While watching [my grandma], I became very passionate about raising awareness for this disease," Howell said. "I started working at a nursing home in high school and became very involved in the geriatric community and I would love to get more people at JMU involved in it."  
With her passion for Alzheimer's awareness, Howell said she has always known that she has wanted to pursue a career in the medical field, which is why she decided on a Health Sciences major. Although Howell is just getting started in her major, she said that anyone who plans to go into the healthcare field needs to know about Alzheimer's.  
"I want people to be aware of the symptoms," Howell said. "There are a lot of early onset signs [of dementia]. I'm sure a lot of [health sciences students] are going to be working with patients in the future so it's important for them to know how to handle all types of people."  
Howell said she would like to plan more Passport Events in the future, so that she can educate more people about Alzheimer's. She said she also plans to host another Longest Day fundraiser while she is home this summer.  
As someone who wants to work in the healthcare field, Howell said she thinks the work she's done with Alzheimer's awareness has helped prepare her for her future career. She said that her personal experience with the disease and her own knowledge of it will help her to care for patients in the future.  
"I think working with Alzheimer's awareness helps me understand how to care for patients," Howell said. "Because of the work I've done, I can better understand what dementia patients are going through and why they feel a certain way."