News
JMU Nursing participates in national challenge to educate on climate change 
---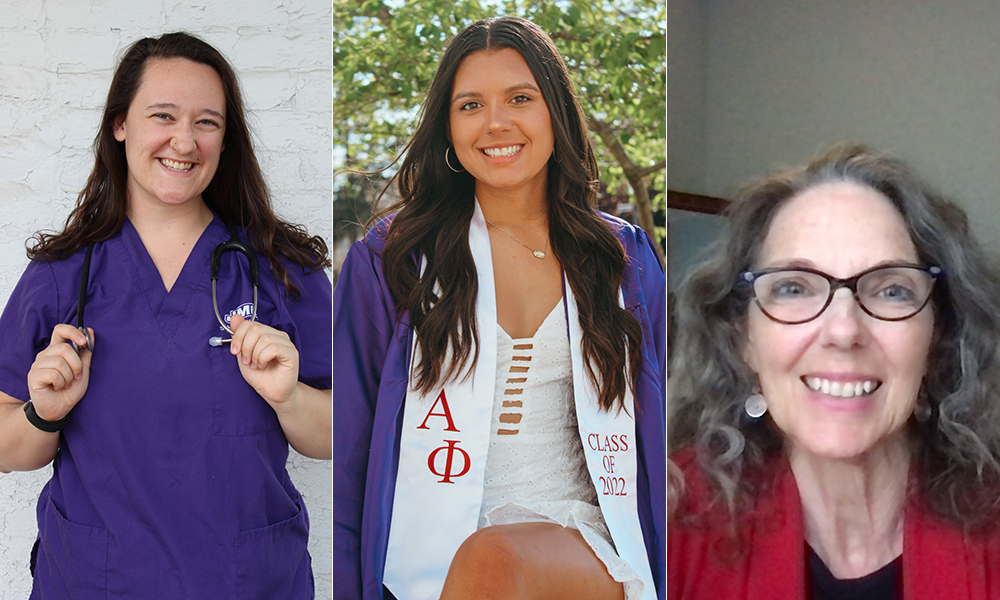 In 2018, the Alliance for Nurses for Healthy Environments (ANHE) and Health Care Without Harm founded the Nurses Climate Challenge. This partnership provides resources to nurses to meet the goal of educating 50,000 healthcare professionals about the health impacts of climate change by the end of 2022. JMU's School of Nursing (SON) has recently joined the challenge.
Nursing professor Christine Fasching-Maphis joined ANHE in 2018. This organization allowed her to find her niche and her capacity to combine nursing with the issues she cares deeply about, such as environmental health.  
"After discovering ANHE, I realized I had found my nursing tribe," Fasching-Maphis said. "It's a really active network both nationally and internationally in protecting environmental health. We've got to have a healthy environment in order for people to be healthy."
Fasching-Maphis held a fellowship with ANHE in 2019-2020. This led to a passion for environmental justice behavior and education, and she wanted JMU's SON to join the Nurses Climate Challenge. Currently, senior Nursing major Catherine Adams and senior Health Sciences major Kacie Hawkins are the first two students to become part of the challenge at JMU.
The Nurses Climate Challenge was inititally implemeted as an independent study program, where students research the effects of climate change on public health. The independent study will become an environmental health elective offered through the SON and open to students from any major.
Fasching-Maphis will continue to work with students who are passionate about environmental health, and will work with her colleagues to amplify their teaching about environmental health in their courses. Fasching-Maphis said healthcare workers have an obligation to help their patients accomplish the highest level of wellbeing that they can, and that includes their environmental health as well.   
"I hope [my students] learn about the influence that nurses have and the important contributions we can make to public health," Fasching-Maphis said. "I want them to learn to be mindful and intentional in their consumption practices and to recognize how their personal and professional choices affect not only their families and loved ones, but their patients as well."  
Since the main goal of the Nurses Climate Challenge is to educate others about the effects of climate change, Adams and Hawkins get the opportunity to attend webinars about how environmental factors can affect things such as food, mental health, agriculture and maternal health, along with researching climate change in hopes of educating their classmates.  
Although there are only two students currently involved with the independent study, Hawkins and Adams said they hope to be able to take what they have learned and share it with their peers. Hawkins said she wants to be able to facilitate conversations with people about public health and the wellbeing of the Earth.
Adams said that the impact of climate change is not something that is often talked about in the nursing program, so she hopes she can share the knowledge she has gained through this challenge with her fellow nursing students. She said, "it's important for nurses to know about climate change because it affects everyone and it doesn't just affect their physical health, but their mental and spiritual health as well."
"When I think about nursing and really caring for people, it doesn't start in the hospitals; it starts way before that in the home, in the community, and in schools. I think nurses need to be up to date on what's going on with climate change and how the implications of climate change affects people's physical, mental and spiritual health," Adams said.   
While there is no simple answer to fixing climate change, Hawkins said she believes that healthcare workers play a big part in it.   
"I think climate change is something we need to be aware of," Hawkins said. "I feel like healthcare is a major contributor in solving this problem. Climate change is affecting everybody's health and is therefore a factor in creating an unhealthy population. If we work together to improve healthcare, maybe some of the stress caused by climate change can be alleviated."