Girls Have H.E.A.R.T. program builds fitness and self-esteem
College of Health and Behavioral Studies
---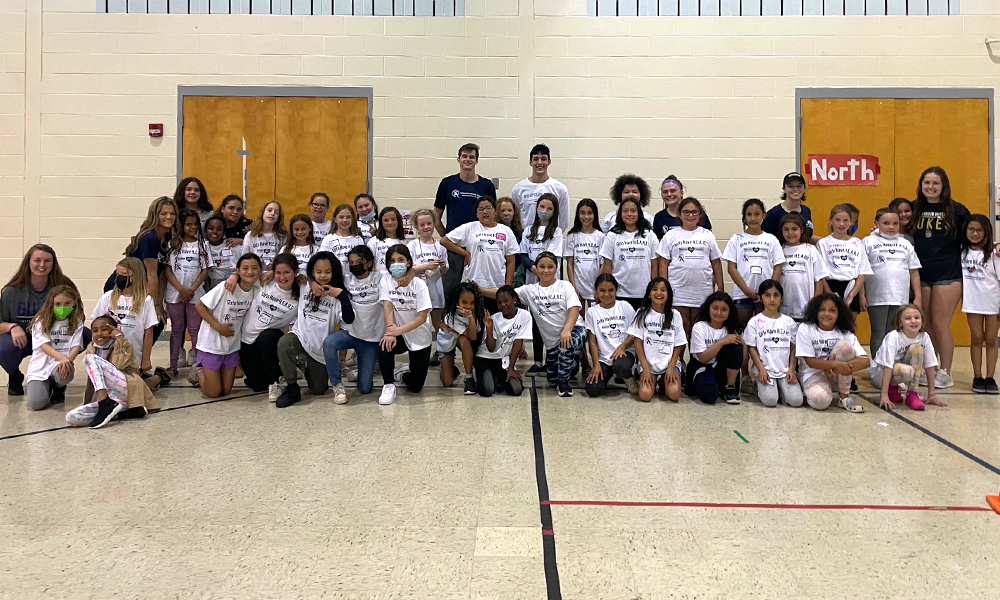 Developed in 2013 by JMU Kinesiology graduate and undergraduate students, Girls Have H.E.A.R.T. (GHH) – which stands for Healthy Eating and Running Today – is a Morrison Bruce Center program that focuses on teaching young girls how to have fun while exercising and developing a more positive self-concept.  The program, whose participants are third through fifth grade girls at Waterman Elementary School, meets every week for 10 weeks during the spring semester.  
From its inception, the program has involved JMU exercise science students as coaches and positive role models for the girls. Caroline Sanders, a JMU alumna and physical education teacher at Waterman who helps promote the program in her classes, said the girls have enjoyed being around the JMU students. Because many of the girls in the program are from middle to low income families, Sanders hopes by having students coach them, the girls can see that they could go to college someday.   
"I hope that the JMU students who are interested in working with kids take this opportunity to work with elementary school aged girls and to interact and serve as a mentor to them," Sanders said. "The girls love it and they really look up to the JMU students. I hope [this program] is an opportunity for the girls to see what they could be doing in the future."   
Through working with GHH, JMU students get experience in both teaching and coaching young girls about exercise and nutrition. Sarah Carson Sackett, Morrison Bruce Center Associate Director, said the program provides an opportunity to get real world experience with tailoring physical activities and health messages to a younger population.    
Junior Kinesiology major Tasha Pressler said she wanted to participate in GHH because she wanted to gain experience in working with children.   
"I've been in leadership roles before, but not with children," Pressler said. "It's been a bit of a learning curve, but it's also been really fun. I've definitely learned a lot when it comes to talking with the girls and how to motivate them."  
Senior Kinesiology major Cory Billings also assists with GHH. While learning how to coach third to fifth grade girls has been a new challenge for him, he said it's been worth it to see how the girls have progressed since the start of the program.   
"At first it was difficult to get all the girls to run because they weren't all enthusiastic about it," Billings said. "But they've made a lot of progress. They've made it from barely being able to do a couple of laps to running a mile."  
GHH focuses on encouraging these young girls to become better runners and more confident individuals through workouts and active games. Carson Sackett said this program comes from a desire to focus on enhancing physical activity and wellness in girls. This mission is what guides the Center and all of its programs since lower physical activity rates and related health outcomes are still more commonly seen in females across most of the lifespan.
"There's still a gender discrepancy in physical activity," Carson Sackett said. "The sports environment has changed due to policies like Title IX, but we're still seeing lagging rates in physical activity in females."   
The main goal of GHH is that the participants have fun with it and come to see themselves as active people. Carson Sackett said they're not training for a competitive 5 or 10K, so the girls can enjoy getting physical activity in a low stress environment. She said she wants to help make running an engaging activity for the girls because it's fun and something that inspires the thought "if I can do this, I can do lots of exciting and challenging things."  
Because part of the program aims to enhance the self-esteem of its participants, Sanders said during her classes she tries to teach the girls about values like growth. She said it's important for these girls to know how to exercise and eat right but it's also important for them to get into a growth mindset and realize their own potential.    
"Part of GHH is persistence and being a team player," Sanders said. "So, they're learning more than how to eat right and how to move their body, they're learning how to be a kind friend, how to lift each other up and how to be courageous."  
Along with JMU undergraduate students, Graduate Student Director of the Morrison Bruce Center Catie Cavallaro helps run GHH. She said one of her favorite parts of the program has been being able to teach the girls about both the mental and physical side of running.  
Cavallaro tries to present running to the girls as something that can be fun and not something they should dread. Through lessons about self-esteem, she said she tries to teach the girls about how running has mental benefits as much as it does physical ones.  
"We help the girls create team building skills and we help them learn self-confidence lessons," Cavallaro said. We teach them about positive self-talk and how to rephrase negative thoughts. I think overall [GHH] is affecting the girls physically through improving their cardio and endurance as well as mentally toughening them."