College of Health and Behavioral Studies
Assessment & Measurement students and faculty attend AERA and NCME
---
By: Graduate Psychology
From April 21 -24, 2022, Assessment and Measurement students, Sarah Alahmadi, Nick Mireles, Paulius Satkus, Kathryn Thompson, as well as faculty, Debbi Bandalos, Yu Bao, Sara Finney, and Brian Leventhal  traveled to the AERA and NCME conferences in San Diego, CA. These national conferences attract approximately 10,000 and 1,500 attendees, respectively. These conferences provide a wonderful opportunity to learn and engage with leaders in the field while connecting with alumni and other colleagues. Below are some highlights from each:
While this was not the first NCME conference for Sarah Alahmadi, a second-year doctoral student in A&M program, it was her first "in-person" NCME conference. She attended sessions spanning many topics, including fairness and equity in assessment, innovative methods to treat data collected during the pandemic, and machine learning scoring. Sarah selected these sessions carefully to align with her research interests and inform in-progress projects. She was immensely thankful for the opportunity to connect with and learn directly from leaders in the field, including a supportive group of women in measurement. Additionally, Sarah enjoyed spending time with JMU alumni and learning more about their successful and multifarious paths past the A&M program. She was excited to meet for the first time in person Andrew Jones and Carol Barry, the supervisors of her psychometric internship this summer at the American Board of Surgery. Sarah described the NCME 2022 conference as the "highlight" of her professional development experiences this year.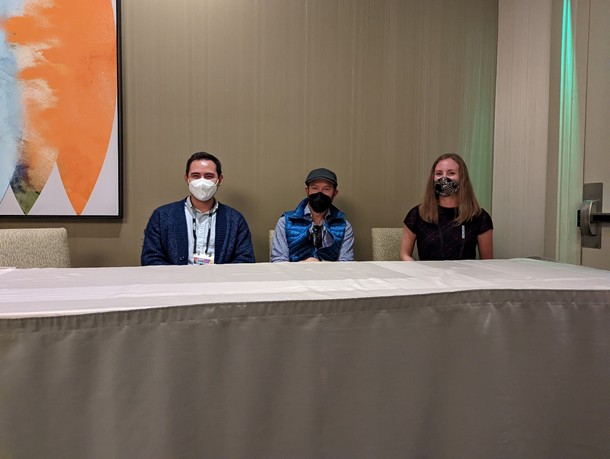 This was Nick Mireles's first time attending an NCME conference while at JMU and in person. Yu Bao's and his presentation was a new multilevel Diagnostic Classification Model. Many of the presentations were thought-provoking, from a one-day workshop with shiny apps, debates on fairness and social responsibility in assessment, and various applications of Diagnostic Classification Models. However, as a first-year graduate student, the most inspirational presentations and awards received were from the faculty members and graduate students in his program demonstrating their hard work coming to fruition. In the same vein, meeting the alums demonstrated how embedded JMU's network is within the measurement field and the excellence cultivated in the A&M program. Before and during the conference, he was involved in the Chan-Zuckerberg Initiative fellowship that connected him to present and past members, an accountability writing group, and mentor sessions. He was able to connect with aspiring graduate students across NCME and various researchers in the field. Not only did he connect with individuals, but he discussed potential collaboration projects. He's grateful to experience NCME and it motivates him to contribute to the conference directly with his own presentations in future years.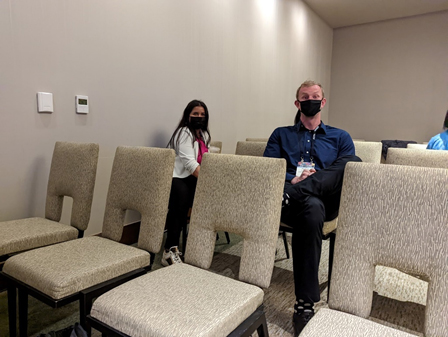 Paulius Satkus, a third-year doctoral student, attended his second in-person NCME conference (with the last two being held online due to pandemic). He noted how happy everyone was to finally gather in one location and share their work. Some of his highlights include attending a variety of conference sessions ranging from technical presentation on cutting edge topics such as automated item generation and applications of machine learning to more applied and much needed sessions on fairness in testing. Paulius also appreciated connecting with measurement professionals from around the world, always friendly JMU alums, and the team of psychometricians from the Graduate Management Admission Council, the organization he will join as an associate psychometrician after graduation.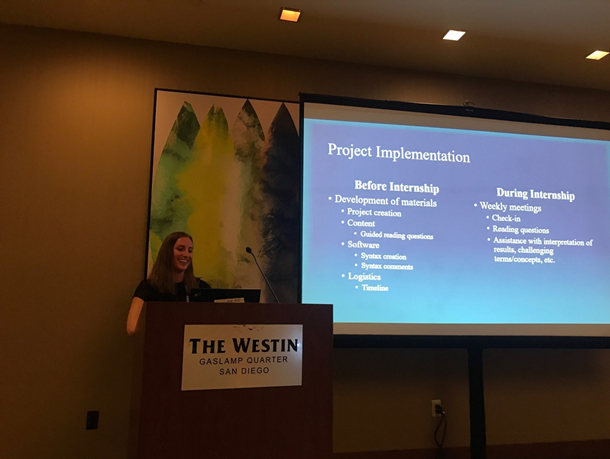 Kathryn Thompson, an Assessment and Measurement doctoral student in her second year of the program, had an incredible experience at NCME. She presented in two different sessions and was involved in research of a third paper presentation. During the first session, she described her experience mentoring an undergraduate student involved in JMU's Center for Assessment and Research Studies (CARS) internship program. During the second session, she was on a panel where she discussed her experiences and viewpoints on being a member of NCME and AERA. In both sessions, she was excited to share her experiences and viewpoints, and present alongside prominent educational measurement folks in the field. Additionally, she was able to meet in person with the Standards and Test Use Committee members, where she is the graduate student member. She described that it was great to have dinner and discuss upcoming projects with the committee. Finally, she enjoyed a variety of sessions from the history of educational measurement to multiple-choice item development. She connected with others in the field who had similar research interests, such as bridging the fields of psychometrics and cognitive psychology, automatic item generation, and response process validity issues. All around, Kathryn was grateful to have attended NCME and have these experiences with the help of the JMU's Graduate School Travel Grant and the Assessment and Measurement Program's assistance. 

Debbi Bandalos participated in the NCME presidential taskforce on competences in educational measurement. The taskforce met on zoom for several sessions prior to the conference and all day Thursday, April 21 to develop consensus on what constitutes competency in educational measurement and to develop examples of possible curricula.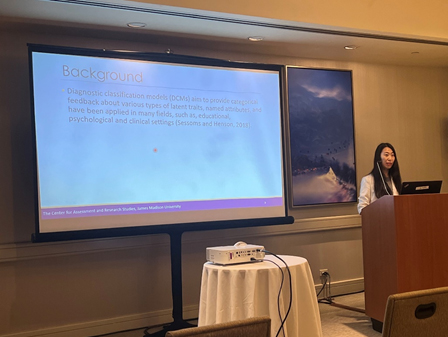 Yu Bao participated in multiple activities at the Annual Meeting of the National Council of Measurement in Education (NCME) and the Annual Meeting of the American Educational Research Association (AERA) in San Diego this year. She presented three studies she developed with colleagues and students over the past academic year that could potentially advance the theoretical innovation and applications of a psychometric model named the Diagnostic Classification Model (DCM). Specifically, she presented a new DCM that extended the current DCMs to a multilevel setting with first-year doctoral student Nick Mireles in the Assessment and Measurement program at JMU. She also presented two application studies and showed the promising application of DCMs in gifted education and psychological surveys. In addition, she was involved in two other projects as a nonpresenter in the fields of educational psychology and educational technology. Over the past year, she served as a co-chair for a SIGMIE group named Diagnostic Measurement and chaired the coordinated session: Diagnostic Measurement in Action. Last but not least, she was thrilled to reconnect herself with both academic and industrial scholars at the conferences by sharing thoughts and ideas about research studies and receiving insightful feedback about how to be a young scholar. She is filled with? the inspiration she got from the conferences and is ready to start a new academic cycle.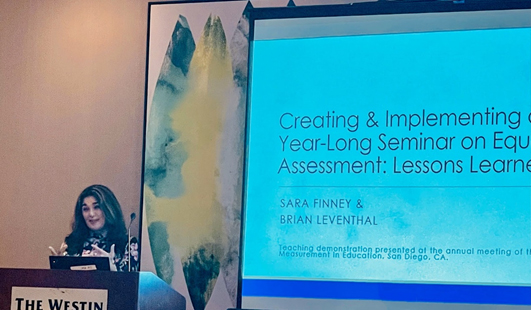 Sara Finney presented her work with Brian Leventhal on creating and implementing a year-long, graduate-level, non-credit bearing seminar focused on anti-racist assessment and associated topics (e.g., QuantCrit). She shared the mapping of student learning outcomes to the programming they created and the deliverables expected from students. She also shared what was effective and what needs improvement; the audience noted their appreciation of the candid reflection on what occurred over the year. During the conference, Sara attended numerous sessions on anti-racist assessment, which validated her efforts the past year on this topic. She was also able to reconnect with over a dozen talented and successful JMU alums, which energizes and sustains her. She feels grateful for the opportunity to attend this in-person conference.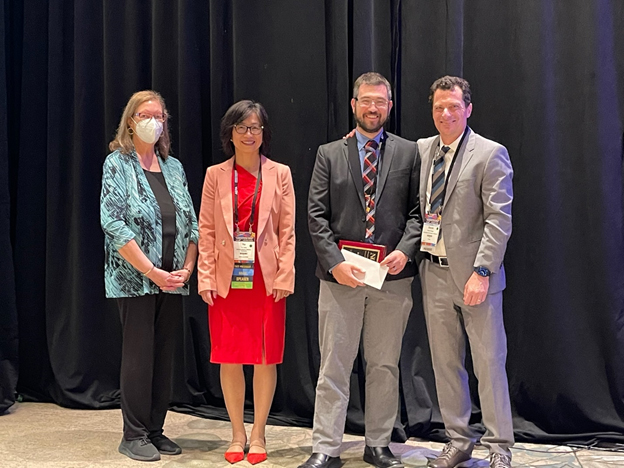 Brian Leventhal was program chair of the NCME conference, meaning for the last ten months he led a team of three curating the content, logistics, and details for the conference. At the conference, he gave two presentations. The first, a paper talk, discussed an innovative item response theory model to accommodate students who are not motivated on assessments. This paper was co-authored by Dena Pastor and third-year A&M student Paulius Satkus. The second was a presentation highlighting the successful undergraduate internship offered jointly by the Assessment and Measurement PhD program, Psychological Sciences Quantitative Concentration, and the Center for Assessment and Research Studies. This talk was co-presented with second-year A&M student Kathryn Thompson. Additionally, at the conference, Leventhal was awarded the Jason Millman Award for recognizing a scholar at the early stages of his/her career.