FYRE program pairs students with faculty research mentors
College of Health and Behavioral Studies
---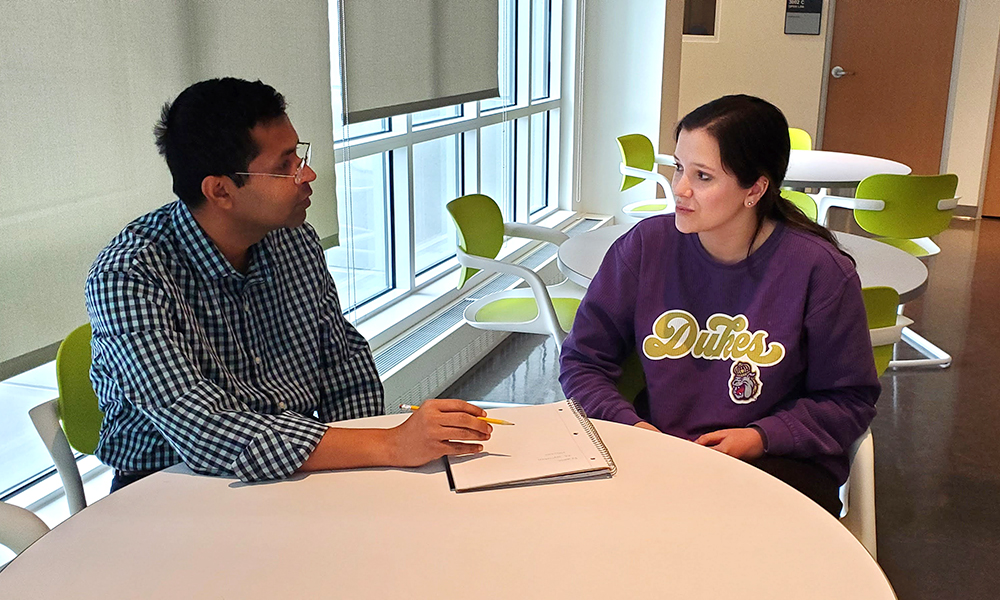 The First Year Research Experience (FYRE) program at JMU is aimed towards freshmen and transfer students and allows them a chance to partner with a faculty member for a mentored research project. This year, health sciences professor Raihan Khan has been selected to serve as a mentor in the program for his research on dust and environmental pollution. 
Professors from all departments are encouraged to apply for the program. Dayna Henry, the Coordinator for Student Creative Activities and Research, said the application involves faculty members describing what they will be researching and matching them up with students who have similar interests.  
For his research on dust and environmental pollution, Khan is working with sophomore transfer student and Health Sciences major Megan Brooks. Through the FYRE program, Brooks will be able to assist Khan in his research through conducting interviews, transcribing information and analyzing data.   
Brooks said she found out about the FYRE program through her adviser. When applying, students are given 25-30 professors with research projects to choose from. Brooks said she was already in one of Khan's classes and had an interest in his research topic so they were paired.  
"The grant gives new students a chance to conduct research they may have never done before," Khan said. "It enables them to gain first-hand experience in a field that they're interested in." 
Khan's research on dust and environmental pollution will mainly focus on how dust affects rural communities in West Virginia. His plan is to interview community members to get an overall sense of how the dust is affecting people's health. 
"We want to assess the overall dust situation in the community," Khan said. "Megan will be assisting me in every step; she'll be learning everything that has to be done when conducting a research study." 
Although Khan's research is in its early stages, Brooks said both she and Khan are looking to get certified by the Institutional Review Board (IRB) so they can begin conducting interviews. Once the research is conducted and the data is analyzed, Khan said Brooks will co-author a peer-reviewed article of the results.  
Brooks said her interest in the topic of dust and environmental pollution comes from it being something she's familiar with. She said she has family in rural West Virginia where there are a lot of gravel roads so she has seen first-hand how these roads and dust affect these communities.  
Brooks said her interest deepened after taking Khan's population health determinants class where she learned about the potential health effects of living in a poor rural area compared to an area with better access to resources.  
"This project on dust seemed like something I could wrap my head around," Brooks said. "But what got me interested in this project is that it's something that could be a major problem in the future and it's something that we can fix right now in our everyday lives."