News
Migrant education program partners with JMU Civic to educate about food insecurity
---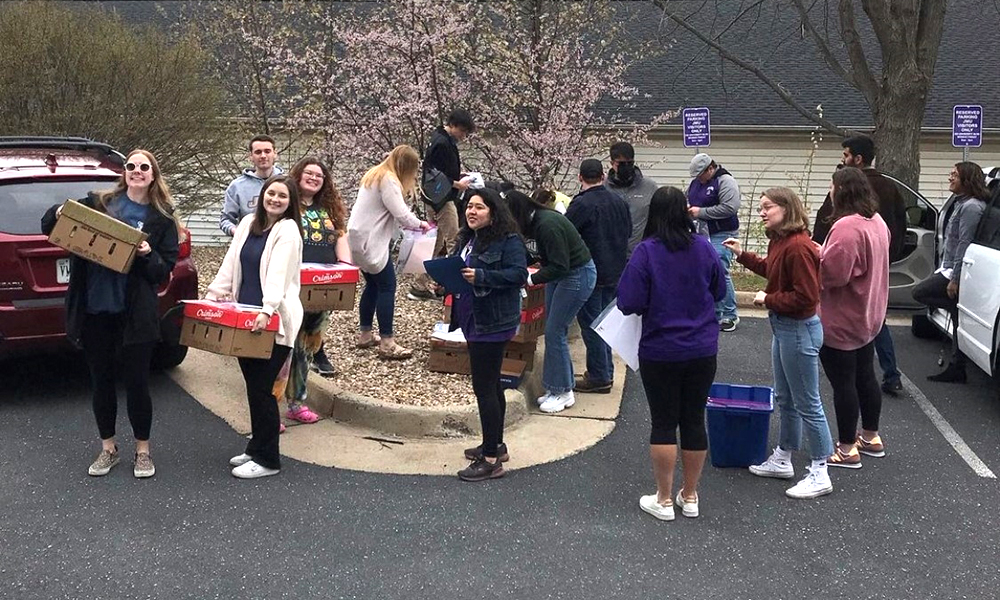 The Shenandoah Valley Migrant Education Project (SVMEP) works in partnership with JMU under the Institute for Innovation in Health and Human Services. Program recruiter Stephania Cervantes said SVMEP provides educational resources to migrant families who move to Harrisonburg, as they often face food insecurity issues while they acclimate to a new community.
Most recently, SVMEP collaborated with JMU Civic to present a panel for JMU students on food justice. The event consisted of watching the documentary Food Chains, which is about a small tomato picking community in Immokalee, Florida followed by a question and answer session between students and the panelists. 
The panel was put on by JMU Civic faculty members including Woodson Martin Democracy Program Fellow Sarah Akers, Associate Director Carah Ong Whaley and sociology professor David Trouille. Invited as a guest speaker, Cervantes said she used this time to educate those in attendance about SVMEP. Also part of the event, a client of SVMEP shared his story about the work he does in the local poultry industry.
"My favorite part of the panel was interacting with the students and answering their questions," Cervantes said. "Sharing Migrant Ed's work with a larger audience is critical as it provides a larger platform to raise awareness and discuss these issues in the community. I hope [the event] inspired them to look around their community and give back."  
While watching this Food Chains, Cervantes said she drew comparisons between the tomato pickers and the poultry factory workers in Harrisonburg. She said this made her think about educating people on how people are treated in the food processing industry. She said through teaching about the issue of food insecurity and partnering with JMU Civic, she hopes to bring awareness to the treatment of the local poultry workers. 
"Knowing about food insecurity is important because it makes people aware of the human aspect of food processing," Cervantes said. "A lot of times people will go vegetarian because they're concerned about the animals; I'm asking for people to also look at how people are treated in the food processing process." 
Along with Spanish-speaking families, Cervantes said she sees many workers from the local poultry factory come to SVMEP. She said that especially since the pandemic, these workers have been experiencing food insecurity even though they are deemed as essential workers.  
Many poultry factory workers work up to forty hours a week but are unable to access what they're producing and often can't afford food on their wages. Cervantes said this creates food insecurity for them and makes buying healthy and nutritious food more difficult.  
"It's not even food insecurity, but nutrient insecurity," Cervantes said. There might be food available, but it's not necessarily meeting the nutritional needs of the people who need it. It's easier to go to Chick-fil-a and all these restaurants, but it's hard and expensive to go to the co-op and get fresh food." 
Because of this nutrient insecurity, Cervantes said migrant communities in Harrisonburg often can't access locally harvested food because it is out of their price bracket or they don't know that the option to buy fresh food exists.  
Through collaborating with JMU Civic, SVMEP will be providing food boxes and educational resources to poultry workers and Latinx populations in the Harrisonburg community who are facing an increase in food insecurity.  
Cervantes said the food insecurity in Latinx communities is not helped by the fact that many families who don't speak English come to the Migrant Education Program. She said these families often need help adjusting to living in a new environment so having someone who can speak the same language as them gives them a sense of comfort.  
Because many people who come to SVMEP don't speak English, it is hard for them to know what resources and healthy food is available for them in the community.  
"We see families that travel as a unit and a lot of times they need help acclimating to a place they've never been before," Cervantes said. "So, we create that community atmosphere for them. All of us here are Mexican and although a lot of our participants aren't from Mexico, they find a sense of camaraderie with us because we speak the same language as them."