News
AT alumni selected for prestigious Steadman Clinic residency
---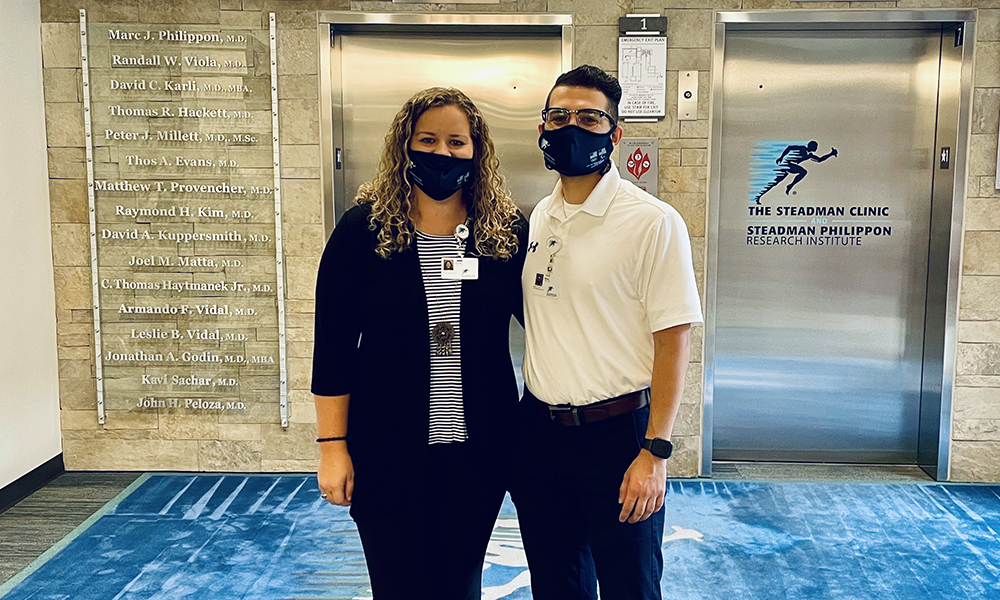 For alumni Kaitie Mast ('19) and Ryan Price ('19), working in the athletic training field has always been their dream. Both have been a part of the Steadman Clinic's residency program in Colorado since July, where they are gaining experience in a clinical setting and learning that there's a lot more involved in athletic training. 
"We're at the point now where we're actually getting to assist during surgeries," Price said. I think that's the coolest part of this program because it's very rare for athletic trainers to get to assist with surgery."
Price said that being able to help during surgery is a unique experience. Through getting this hands-on experience, he said that him and Mast have been able to expand their knowledge of orthopedic and sports medicine.
Mast said that the clinic allows all residents to work closely with many different doctors and to build a relationship with them. Due to this, there is a sense of community among everyone, even though they may not all work together all the time. She said everyone works to support each other, which makes it easier to care for patients.
"My favorite part of the program is the sense of community in the clinic," Price said. "We've all become a community and it surprises me how close people are even across different doctors and teams. Everyone is well- connected. We support each other; we back each other up; we do little things here and there for each other, but really at the end of the day, it's all for our patients."
Due to the Steadman Clinic's national prominence, Mast said it's common for big name athletes to come into the clinic along with everyday people. She said that it has been a great experience being able to treat these well- known athletes, but they are still patients and at the clinic, they are taught to treat every patient equally.
"One of the first things we were taught when we got here was to roll out the red carpet for every patient whether they be a big name or someone local," Price said. "I try to make every patient have a positive visit and make sure that they know that we're here for them and that we're always accessible." 
With the constant influx of patients, days at the Steadman Clinic are often long and hard. Mast said to be in the athletic training profession, you have to love what you do. She said that the work is hard, but having a community and a mentor is an easy way to find support and to share the workload. 
"You have to be a hard worker and you have to love what you do," Mast said. "In athletic training, you work long hours and a lot is expected of you. But I love my job so it never feels like an obligation and it doesn't feel like a fourteen hour day."
Mast and Price agree that their time at JMU prepared them for their residency at the Steadman Clinic. Mast said she does not think she would be where she is today in her career without the connections she made at JMU. She said professors in the athletic training program pushed them to take advantage of every learning opportunity that came their way. 
"Our time at JMU prepared us for any type of setting," Price said. "Something that's really hammered into us is the idea of lifelong learning. You don't have to go into a setting knowing everything about it but as long as you know your resources, who you can reach out to, how to find the information you need and that you continue the process of learning wherever you go, then you're going to be successful."