News
Health sciences alumna pursues physical therapy career
---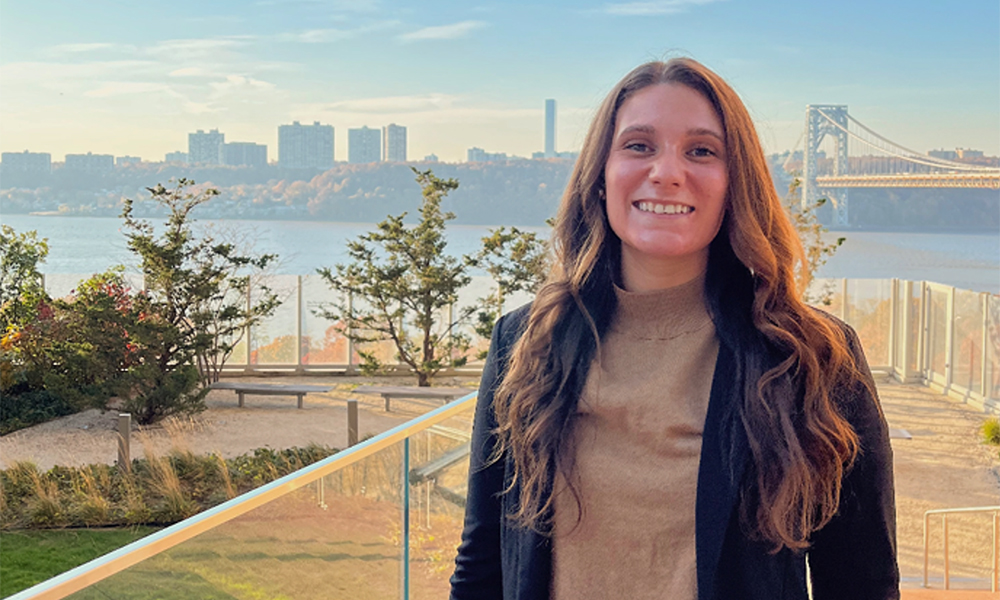 SUMMARY: Alexandra Murray chose JMU the minute she walked onto the campus for a college tour. "I found out about the school through a friend who thought it would be a great fit for me. Knowing I was going to be interested in their health programs, I investigated what they had to offer."
---
Why did you choose JMU?
I chose JMU the minute I walked onto the campus for a college tour. I found out about the school through a friend who thought it would be a great fit for me. Knowing I was going to be interested in their health programs, I investigated what they had to offer. I was enticed by their ability to offer focused minors in different areas. Along with this, I also liked that JMU provides advisers that have worked in each health field to help guide students throughout their undergraduate career.
What are some of your favorite JMU memories?
My favorite memories at JMU include attending FrOG week, football games and going to UREC. JMU does an amazing job at welcoming incoming students to the school with their orientation program, which is known to the student body as FrOG week. During this week, incoming students are immersed in a program that facilitates social and informational gatherings. I met lifelong best friends this week and we continued to make amazing memories throughout our undergraduate experience. In the fall, I would spend my Saturdays watching the JMU football team play at Bridgeforth Stadium. I also loved going to the amazing university recreational center after class.
What made you want to pursue physical therapy?
I was interested in physical therapy when I was exposed to the profession in high school. I then took an anatomy and physiology class and fell in love with the study of the human body. I furthered my interest in the field when volunteering to get shadowing hours in undergrad. An opportunity that I particularly loved was volunteering at the Sunnyside Retirement Center in Harrisonburg, VA. This experience introduced me to the geriatric population and complex medical conditions.
Why is the health sciences major a good fit for a student planning a career in physical therapy?
The Health Sciences major is a great option for those considering a career in physical therapy for several reasons. Primarily, the health sciences curriculum provides a public health perspective that is helpful to future physical therapists. It facilitates knowledge in global health care systems, epidemiology, and health behavior change. This is especially helpful in health promotion classes in graduate school. Additionally, the requirements for the physical therapy minor and health sciences major have some overlap. This is helpful when optimizing your time to fulfill requirements.
What are some courses from your undergraduate major that helped you prepare for your professional program?
I found that the required classes for the health science major and physical therapy minor were all helpful towards my graduate career. I gained a public health perspective from HTH 354 Global health care systems, where we learned about healthcare systems across the world. I particularly found HTH 408 health research to be useful in my graduate career. I recently just finished up a research project that I worked on throughout my graduate school career and this class provided me with skills to conduct and lead aspects of the project. Another class that was helpful to me in my professional program was the anatomy class BIO 290. The access to resources that this class provides allowed for me to have a solid foundation for my graduate level anatomy class.
How did JMU faculty help you prepare for physical therapy school?
I found that all JMU faculty helped me prepare for PT school in varying ways. My general advisor helped me arrange my classes in a way that was most beneficial to my learning. Along with this, the specific advisor for physical therapy helped me set expectations and apply to graduate programs. Each individual professor in the health science curriculum helped to guide my learning and prepared me for graduate school.
Where are you attending physical therapy school and what has it been like so far?
I am currently in my third year of PT school at Columbia University. While graduate school is a challenge, I have thoroughly enjoyed being immersed in the field of physical therapy. The program is a mix between didactic course work and clinical experiences dispersed over three years. The first year focused on didactic course work, which was intense and required a lot of time dedicated to studying. Second year and third year incorporate clinical experiences and didactic work, which has allowed me to apply what I have learned in class to real world experiences. The best thing about third year is that students are given the opportunity to choose electives and pick a track to further their studies.
What advice would you give to prospective students considering the health sciences major at JMU?
I would tell prospective students to explore the health world and the opportunities it offers. There are a variety of different careers, all with their own respective benefits. I would also recommend to those who are looking to attend graduate school to look at the requirements early. A lot of programs require upwards of 50 shadowing hours in different settings, which may take a while to accumulate when taking a full course load. An easy way to investigate programs freshman year is with the course HTH 150. This class provides a good introduction into the basic requirements of every program. Furthermore, attending the meetings for your respective field of interest is a helpful way to stay ahead of the requirements.