News
PHETE students honored with awards at 2021 VAHPERD convention
---
By: Morgan Vuknic
Creative Services Student Writer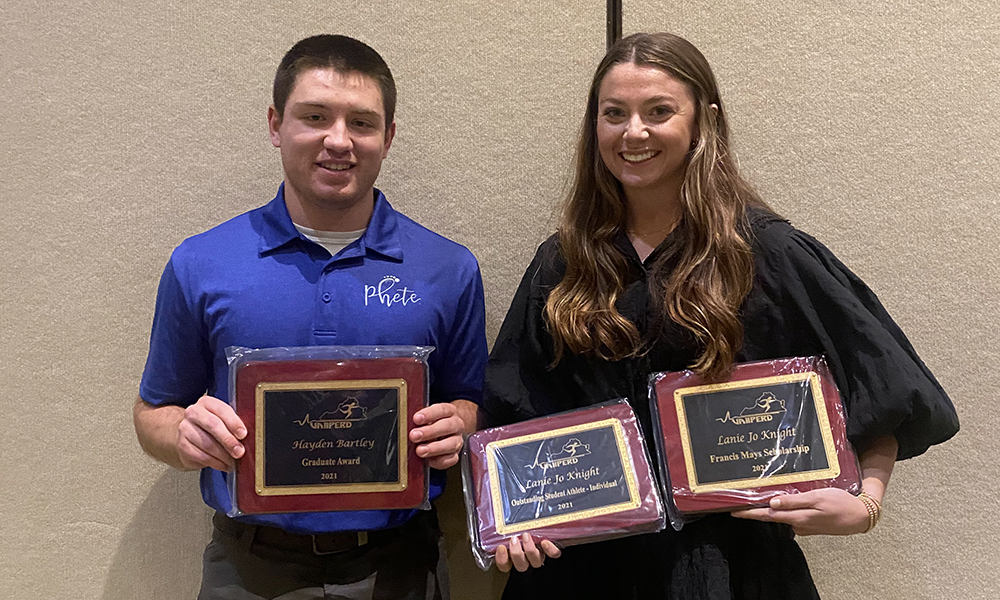 Every year, the Virginia Association for Health, Physical Education, Recreation, and Dance (VAHPERD) holds a convention for Virginia teachers and administrators.  At this event, outstanding college students who major in related fields of study are recognized and honored.  
"We're so proud of our students," Physical and Health Education Teacher Education (PHETE) program coordinator Jacqueline Williams said of the two JMU students who will be recognized this year. "These awards are a great reflection of our program and the quality of our students."  
The two JMU students recognized at the 2021 VAHPERD convention are Hayden Bartley and Lanie Jo Knight. Bartley will be receiving the VAHPERD Graduate Award and Knight will be receiving the Outstanding Major Award in Physical Education, the Outstanding Student Athlete Award and the Francis May Scholarship.  
Bartley said receiving the Graduate Award is very humbling, in light of all of the great physical education candidates across Virginia. "Receiving this award makes me feel very self-fulfilled; it's nice when hard work pays off," Bartley said. "Obviously an award is nice to have, but it's not the be all and end all. I think I get self-fulfillment as well from seeing the work I've created translate over into my practicum and student teaching experiences."  
For Knight, the awards she is receiving are all about bringing recognition to the PHETE program and representing JMU. "I feel really honored and grateful that I have the opportunity to accept an award like this," Knight said. "I'm looking forward to representing JMU and the PHETE program because I feel that it's such an important program, but because it's so small it often doesn't get the recognition it deserves. 
Along with receiving their awards at the VAHPERD convention, Knight and Bartley will be surrounded by other college students who are looking to pursue careers in teaching health and physical education. They will be able to attend workshops where they will learn more about the field. Attending this professional convention gives them the chance to make connections and associate with professionals from around the state of Virginia.
"I'm excited to be surrounded by people who have the same passions as me," Knight said about attending the VAHPERD convention. "I can't wait to be around everyone. I'm eager to learn from other people and the sessions I'll be attending and I'm looking forward to getting to know other students who have the same passion for physical education and physical activity that I do."  
Both Knight and Bartley said that these awards serve as a source of encouragement to do better in their studies and in their future careers. They look forward to learning more about teaching and physical education and hope to learn valuable skills that will help them become well rounded educators. 
"I think this award will help me in my career because it keeps me motivated," Bartley said. "As a high honor, it holds me accountable and makes me want to keep pushing to be the great teacher that I believe I can be."