Health sciences professor invited to participate in obesity research program
News
---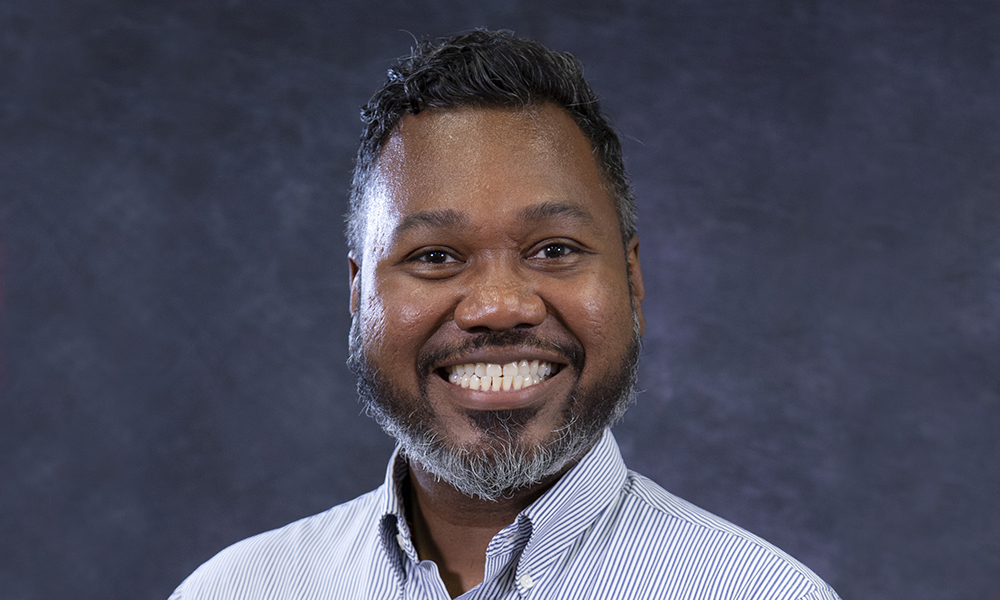 "Dr. Coleman is dedicated to his work and is dedicated to understanding health in African American men and boys," College of Health and Behavioral Studies Dean Sharon Lovell said about Department of Health Sciences faculty member Santo Coleman. "He is prepared to be a leader as a faculty member and I think the PRIDE program will benefit him, his department and the university as a whole." 
Coleman was selected to be part of the Obesity Health Disparities PRIDE Program which is housed at the University of Houston College of Medicine. OHD PRIDE is a two-year research training and mentoring program for faculty from underrepresented backgrounds. 
Coleman's main focus throughout his career has been obesity and obesity disparities, especially in minority communities. His dissertation at the University of Connecticut was on obesity in African American and Caribbean Black fathers and sons. He said he's looking forward to continuing his training working with this population as well as increasing his knowledge related to obesity research through this program. 
"I saw the program as a chance to expand on my training in obesity," Coleman said. "I was excited to be mentored by and to meet senior scholars in the field. "We're brought in as cohorts so we get the opportunity to meet other young faculty and researchers who are in the process of starting their career and create a bond with them so that we can really grow and learn from one another." 
Training for PRIDE started this summer in June. Coleman said throughout the summer, his group would meet virtually for three to four days, go their separate ways for three weeks to do independent study, and would then come back together to discuss what they had learned. 
"My group continues to meet around once a week where we encourage each other, do writing groups and talk about what we're all doing," Coleman said. "So even though the virtual training part is over, we're all still connected and getting started on the second phase of the program together, which is the research aspect of the program." 
So far, Coleman has said that the program has vastly expanded his knowledge of obesity. One thing he is interested in learning about are the effects of other chronic diseases on obesity such as depression, cardiovascular disease, high cholesterol and sleep issues. He said he likes to focus on promoting physical activity as something that can lead to a healthier and happier lifestyle instead of solely focusing on weight loss. 
Through his time in PRIDE, he has been able to learn about how some people hold weight differently and may not be able to lose as much as others, but that doesn't mean physical activity isn't positively affecting them in other ways. But one of the most important things he has learned is how to make his research understandable for any type of audience. 
"There is just so much more to learn," Coleman said. "The mentors have been great with teaching us everything from grant writing to how to translate what we've learned so that the everyday person can understand and use it in an appropriate way." 
Coleman said he believes that programs like PRIDE really benefit minority scholars as they often have a harder time going up the ladder in education. He said while training might not look the same for the members of the PRIDE program compared to non-minority scholars, it gets rid of the loneliness that can come from being the only minority in a field. 
"Programs like PRIDE are important, especially for members of minority communities who are already behind the starting line when it comes to educational resources." Coleman said. "We're always fighting the uphill battle, so these programs are really setting us up for success. It's validating to be with someone who shares the same kind of cultural background and who has had the same experiences and understands the problems minorities face. It's important to prepare and connect minority scholars." 
Lovell said that Coleman, as a person of color, brings a unique perspective to the College of Health and Behavioral Studies.
"I think his work, because he is a BIPOC faculty member, has an impact that it wouldn't have if I were to do the same work as a white woman," Lovell said. "Because he's part of the community that he's researching, he can develop relationships that, for example, I may not be able to create."
During his time in the PRIDE program, Coleman said he looks forward to furthering his studies on the effects of physical activity on depression and obesity amongst African American men as well as furthering his research. Coleman said the best part about being in the PRIDE program is being able to bring what he has learned back to his students. 
"This program allows me to better my own scholarship," Coleman said. "But one of the things I'm most excited about is being able to bring my knowledge back to JMU and to support my students. It's training opportunities like this that help jumpstart the process of passing the research of today onto the next generation."