News
Dietetics student to receive the VAND Diversity Award
---
By: Morgan Vuknic
Creative Services Student Writer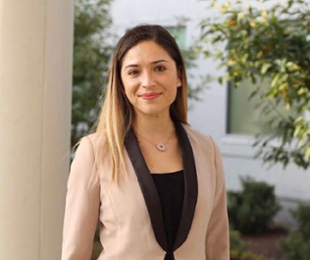 Every year, the Virginia Academy of Nutrition and Dietetics (VAND) holds the Food and Nutrition Convention and Expo (FNCE). For 2021, senior dietetics student Yanine Pedrazas has been selected as the recipient of the VAND Diversity Professional Development Award.  
This award includes her fee to attend FNCE where she will participate in educational sessions. Pedrazas said she is looking forward to attending FNCE and learning more about their efforts to diversify the field of dietetics. 
At the conclusion of the conference, Pedrazas will present what she learned about dietetics best practices to the VAND board. 
"By attending FNCE, I hope to gain valuable information from the nutrition experts and health care professionals about current health issues and evolving nutrition science research," Pedrazas said. "I hope to learn about other topics that are relevant to the field of dietetics that will impact my practice as a future dietitian as well." 
An important aspect of working in the dietetics field for Pedrazas is diversity. She said she's happy about how the field is becoming more diverse and she hopes to expand her knowledge of the topic through receiving the VAND award and attending FNCE.  
"VAND means that the academy is supporting diversity," Pedrazas said. "To me, it's an opportunity that they're being open to diversity. I'm Hispanic so I want to be that diversity in the field so that when I serve my patients, I can be a familiar face for them." 
Pedrazas has been interested in dietetics since working as an outpatient and inpatient nurse. She said seeing firsthand the lack of proper nutrition education among her patients opened her eyes to how many patients need to be taught how to modify their nutrition habits based on their biological and physical needs.  
"Through education I would be responsible for reducing the knowledge deficit among hospitalized patients and those with lower socioeconomic status has become an issue of importance for me," Pedrazas said. "I would like to embrace my purpose beyond myself by positively impacting, educating, and empowering individuals to make healthier lifestyle choices that will optimize and sustain long term health." 
Although she already has real life experience working in dietetics, Pedrazas said she is looking forward to learning even more about the field. She said the skills that she will learn at FNCE and the field's openness to diversity will make her more competent which in turn will make her more confident in her abilities.   
"My attitude about diversity in the dietetics profession is one of openness," Pedrazas said. "An open mind and a receptive heart are needed to better understand diversity, encourage inclusion, and accept that everyone is different. I heartily believe that if differences are embraced and used to unify rather than to separate, we can create cohesive teams who have the potential to enhance the field of dietetics by serving diverse communities."