Clinical mental health counseling student wins scholarship
News
---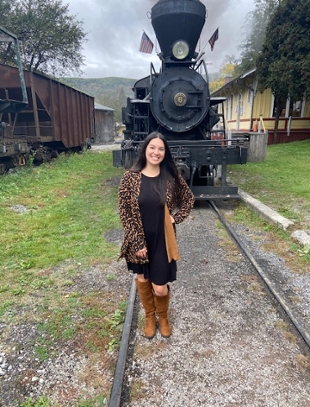 BrightView, a company that provides comprehensive outpatient addiction treatment at more than 40 centers in Virginia, Ohio and Kentucky, today announced that JMU graduate student Caylyn Arbogast is the first winner of the BrightView Clinical Advancement Scholarship. The $1,000 award is designed to encourage students to work in the field of substance use disorder treatment upon graduation.
Arbogast is pursuing a master's degree in Clinical Mental Health Counseling at James Madison University. She has maintained an impressive 4.0 GPA during her graduate studies.  After she graduates in 2023, Arbogast plans to pursue a career caring for patients with substance use disorder.
"I was truly speechless when I heard that I had won the first BrightView scholarship," said Arbogast. "BrightView embodies the evolution of addiction treatment, engaging a total package of care for people recovering from addiction. The model of incorporating a medical, social, and psychological program is something that I was so inspired by. I'm grateful to be able to use the BrightView scholarship to further my education and empower people in recovery." 
Arbogast's winning essay, titled "Clinical Care as the Home of Effective Addiction Treatment," addressed the need for a coordinated team of professionals to implement a comprehensive substance use disorder treatment plan tailored to each patient's unique needs, as well as the importance of medication assisted treatment.
"We're delighted to congratulate Caylyn Arbogast as the first winner of the BrightView Clinical Advancement Scholarship," said Melissa Sahlin, BrightView's Vice President of Quality & Program Excellence. "Substance use disorder treatment is an exciting field with outstanding growth opportunities. We're delighted to see Caylyn's passion for making a difference and her commitment to helping people in recovery. She is an excellent example of the caring professionals this industry needs."
About BrightView: Founded in 2015, BrightView provides comprehensive, evidence-based outpatient addiction treatment to thousands of patients in recovery from substance use disorder throughout Virginia, Ohio, Kentucky, and Delaware. 
The organization's more than 40 centers provide a practical treatment approach that includes medication assisted treatment (MAT), individual counseling, group therapy, peer support, and wraparound social services, as well as work on co-occurring disorders. Locations are generally able to dispense medication on-site, which makes treatment comfortable and convenient for patients.
BrightView's compassionate and professional staff create an accessible and welcoming environment for physical and emotional healing. BrightView is committed to treating each patient with respect, providing positive reinforcement, and achieving long-term wellness. To learn more, please visit brightviewhealth.com.