News
Vaccine infographic designed by and for JMU students
---
SUMMARY: Students in HTH 245: Foundations of Infectious Disease worked on a special assignment to inform their peers on the importance of getting the COVID-19 vaccine.
---
By: Kalli Walling
Creative Services Staff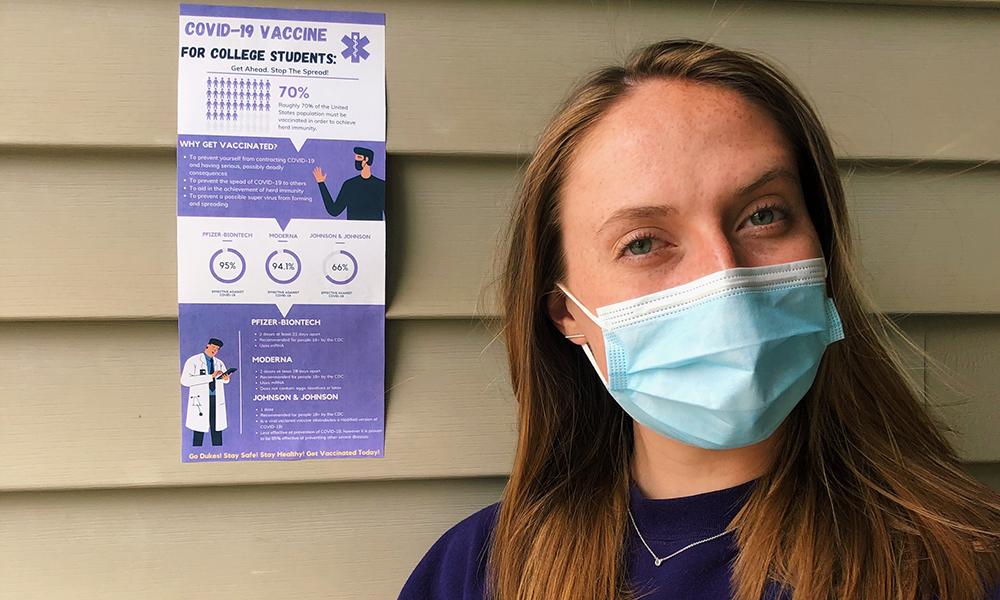 In the midst of the pandemic, students in HTH 245: Foundations of Infectious Diseases designed COVID-19 vaccine infographics. These infographics were created to provide information about each of the three vaccines to JMU students and were posted in high student traffic areas around Harrisonburg.
Teaching assistant, Jillian Baltzelle, took the lead on this assignment for the class. Baltzelle explained, "While developing this assignment, I wanted students to create an infographic that I knew would encourage people to consider being vaccinated."
Each student's infographic was posted to the class Canvas discussion board. Their peers offered feedback to emphasize which poster they felt was most effective by giving it a "like".
After students placed their "likes" anonymously through Canvas, professor Debra Sutton and Baltzelle selected Lindsay Palmaffy's infographic as the winner. Baltzelle stated, "Lindsay's infographic is a perfect example of what Dr. Sutton and I imagined when I began creating this assignment at the beginning of the semester." Palmaffy's infographic, which was posted at Sunchase Apartments, reflected all of the requirements for the assignment.
"Many students produced wonderful infographics, but Lindsay's had all of the elements," explained Sutton. Some key elements that stood out to Sutton and Baltzelle was how Palmaffy connected to her audience, provided a call-to-action, and organized the information in the infographic.
Palmaffy explored different infographics online and around campus to help in her design process to grab the attention of the key audience. "I enjoyed how I was able to take a topic that is so prominent in our lives right now, and create something that JMU students can really enjoy and relate to," explained Palmaffy.
Palmaffy was overjoyed after hearing her infographic had won. "I am very proud to represent my class and to have my work chosen to help spread the message of how important it is for college students to receive a COVID-19 vaccine. My hope is that this infographic will help to diminish worries that people have through education."