News
HSA students offer bilingual skills to Great Community Give
---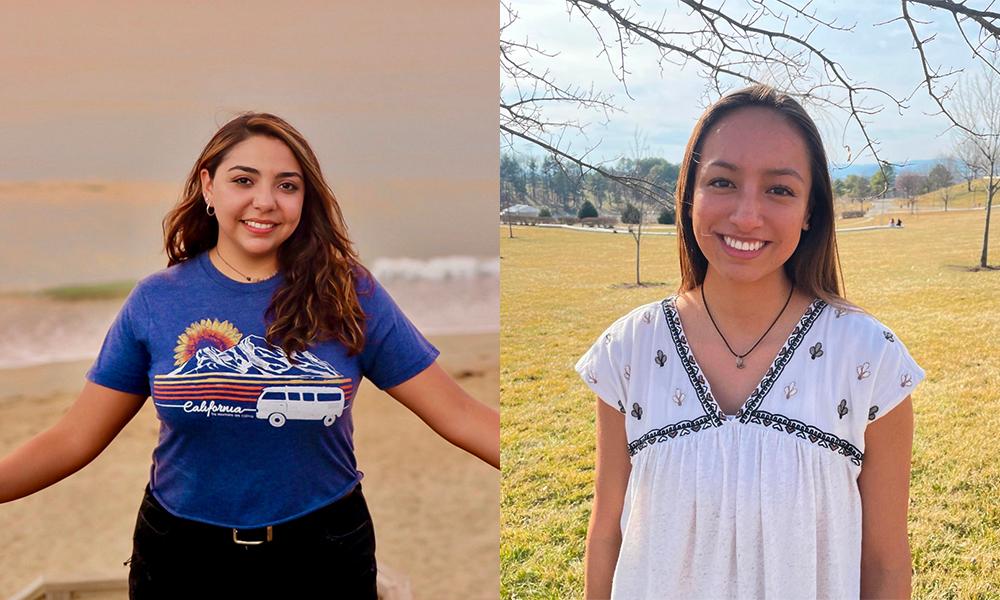 Two health services administration students, Devany Corvera and Odalys Hernandez, volunteered their Spanish language skills to help communicate the importance of community-based fundraising to support local non-profit agencies.
On April 21, 2021 from 6:30am – 8:00pm, The Community Foundation of Harrisonburg and Rockingham County will host Great Community Give.  Organizers hope the event will raise $1,000,000 for over 100 non-profits in the city and county. Amanda Bomfim, Program Officer for The Community Foundation, describes the event as 'a sunrise to sunset event that promotes charitable giving to support nonprofit organizations in Harrisonburg and Rockingham County.'   A full list of participating agencies is available on the event website: https://www.greatcommunitygive.org
When the planning team for the event discussed ways to better connect with the area's large Spanish-speaking population, they decided an informational video for their website would be a great place to start. JMU health professions professor Kay Harrison, Board Member of The Community Foundation and a member of the event's planning team, thought of creating a professional development opportunity for bilingual students in her health services administration classes.  
Harrison emphasizes the value of students cultivating second language skills for future careers in healthcare, "The skill of a second language, especially Spanish, is valuable since all patients have a right to care in the language of their choice. In addition to using their language skill sets, the students volunteering for Great Community Give will develop community engagement, communication, leadership, project management, public speaking, and interpretation skills."
Harrison brought the opportunity to her class, hoping to find one volunteer. Both Hernandez and Corvera immediately expressed an interest in helping. Harrison says, "When both of these students stepped up, we knew they would be better together and asked them to partner on the project."
In preparation for the event, Corvera and Hernandez helped Bomfim by translating and narrating a Spanish script.  Corvera and Hernandez collaborated to create the final video, which is part of the homepage for Great Community Give. Corvera enjoyed the process, especially the freedom they had to go off script, be personable, and make sure their instructions were clear and understandable by the Spanish-speaking community.

Watch their video
Hernandez anticipates that their participation will make a difference, remarking, "Our message is to help each other and those in need. I hope to see people in our community donating to an organization of their interest, and I hope that by having a Spanish instructional video, we can accumulate more donations since we are now also reaching out to a broader community." In addition to making the informational video, Hernandez and Corvera will be available throughout the day of the event to assist Spanish-speaking participants.
Corvera added, "I appreciate and admire Great Community Give team's desire to integrate Spanish speakers into the event. I think it is important to acknowledge the demographics surrounding your organization to maximize the effects of an organizations' mission. The same idea can be applied to healthcare; optimal quality can be achieved by understanding who it is you are helping and developing a process that overcomes any barriers that particular population group may face."
Hernandez and Corvera both plan to take their JMU experiences to future careers in healthcare. Corvera hopes to seek her master's degree in healthcare administration and work in a fast-paced hospital setting.  Hernandez is motivated to help people, and would like to find a job in a nursing home or hospital setting.