News
Health sciences senior headed to optometry school
---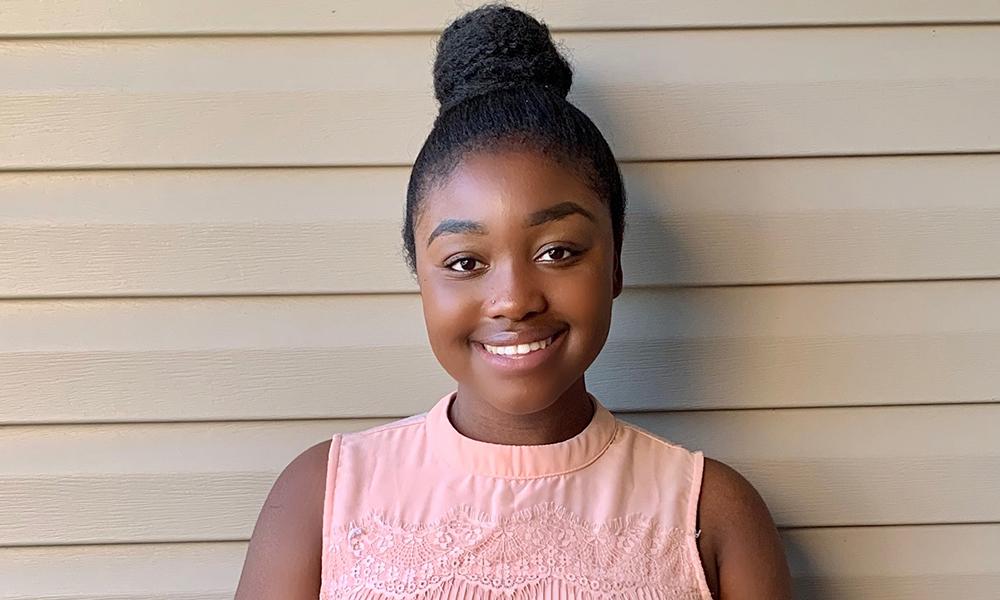 SUMMARY: When Dorcas Owusu was in sixth grade biology class, she was assigned an ocular disease to research. This opened her eyes to the career of optometry, no pun intended. When she came to JMU, she chose the health sciences major with a pre-optometry minor. This fall, she will be attending Southern College of Optometry in Memphis, Tennessee. She hopes to work in an underserved community.
---
Why did you choose JMU?
Originally, I came to JMU as a nursing major. JMU has a strong program dedicated to nursing students which was the main deciding factor that drew me here. I knew that I would be getting an exceptional education if I attended JMU. I was attracted to JMU based on both its academic reputation as well as having an older sister successfully graduate from here a few years prior. As my time at JMU progressed I decided to embrace my interest in optometry which led me to pre-professional advising. JMU's pre-professional health advising department is unique as it branches off into nine different programs. I was able to seek guidance from my pre-optometry adviser and attend different information sessions hosted by optometry schools. JMU has lived up to its academic reputation and more. I have found opportunities for personal growth and development not only academically, but also to expand beyond the classroom knowledge. Most of my professors in my major have real-world experience outside of academia and it shows.
Why is the health sciences major a good fit for students planning for future medical careers?
The courses that are included in the health sciences major shape individuals for what they may encounter in their field. A course such as Population Health Determinants gives you a broad aspect of how many factors combine to affect the health of individuals and communities. While United States and Global Health Care Systems provides an overview of our health care system while comparing it to other countries around the world. These classes all provide the necessary coursework to ensure you become a well-rounded practitioner.
How did you become interested in optometry?
In my sixth grade biology class, I was assigned an ocular disease to research and this opened my eyes to the career of optometry, no pun intended. Throughout my time I went on the tour of some optometry schools, shadowed an optometrist, and later became an ophthalmic technician. Seeing the fulfillment in a patient's eyes when they can finally see clearly or are relieved from a painful dry eye is what I hope to provide to my patients.
How did JMU's pre-professional advising services help prepare you to apply to optometry school?
Throughout my years the pre-professional advising office frequently sent out information about opportunities to tour optometry schools, ways to strengthen my application, and optometry admissions test prep resources. Any resource that would boost your competitiveness was made available to students who had declared one of the pre-professional minors. During my senior year, the pre-professional advising office created a space available to students that they can use as an interview room. I took advantage of this quiet space to put my best foot forward during my interviews.
What were some of your favorite and most challenging classes in the health sciences major?
My favorite health sciences class was Chronic Disease & Disability. Although in my career I will only be focusing on my patients' eyes, it is important to know how other diseases affect one's eyesight. For example, diabetes can be detected just by looking at the back of the eyes. Diabetes affects the blood vessels, and the back of the eye is the only place in the body where an eye doctor can directly view the blood vessels. One of the more challenging classes in my opinion was Ethics and Critical Thinking. This class forces you to think about tough situations and how the different theories of ethics have a place in each situation. Throughout the semester you will come to realize ethics is involved in everything that we do.
What were your health sciences faculty like?
The health sciences faculty are very knowledgeable, helpful and kind. They are experts in their field and strive to create well-rounded students who will go on into the world and make a difference for the better.
Do you know where you're attending optometry school and what do you think the program will be like?
This fall, I will be attending Southern College of Optometry in Memphis, Tennessee. I know going to graduate school will be a big adjustment. There will be challenging days but overall, I will be helping a large African American population receive care while learning so much which will make me a skillful clinician. My desire to help underserved communities stems from the fact they often have less access to healthcare facilities and often live in health deserts all leading to higher rates of disparities. I want to effect change and help my patients be able to participate in their health.
What advice would you give to a prospective student considering health sciences at JMU?
Those first two years are an excellent opportunity to take introductory courses for majors that interest you. If that is health sciences, HTH 100 Personal Wellness will give you a broad overview of lifestyle behaviors contributing to health promotion and disease prevention. I would recommend health sciences to anyone coming in as a pre-professional health student. Knowing about population health, healthcare systems, ethics, and much more will make you a competitive applicant in your field. I would also tell them to focus on what they are interested in. JMU has a lot of great majors to choose from you will not go wrong if you follow your heart.