Health Professions
Health sciences grad plans medical career in underserved area
---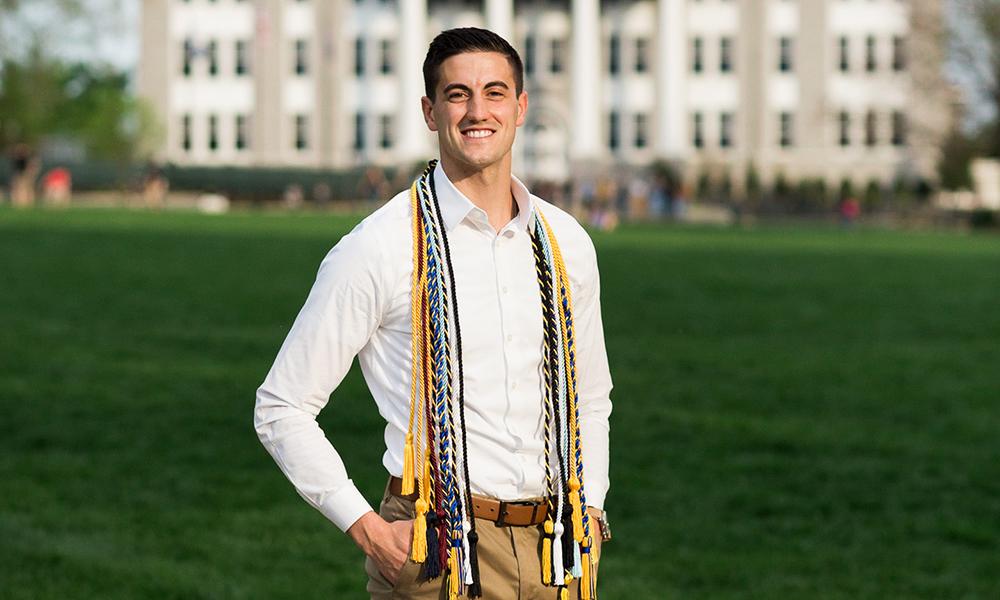 SUMMARY: Health sciences alumnus Ian Roy ('19) is currently pursuing a Master of Public Health (MPH) degree at Tufts University. Upon graduation, Roy will be pursuing a medical degree through the innovative Maine Track Program offered in collaboration by Tufts University School of Medicine (TUSM) and Maine Medical Center (MMC). Maine Track is focused on meeting the clinical needs of underserved populations by directly addressing the physician shortage amongst Maine communities.
---
How did your health sciences major at JMU prepare you for your educational career?
My health sciences major at JMU prepared me for my educational career in a myriad of ways. First, it allowed me to study the material that I love and deepened my commitment to the covenant of lifelong learning. From Health 100: Personal Wellness to Health 450: Epidemiology, I simply could not get enough of the many subjects and disciplines that the major covers. Secondly, I was able to build meaningful, long-term, and collaborative relationships with many of the seasoned professors within the Department of Health Sciences. These influential faculty members not only challenged me professionally, but truly mentored me in the context of my life. These experiences showed me the value of loving what you do, helped me develop a well-rounded toolkit, and taught me how I could meaningfully contribute to interprofessional and multidisciplinary teams in the healthcare environment. 
Did you have a favorite class in the health sciences curriculum?
While I loved all of my health sciences courses, my favorite class within the curriculum was Health 231: Population Health Determinants. Coming into college, I thought of "health" as a physical construct that was largely governed by principles of biology, chemistry, physics, and anatomy. However, taking this course truly humanized my definition of "health" and contextualized the reciprocal relationship between an individual's wellbeing and their social environment. On the first day of class, I vividly remember learning that an individual's ZIP code is a better predictor of their life expectancy than many of their downstream physical metrics. This fact truly bothered me and was the spark to my lifelong commitment to socially-just public health and clinical practice. 
Who taught your favorite class and why was it so valuable?
When I took Population Health Determinants during my sophomore year, I was taught by Mr. Tim Howley. In reflection, I truly believe that this course was so influential for me because of the way that it was taught. Mr. Howley was always excited about what he was teaching and displayed his profound commitment to health equity. With each class, the activities challenged me to put myself in the shoes of the many individuals who are inequitably and unjustly trapped in our healthcare and social systems. With his continued support, Mr. Howley has played an integral part in developing my ability to contextualize the social determinants of health and to care and advocate for my future patients and their communities within their respective biopsychosocial and spiritual realities.
Tell us about the opportunities you had to participate in undergraduate research at JMU. 
While at JMU, I had the privilege to join the lab of Dr. Christopher Berndsen (Chemistry & Biochemistry) as a computational and bench top biochemistry research assistant for two years. In fact, my love for research intensified when I stayed at JMU over the summer of 2018 to complete a National Science Foundation (NSF) funded biochemistry internship within the Research Experiences for Undergraduates (REU) program. This commitment provided me with a unique opportunity to further explore my love for the physical sciences that are the foundation to the art of medicine. In culmination with my other extracurricular experiences, the mentorship that I received from Dr. Berndsen stoked my lifelong commitment to research and quality improvement, taught me how to make evidence-based and data-driven decisions, and inspired me to concentrate in epidemiology and biostatistics as a Master of Public Health (MPH) candidate at Tufts University School of Medicine. Without this experience, I do not believe that I would be the professional that I am today nor be able to meaningfully contribute to my current research at Tufts University School of Medicine and at Massachusetts General Hospital for Children's Food Allergy Center. 
How did pursuing the MPH degree fit into your larger career plan? 
Originally, my Master of Public Health (MPH) degree was not a part of my "plan." When I came to JMU, I was the typical pre-medical student who thought that my career path would lead me directly from undergraduate into medical school. Needless to say, that didn't happen for me. During my senior year, I applied to 21 medical schools and received 21 'No's. This experience was disheartening, but I knew that it wasn't the end. With the help of my many meaningful mentors, I had to critically assess my path to medicine, broaden my perspectives, reimagine myself as a future provider, and develop a plan. At the time, I decided that I would explore my interest in public health and began the application process. I knew that if I learned how to care for communities first, I could more effectively care for the whole-patient at the individual level. In reflection, I recognize that while unplanned, my evidence-based training in public health has been one of the most influential experiences that I have had. Today, I know that my unsuccessful medical school cycle was imperative for my personal and professional growth as a future public health and health equity focused physician.  
Did you always want to go to medical school? Why?
Like most kids, my career aspirations were in flux for many years. However, I developed a deep commitment to become a physician under the influence of my childhood pediatrician. As I come from a family of southern New England blue-collared workers, there was no familial momentum to medicine. I never truly understood what the career entailed until I searched out every opportunity to gain experience within medical settings throughout my time at JMU. During college, I chose to pursue my pre-medical minor; however, my extracurricular activities sealed the deal. As a sophomore, I began volunteering within Brookdale at Harrisonburg's Senior Living and Memory Care Unit, at the Emergency Department at Sentara Rockingham Memorial Hospital for two years, and at a point-of-dispensing event for the Measles, Mumps, and Rubella (MMR) vaccine during JMU's spring 2018 mumps outbreak. Furthermore, my experiences as a teaching assistant for five different courses over five semesters at JMU fostered my love for teaching: an imperative aspect of medicine. As I reflect, medicine is so attractive to be because it is a lifelong intellectual challenge, a social career of being there for others during the good times and the bad, and it gives me an opportunity to contribute to its innovation for the next generation. 
Where will you be attending medical school?
After the completion of my Master of Public Health (MPH) degree, I will be pursuing my medical education through the innovative Maine Track Program offered in collaboration by Tufts University School of Medicine (TUSM) and Maine Medical Center (MMC). Consistent with my deep public health commitment, the Maine Track is focused on meeting the clinical needs of underserved populations by directly addressing the physician shortage amongst the Mainer communities that my family is deeply rooted within. Therefore, I will complete my pre-clinical training at TUSM in Boston, MA and my clinical training at MMC in Portland, Maine. I am truly excited to integrate my public health training with my medical education from day one!
Is there a particular specialty that you are interested in? Why?
While I will begin my medical education malleable to the many experiences that I will gain, I deeply aspire to become a Family Medicine physician nestled within a rural New England community. I am truly enthralled with Family Medicine for the longitudinal relationships with patients, for the breadth of conditions that I will see and the diversity of patients that I will have the privilege to serve, and to stay as closely connected to the community as possible. No thought excites me more than pursuing a specialty that simultaneously fulfills a significant public health need while having the privilege and challenge to care and advocate for patients throughout various stages of life, ranging from well-child visits to geriatric and end of life care.
Looking ahead to after medical school, what do you hope to be doing?
At the conclusion of my medical school and residency training, I aspire to become a Family Medicine physician who leads and contributes to clinical and non-clinical public health initiatives, to continue my clinical research, and to mentor post-secondary students as they pursue a career in medicine. Over the years, I have experienced the many challenges of becoming a member of the medical community and I look forward to the opportunity to pay it forward and help my future colleagues in medicine as they pursue their calling, respectively.