News
Psychology major completes internship focused on suicide prevention
---
By: Leanne Shenk
Creative Services Staff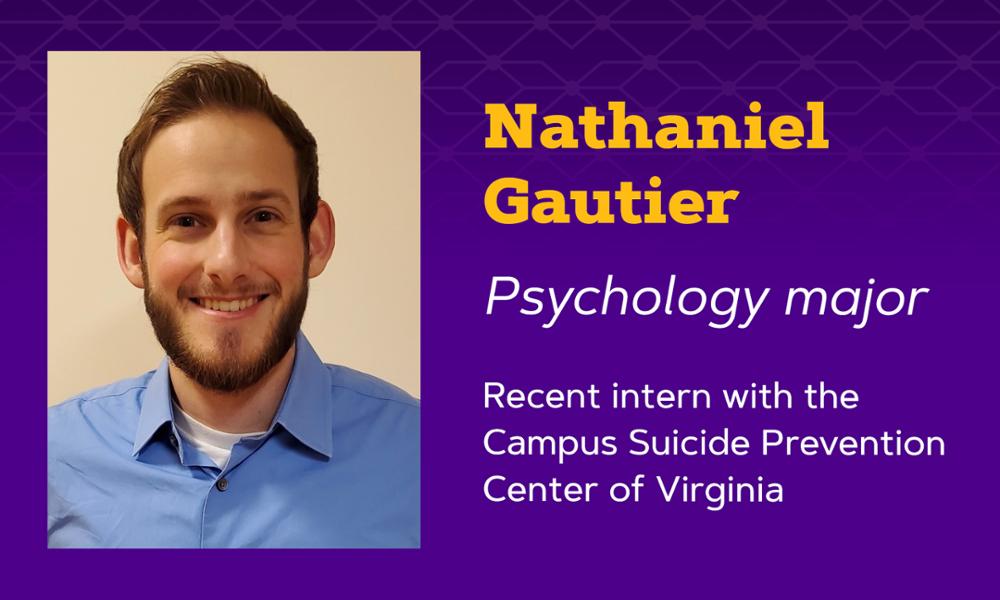 Psychology major Nathaniel Gautier had the opportunity to participate in a new internship with the Campus Suicide Prevention Center of Virginia (CSPCV).  The center provides training and resources for professionals on college campuses with the mission to reduce the risk of student suicides. CSPCV is part of the Institute for Innovation in Health and Human services at JMU. 
Danette Gibbs, Director of Research and Strategic Planning for the center, explained the internship idea was born from the need for additional support.  The options were to temporarily hire someone part-time or bring in a student to assist with research and administrative tasks.  Gibbs had worked with students before and thought, why not make the position an internship?
Gibbs drew on her own experience as a psychology student who pursued the clinical counseling route and found in the process that she enjoyed teaching and prevention work more. "A lot of students are like me. I realized that counseling was not my passion," she said. Gibbs saw an opportunity to show students what is out there in terms of potential jobs or careers for someone with a psychology degree, beyond counseling or clinical practice. 
Most of the center's needs were administrative, but there was also project work that Gibbs concluded would make the internship interesting and meaningful. Gautier came on as the CSPCV intern of summer 2020.  He completed tasks related to larger, ongoing projects for the center.  One of these projects was collecting information for a database on college and university policies related to mental health.  Gibbs also had him read research articles related to topics of interest to the center and write summaries of his findings.
During his time at the center, Gautier focused on examining the amnesty policies that Virginia schools already have in place. Theoretically, amnesty policies reduce risk by encouraging students to seek help for substance use issues rather than face disciplinary consequences for bad choices. Substance use is a significant risk factor for suicide. Gautier researched the language and effectiveness of these policies in suicide prevention.
CSPCV staff examined the data with these questions in mind: if students knew they wouldn't be punished for confessing a policy violation or illegal activity, would they be more likely to pursue help? How would student awareness of these policies affect outcomes for suicide prevention? Do amnesty policies, overall, significantly reduce risky behavior and suicide risk?
While their work centered on collecting policy data to answer these questions, Gibbs also notes that having a student involved benefits their research beyond just having extra help. Gautier was also able to serve as a sounding board for how students could react to policy wording.  "It was great to have a student's perspective," said Gibbs. "Ultimately, everything we do is for students, so we value their input."
As for what he learned during the experience, Gautier reports that he gained an understanding of the policy-making process and how those policies potentially affect students.  "I wish to be a therapist in my career, and I believe this internship has provided me with insight as to how mental health is dealt with from a legal point of view in communities, as well as references for general application," he said.