News
Health sciences alumna finds rewarding career path in epidemiology
---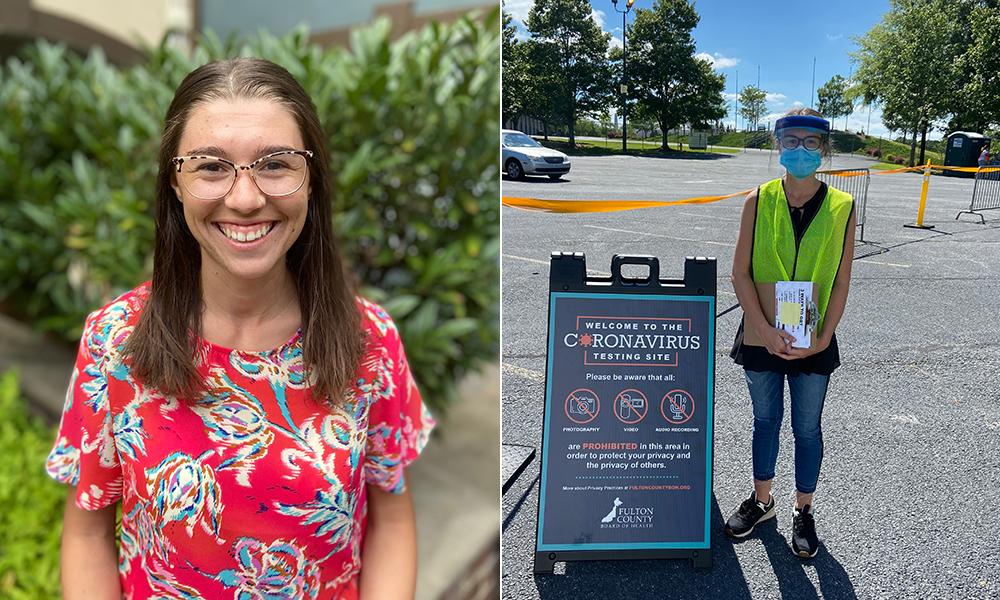 SUMMARY: Health sciences alumna Kat Topf ('19) is currently pursuing a Master of Public Health (MPH) degree at the Rollins School of Public Health at Emory University. She is also working at the Georgia Department of Public Health in support of their COVID-19 response as part of her assistantship. Topf talks about her duties and how JMU prepared her for success in her graduate studies.
---
Tell us about the work you are doing with the Georgia Department of Public Health.
I am currently an epidemiology assistant for the Georgia Department of Public Health for the COVID-19 response. In this role, I approve/deny COVID-19 testing requests for Georgia Public Health Labs, enter COVID-19 lab results into the state database, and manage/clean data for cases (i.e. patient address and demographic information). Along with these daily tasks, I have assisted with a summer camp outbreak and Georgia farmworker materials.
What is the greatest lesson you've learned on the job so far?
The greatest lesson I have learned is that epidemiology is an ever-changing field and it is extremely important to stay as up to date as possible. Some examples of this include case definitions, recommended testing methods, and test result classification. Staying up to date on local, state, and national guidance is extremely important for adequately responding to disease responses.
You were recently given an acknowledgement in the CDC's Morbidity and Mortality Weekly Report. Tell us about the role you played to earn that nod.
In my role as an epidemiology assistant, we are given the opportunity to be involved in several projects outside of our daily tasks. A group of Master of Public Health (MPH) students/recent grads, including myself, were given the opportunity to assist on a summer camp outbreak project. In this project, we identified cases that attended the summer camp to help understand the spread of COVID-19 within the camp.
While at JMU you worked with health sciences professor Dayna Henry on your Honors Thesis – what was the topic?
For my Honors Thesis, I conducted an exploratory study on the awareness and completion of Advanced Care Planning among college students. The most impactful part of working on the thesis was the mentorship from Dr. Henry. She helped me every step of the way and I still utilize skills she taught me every day. It solidified my love for research and desire to become a professor later in my career. The manuscript from my thesis is currently under review with one journal.
Why is it important for undergrads to have access to research opportunities?
Research is important, especially as an undergrad, because it exposes students to new areas they have not yet explored, teaches tangible skills that can be applied to almost any field, and encourages teamwork which can often get a bad rep.
How did JMU prepare you for starting your Master of Public Health program?
JMU prepared me for pursuing my MPH in multiple ways. First, the Honors College pushed me academically in both curriculum and completing a thesis. Second, the Health Sciences department prepared me by teaching me the foundations of public health. The most beneficial course I took within the department was HTH 408: Research Methods.
How has the COVID-19 pandemic affected your educational and professional opportunities?
Upon starting my program at Rollins last fall, I knew I wanted to focus on outbreak preparedness but never anticipated learning in the midst of a pandemic. As a member of the Student Outbreak and Response Team, I was provided multiple opportunities to volunteer in the response. Through this, I have volunteered in the general public call center, COVID-19 SPOCs (drive thru "specimen point of collection" or testing sites), and work with state epidemiologists. This pandemic has solidified my love for infectious disease epidemiology and outbreak preparedness.
What are your future plans?
I have no idea what lies ahead for me in the public health field. My current plan is to apply for multiple fellowships upon graduation, with my top choice being a Council of State and Territorial Epidemiologist (CSTE) fellow focusing on infectious disease epidemiology. Upon completion of a fellowship, I intend to go back to school for my Doctor of Public Health (DrPH).