News
Health sciences alumna selected for prestigious fellowship
---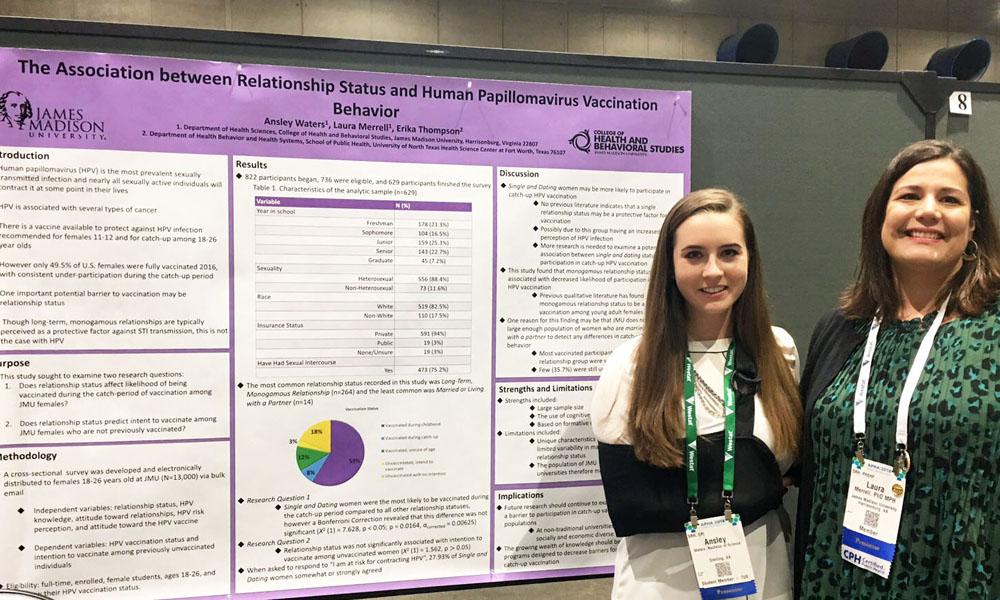 By: Creative Services Staff Writers
Health sciences alumna Ansley Waters ('18) has been selected for a prestigious applied epidemiology fellowship sponsored by the Council of State and Territorial Epidemiologists (CSTE) and the Centers for Disease Control (CDC). This highly competitive, national program only accepts around 40 fellows out of hundreds of qualified applicants each year.  The goal of the fellowship is to attract and prepare public health epidemiologists for careers with state and local health departments.  
Waters' interest in public health was sparked at JMU while taking chronic illness courses.  Originally planning a career in nursing, she changed her major to health sciences after classes such as infectious diseases, health research methods, and epidemiology made her certain she wanted to pursue a career in the field.
Her decision to become an epidemiologist was reinforced after an internship working with a district epidemiologist at the Loudoun County Health Department.  After graduating from JMU in 2018, Waters went on to pursue an MPH in epidemiology from George Washington University. She began the fellowship application process as she neared completion of her master's program.
Waters' fellowship placement will begin in August at the Virginia Department of Health (VDH). During her time at VDH she will be a member of the Division of Clinical Epidemiology (DCE) and work on the Healthcare Associated Infections and Antimicrobial Resistance team.
This fellowship provides a stipend for two years of on-the-job training, in addition to funding for professional development.  All fellows are required to present research at the CSTE annual conference in addition to their regular duties.  "I expect that, especially during the beginning of my fellowship, COVID-19 will be at the center of many projects I work on. I'll have the opportunity to work on developing and improving communicable disease surveillance systems, collecting and analyzing data of public health importance, and working on outbreak investigations.", said Waters.
"It's an exciting time to be an epidemiologist. I am eager to apply the knowledge and skills I worked so hard to gain to a situation where I can really make a difference. Epidemiology is a critical factor in controlling this pandemic and I look forward to being a part of that," remarked Waters.
Waters' time at JMU prepared her well for this chapter of her life.  In addition to her regular undergraduate studies, she had the opportunity to complete an honors thesis and became familiar with the research process.  "My thesis also allowed me to be matched with an adviser; health sciences professor Laura Merrell – and therefore find a mentor in public health very early on. Dr. Merrell helped me not only with completing my thesis, but really with understanding the field of epidemiology and how to begin my career. We still work together on a manuscript and her mentorship continues to be invaluable."
Waters' honors thesis explored the association between relationship status and perceptions of risk related to HPV infection and subsequent vaccination.  She designed and distributed an online survey among female JMU students and had almost 700 responses.  Merrell encouraged her to submit her work to American Public Health Association Annual Meeting where it was presented in San Diego, CA in 2018.  Since then they have worked to get this research published.
Merrell described her experience as Waters' adviser, "My experience working with Ansley, was amazing. She serves as a model honor's student. Not only was I impressed with Ansley's intelligence, but her inquisitive nature and drive to gain knowledge and skills, and her work ethic."
Looking ahead, Waters has many paths open to her after completing her fellowship.  "One of my goals for the fellowship is to identify current pressing challenges in public health with actionable solutions, so that my next step after my fellowship can be in direct pursuit of my long-term goal of becoming a leader and innovator in applied epidemiology."