News
Social work student donates prize money to local nonprofit
---
By: Creative Services Staff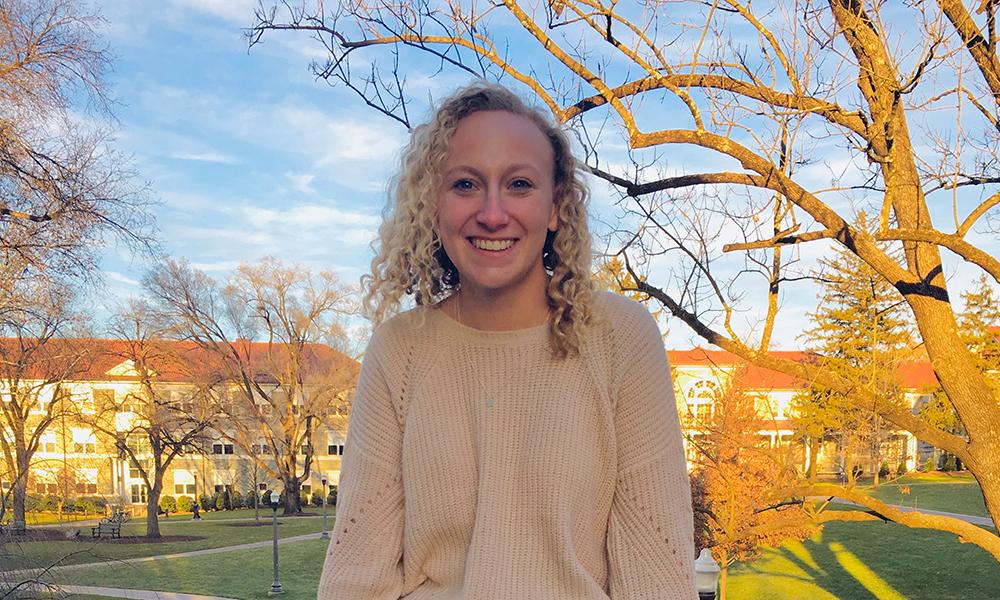 When social work major Sara Greenbaum enrolled in SOWK 375: Grant Writing for Agencies, she expected to develop valuable skills that would help her in her professional career. She did not expect to win a national blog contest that would leave her with a $1000 prize from the Learning by Giving Foundation to donate to a non-profit agency of her choosing.
At the beginning of the semester, social work professor Laura Hunt Trull gave an assignment to write a post for the class blog. From a collection of five writing prompts, Greenbaum received the topic of describing how the class changed her.
Her blog post, titled Three Ways a Grant Writing Class Changed Me, focused on how the course stimulated learning outside the classroom, improved her communication and critical thinking skills, and gave her a new perception of philanthropy. She also discussed how the interactive experience of the class made the process of grant-writing feel less daunting.
The blog contest was sponsored by the Learning by Giving Foundation, an organization that inspires and educates a new generation of philanthropists and community leaders to effectively distribute funds. The foundation partners with 35 colleges and universities across the nation, including James Madison University. Shanna O'Berry, the Director of Academic Programs for the organization said, "Winning blog entries are those where students engage deeply in reflection. They reflect on how the grant-making process has changed their thinking or given them a new perspective outside the classroom. Sara's blog did a wonderful job engaging in reflection and allowing our audience to get a real sense of what happens in the class."
Shannon Porter, Executive Director of Mercy House, received word that the prize had been earmarked for his organization.  Mercy House has worked with the JMU social work department for many years, offering practicum and internship placements for students. Despite the ongoing relationship, the gift was a surprise to Porter. He says, "I was blown away by the extraordinary act of kindness, and grateful that our agency's work resonated enough to be considered - especially since there are so many amazing non-profits in Harrisonburg."
He also shared that the gift will make a significant impact during the global pandemic, stating that the funds will be dedicated to their work protecting medically vulnerable homeless individuals.
Greenbaum admits that choosing a recipient for the funds was a difficult decision, but that she felt the Mercy House fulfilled a crucial need in Harrisonburg.  She says, "Resources are financially strained and additional community involvement is needed even on a good day. Now that issues are compounded with COVID-19, vulnerable populations and community resources are near the breaking point. Having shelter and a place to go with people you can check-in with is vital. Mercy House is dedicated to serving the homeless population in Harrisonburg."
Greenbaum credits Trull and her classmates for their constant support during an unusual semester that took place largely online, and hopes that future students in SOWK 375 will find a passion for philanthropy.  She concluded, "I encourage people to find a way to make your immediate community stronger in these trying times."