News
Ph.D. program draws international students
---
It's often said that education is a great unifier, bringing together different groups of people for a common purpose. The communication sciences and disorders (CSD) department at JMU achieves this ideal, attracting Ph.D. students from around the world. While students inevitably choose varying specialties and research interests, they share a passion for helping others overcome barriers to communication.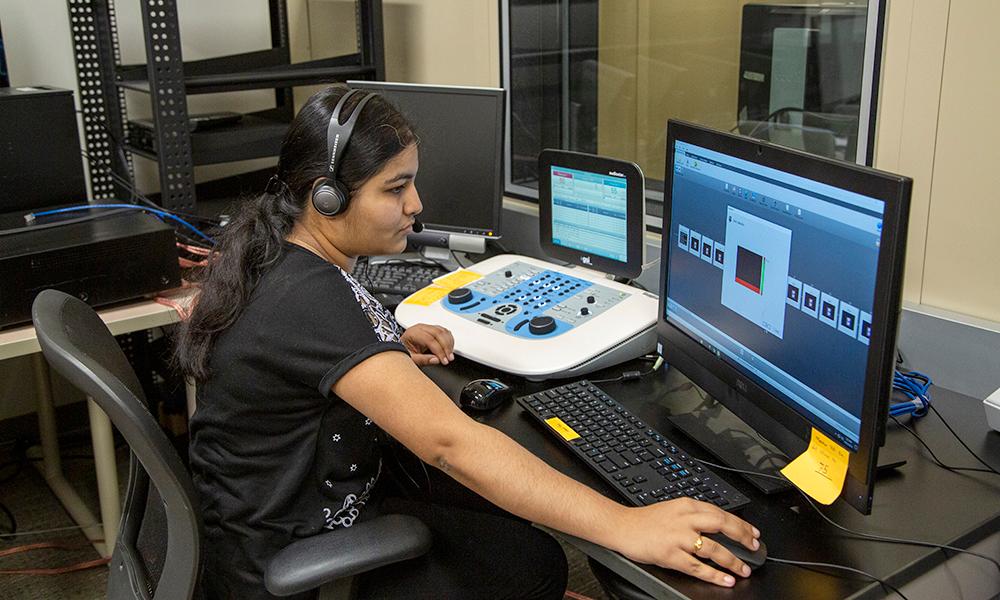 Originally from the small city of Mysore in southwestern India, Ph.D student Lakshmi Magudilu came to JMU with a master's degree in audiology from All India Institute of Speech and Hearing (AIISH). After working as a clinical audiologist for two years, Magudilu wanted to magnify her impact in the field. From Ohio, U.S. to Auckland, New Zealand, Magudilu contacted several universities with competitive and ambitious Ph.D. programs. She said, "In the process I contacted Dr. Ayasakanta Rout [and] learned about the program and facilities available at JMU." She added, "The response that I received made my decision easy."
Interested in hearing aid and cochlear implant research, Magudilu explained, "I am currently working on tools that help to quantify the effort a person expends while listening to speech in the presence of noise." Beyond research, Magudilu has enjoyed building relationships with her peers and faculty while in the program. She noted, "I have met great teachers here who have inspired me to be great – not just good or better. They provide a lot of resources for students to develop a support system. They encourage us to dream big when we think of our future."
After graduating in August, she will begin a tenure-track position at the University of Oklahoma Health Sciences Center. In addition to teaching, she will also have dedicated lab space to continue her research.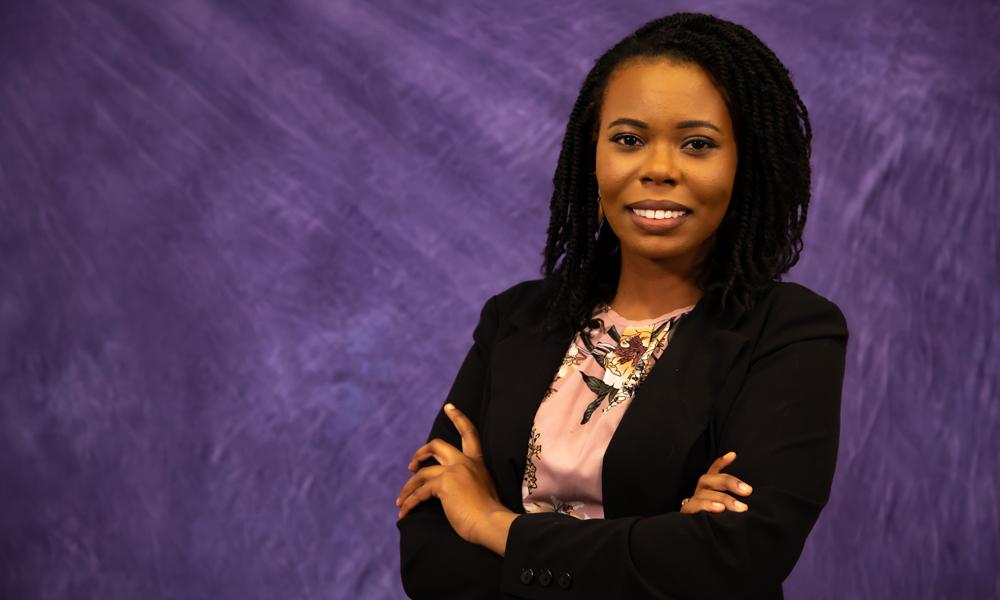 Similarly, Ph.D. candidate Danielle Moss came to JMU after completing her bachelor's degree in health sciences and master's in speech-language pathology from Duquesne University. After graduating in 2014, Moss moved back to her hometown in Nassau, Bahamas where she served as a pediatric SLP in private practice. Passionate about research, Moss decided to pursue a Ph.D. and explained, "I contacted Rory DePaolis, the program director. He was so kind to let me know about JMU's program and what research was being done here." She added, "I didn't know what I wanted to pursue, but I put JMU on my list because I felt this connection. I ended up choosing JMU because of research and the department's willingness to support me as I navigated my specialty."
Moss's favorite qualities about the program include its impressive support system and emphasis on diversity. She said, "What I enjoy most is the different research interests and perspectives that our faculty bring to the department. I also enjoy being involved with our speech and language clinic, and the ability to conduct research, teach, and still be involved with clinical practice." Moss plans to graduate in December 2020 and hopes to secure a post-doctoral position before transitioning to an academic role later in her career.
Heesung Park, a native of South Korea, started his Ph.D. program at JMU in the fall of 2019. Prior to arriving at JMU, Heesung was a senior research audiologist in the Hearing Research laboratory at Samsung Medical Center in Seoul, Korea. After arriving on campus he has been busy making new friends and learning a new culture. He has been amazed at the support from the CSD department, "there is great relationship among faculty, staff, and students" said Park. He added "there is reciprocal respect, consideration, and mutual trust in the CSD department." Heesung Park hopes to become a professor after completing his PhD degree from JMU.
The three international students are surrounded by other Ph.D. students in CSD who come from different parts of the United States – a true amalgamation of intellectual curiosity and international culture. While  Lakshmi, Danielle, and Heesung followed different paths to the Ph.D. program, they are united by a curiosity for communication and strong network of support. Moss expressed, "Completing a Ph.D. is hard, but the immense support I have from my mentors here has really made it an enjoyable experience."