News
School Psychology alum provides expertise during pandemic in South Korea
---
By: Sara Banton
Creative Services Student Writer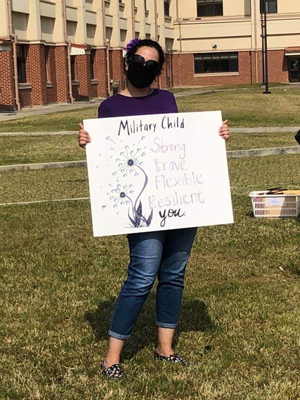 As confirmed coronavirus cases reach two million worldwide, South Korea has been recognized for employing well-organized testing and containment strategies that effectively slowed the spread of the virus in the country. In December, a month before their first confirmed case was discovered, Susan Black ('04) moved to South Korea after accepting a job as a school psychologist for the Department of Defense Education Activity (DODEA). She served as a clinician-in-residence for the JMU school psychology program for 11 years prior to the move.
After a recent trip to Europe, Black and her family decided that they were up for the challenge of moving abroad and experiencing new cultures. Black came across DODEA job listings for positions in Guam and Japan. "To our surprise and a few interviews later, I had an offer for a position in South Korea," Black said.
At the onset of the outbreak in South Korea, most schools were closed for winter break and simply transitioned to online learning until the fall. To support both academic and mental health needs of the students, Black works as part of a planning team for developing and supporting online learning. She provides virtual counseling sessions for students and virtual student support meetings with parents and teachers. Her team has worked to develop a re-entry procedure for the students' return to the school building. 
"My role as a school psychologist is very different in DODEA," Black said. "It allows for more flexibility in leadership, consultation, counseling and collaboration." 
Growing up, Black attended DOD schools and even graduated from one in South Korea. Her father's military assignments moved her family every three years. She is a native Spanish speaker and learned German and English as a child. Over time, she learned French and hopes to acquire Korean.
"My first experience in a U.S. school happened in the second grade," Black said. "This move resulted in a grade placement change due to being a linguistic anomaly in a school system with little to no experience with students that spoke other languages. Looking back, it was a decisive moment in my personal story and professional journey in school psychology. It fueled my desire to learn about how people learn and acquire language. 
Black and her family sold most of their belongings, stored others and shipped only their must-haves. "We used our childhood experiences with moving to anticipate some of the anxieties that our children would experience with leaving friends and family and entering a new community," Black said. "As a family we talked about what things would look like for finding a home, school, friends, transportation and food. Taking the time to process and just have dialogue has helped us prep and grow as a family."
As Black continues to support students and families in South Korea during this time of crisis, the experiences she and her family have had will last a lifetime.
"Working overseas has so many benefits for travel and learning, but I am so grateful to support the service members and their families," Black said.