News
Audiology graduate students' research published in professional journal
---
By: Brittany Bell
Creative Services Student Writer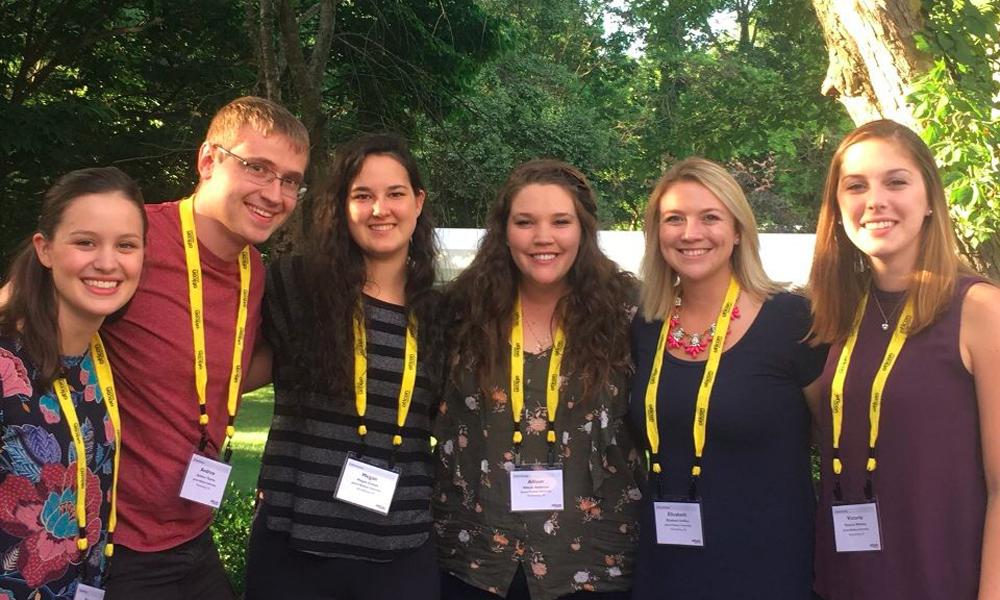 Graduate research opportunities provide professional experience for students and can sometimes lead to groundbreaking discoveries in the field. Graduate students' recent research on clinical equipment used in vestibular testing revealed limitations in current practices. Valerie Beacham, Victoria Whitney, Ally Anderson, Andrew Thorne, Elizabeth Surface and Megan Crouse, students in JMU's Doctor of Audiology (Au.D.) program, will have their research findings published in Ear and Hearing, the leading journal for audiology and speech pathology.
For their Research Methods class project, the students assessed equipment used by clinics to test the vestibular system, which is the balancing system in the inner ear. A bone oscillator is a new choice of equipment being used to test balance in people with conductive hearing loss. It stimulates the vestibular system through vibrations during a vestibular test (VEMP) and is not reliant on the subject's ability to hear. 
Originally, bone oscillators were created to test the auditory system rather than the vestibular system. After noticing the lack of research on limitations this could cause, the students set out to determine whether bone oscillators are able to produce the frequency needed to elicit a muscle response for proper testing.
"We tested two bone oscillators and neither did a great job of faithfully presenting the intended low frequency stimulus that best stimulates the vestibular system," explained Whitney. "This suggests a different type of bone oscillator would need to be created to maximally stimulate a VEMP in patients."
The study provides insight on the limitations of bone conduction VEMPs as they are integrated into the field of audiology for testing purposes.
While conducting the research, the students worked closely to collect data and write sections of the article. "We had to communicate from two sides of a sound-proof booth to ensure we were all on the same page regarding which signal was being produced, measuring the signal that was produced and ensuring we were properly recording the information," said Beacham.
Once the students collected and interpreted the data and wrote the research paper, faculty members Chris Clinard, Erin Piker and Rory DePaolis prepared it for publication.
Their findings will be printed in a later issue of Ear and Hearing, but is currently available online as a published-ahead-of-print PDF. The students agree that the experience of their first publication was exciting and look forward to learning more about vestibular testing and clinical equipment in future classes.
"The most rewarding part was looking at our data and realizing that we had actually discovered something significant," said Beacham. "Participating in research and going through the process of getting published teaches you how to separate good research from bad research and understand limitations that may be impeding research."
"I think it was exciting for all of us to have a publication out that we worked on during our first year of graduate school," continued Whitney. "I expect more are to come given how involved we are in research for this program."