News
CSD professor leads local practice
---
By: Shannon Shevlin
Creative Services Student Writer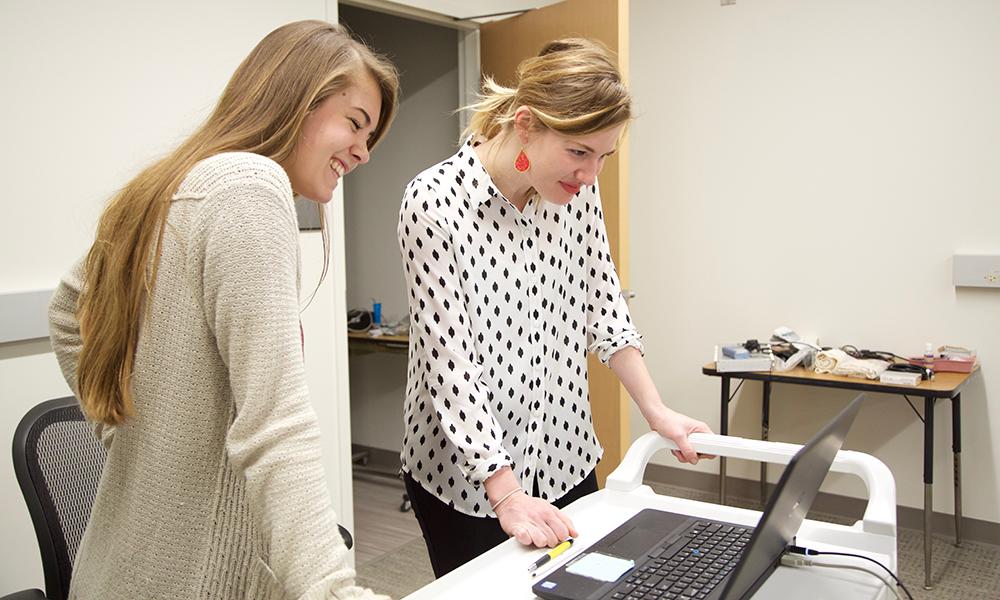 Finding one's niche in a broad career field can be a challenge. For speech-language pathologists (SLPs), this means choosing among a variety of specialties and job settings while helping others overcome speech, language and swallowing disorders. Professor and certified SLP, Erin Kamarunas demonstrates impressive competencies as a professor who is an expert in swallowing and voice disorders. Kamarunas not only leads others in recovery from difficult swallowing impairments, but also supports students on their journeys to practice.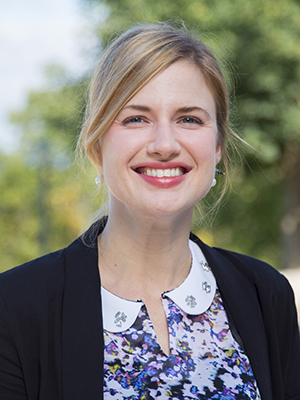 Kamarunas came to JMU in 2012 from the University of Arkansas for Medical Sciences where she completed her Ph.D. in communication sciences and disorders (CSD). Eager to complete post-doctoral research, Kamarunas found an excellent opportunity with professor Christy Ludlow, a highly distinguished and accomplished voice and swallowing expert. While Ludlow has since retired from JMU, she received national recognition for her work as a researcher with the National Institute of Health (NIH) and was an active lecturer with the American Speech–Language–Hearing Association (ASHA). Kamarunas embraced the opportunity to work alongside professor Ludlow before transitioning to a full-time faculty role in 2014. Today, Kamarunas enjoys a hands-on role with Ph.D. students and continued opportunities to grow as a practitioner.
In addition to teaching graduate level courses, Kamarunas co-directs the Voice and Swallowing Services clinic, a joint collaborative rehabilitation center between JMU and Sentara-RMH that treats patients with a variety of voice, speech and swallowing disorders. From motor speech difficulties to adult-onset stuttering, Kamarunas often serves patients whose symptoms are secondary to larger medical issues like stroke, head injury or head and neck cancer. She noted, "Professional practice is all about facilitating small, baby steps of progress for people who need help." In addition to health outcomes, Kamarunas noted how immersion in the field enhances her teaching and understanding of important clinical realities. She expressed, "I learn a lot from patients as well as from my colleagues when I consult them on difficult clinical situations. Practice definitely keeps me on my toes and research fresh in my mind."
Kamarunas' work at the swallowing clinic is rooted in her own comprehensive and innovative research. One of her current projects involves the use of mental imagery in rehabilitation. She explained, "Both physical and occupational therapy research have shown that movement visualization techniques are effective for improving rehabilitation outcomes." Her pilot project confirmed these results, demonstrating how mental imagery can lead to tangible, physical improvements in tongue strength and swallowing in healthy older participants. While the research is still underway, Kamarunas is in the process of securing a federal grant to continue leading advancement in this specialty area of CSD.
Kamarunas' journey to JMU was driven by her curious spirit and professional aptitude. While the field is always growing and evolving, Kamarunas' work and expertise will improve quality of life for patients for years to come. She expressed, "I love this department and the incredible internal support JMU affords its faculty. The opportunity to work with students, while continuing to practice and do research is something special about JMU – which would be difficult to find at another university."