College of Health and Behavioral Studies
Occupational therapy alumna recognized for success in field
---
By: Brittany Bell
Creative Services Student Writer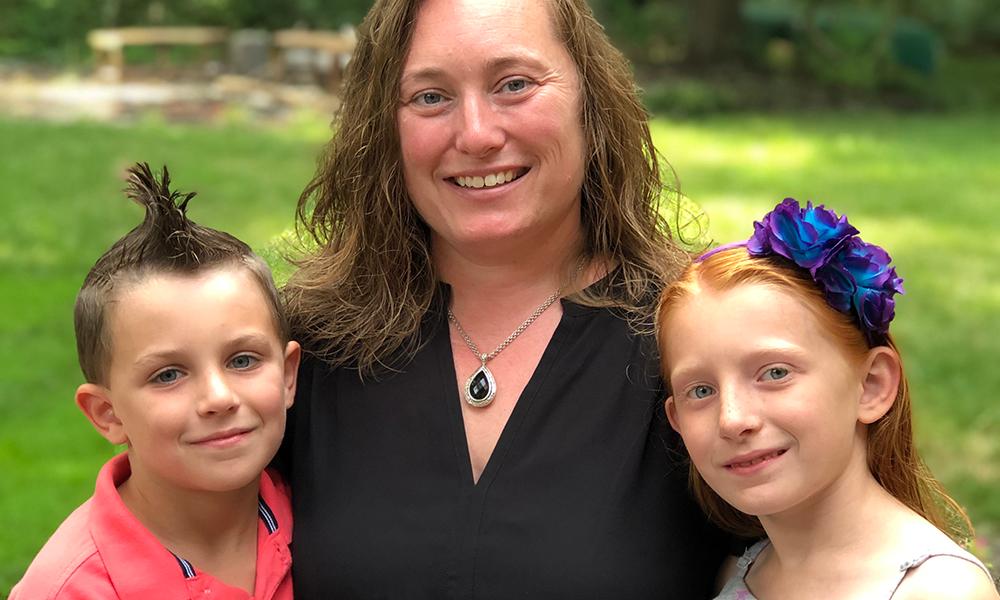 When alumna Lauren Smith ('01) graduated JMU's occupational therapy program, the importance of professional duty was instilled in her from her time at JMU. She has carried this belief throughout her career, making numerous contributions to occupational therapy (OT) and earning her the Virginia Occupational Therapy Association's (VOTA) Award of Merit this year for her scholarship work and professional practice.
While in JMU's OT program, Smith began working in 2000 as a counselor and personal care attendant for the Brain Injury Association of Virginia's Camp Bruce McCoy – a recreational camp for adults with brain injuries. She continued working with the program after graduation and became the director in 2007.
Along with her duties for Camp Bruce McCoy, Smith also works in acute care at all four of the Bon Secours Mercy Health hospital locations in Richmond and is a certified brain injury specialist. Beyond her work in OT practice, she is Bon Secours Richmond's student clinical education coordinator and teaches a 15-credit continuing education course through the American Occupational Therapy Association.
Smith has always wanted to teach, but not as a full-time educator. With these classes, she has the opportunity to teach and impact future practitioners while continuing her professional practice. She enjoys her ability to do both, and is thankful for the chance to contribute to the field and community.
"It's really so important for me to give back," said Smith. "I feel like I have the knowledge and skills to really help make an impact for other people. Whether it's me mentoring them when I have a student, or being a part of all of these things, providing my knowledge and experience that might help inform decisions or help people. That's why I do it."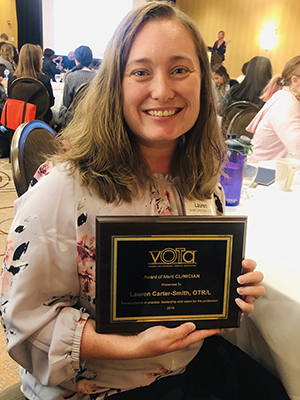 Smith believes that it is her responsibility as a practitioner to contribute to the profession and participate in as many committees as possible to help influence the field. "JMU's OT program stressed the importance of professional duty, as well as just being excellent, maintaining your active participation with OT, using your knowledge and staying current," said Smith. "My resources are huge and unlimited because of my active participation, and because of that I can give back, teach future OT, participate and really encourage and change OT."
Along with all of her scholarship and professional practice work, Smith is involved in numerous committees and organizations. She is an active member and chairperson of VOTA, is the state occupational therapy representative for the Virginia Emergency Medical Services Advisory Board's Trauma System Committees and is on the post-acute care committee for the plan.  All of these activities made her the perfect candidate for the Award of Merit, the highest honor given by VOTA.
"It was an amazing, unexpected honor to be recognized with the Award of Merit at the Virginia OT conference this year for all the stuff that I do," said Smith. "I don't do any of these things for recognition or praise, but it was awesome that other people recognized what I was doing."