News
Honors college accommodates nursing students
---
By: Brittany Bell
Creative Services Student Writer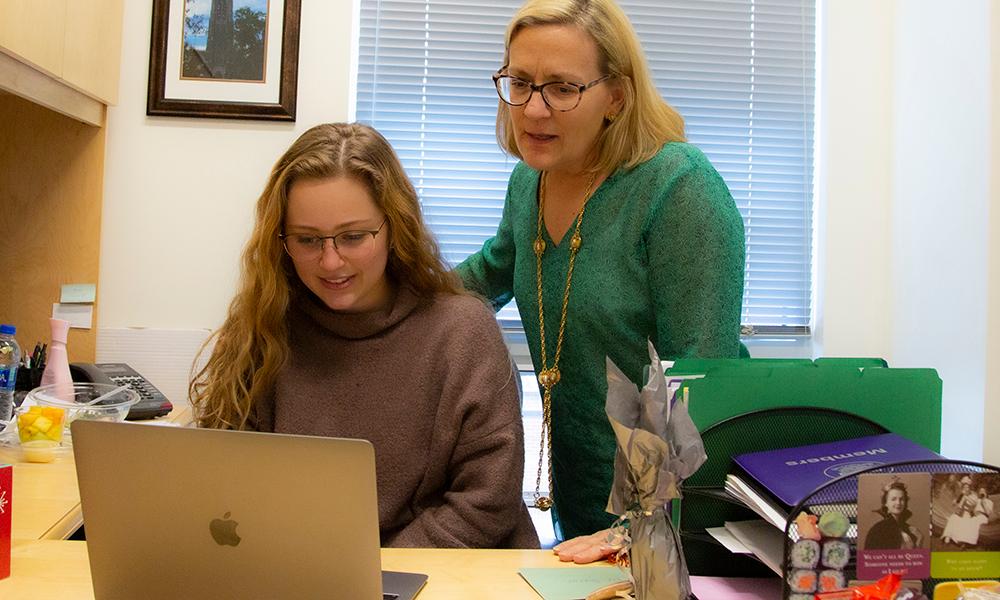 When fourth semester nursing student Elle Del Gallo was a freshman, she joined JMU's Honors College for the additional academic opportunities it offered. However, when she was accepted into the nursing program in 2017, Del Gallo had many concerns about her ability to complete the requirements for both the Honors College and the School of Nursing in her remaining time at JMU.
Many aspiring nursing students struggle with balancing the requirements of Honors courses with nursing pre-requisites and BSN coursework, and Del Gallo was no different. When she found out that the School of Nursing was adapting courses to include Honors-designated classes for nursing students in the program, she realized that continuing in the Honors College while in nursing school was a possibility.
Before, Del Gallo was attempting to complete all of the required Honors courses before entering the nursing program, which was very challenging with the requirements needed for entry into the School of Nursing. By offering Honors-designated nursing classes to streamline the process, Del Gallo was better able to balance the workload.
"I didn't think I'd have the ability to complete Honors [requirements] because of nursing, but they've been awesome with adapting courses," said Del Gallo. "Curriculum-wise, they've been really good at implementing courses that already fit in with what you're doing."
With the nursing courses fulfilling a portion of her Honors requirements, Del Gallo was able to focus on her Honors capstone project for the duration of her time in the nursing program. Her research project assesses how well the JMU School of Nursing teaches structural competency to its students. Her work will be published with the completion of her bachelor's degree.  
Del Gallo's unique success story shows the effectiveness of the adaptations that nursing professor Betsy Herron and Jared Diener, director of Honors advising and global initiatives, created to support nursing students and encourage them to stay in the Honors College. Herron and Diener began this process in 2017, getting the new curriculum approved by the curriculum committee and undergraduate faculty. Herron spoke with then-incoming freshmen about the opportunity to complete the honors program as nursing students, and helped Del Gallo as she progressed in the School of Nursing and Honors College.
"Our whole goal is to help students along the way so they don't drop out," said Herron. "We don't want them to come here and have done all that work, and then not graduate with honors. We're going to do everything we can to help them stay in the Honors program."
The success of these adaptations is evidenced by the 10 nursing students from the 2017 incoming freshman class who are still in the Honors College – twice as many as previous years. Del Gallo agrees that the changes have made it possible, and that staying with the Honors College and learning how to conduct professional research will help her with her future career.
"I thought it was going to be too much, but I'm glad I was able to finish it," said Del Gallo. "They've been super flexible and have really worked with me so that I can finish it."
"That's really the goal, to tell people that we can do it," reflected Herron. "It's not easy – there's nothing easy about getting into nursing or being a nurse – but helping to have all of this planned out, it just streamlines the whole process for the students. We are looking forward to having more Honors students going forward."