News
Health sciences student athlete excels athletically and academically
---
By: Brittany Bell
Creative Services Student Writer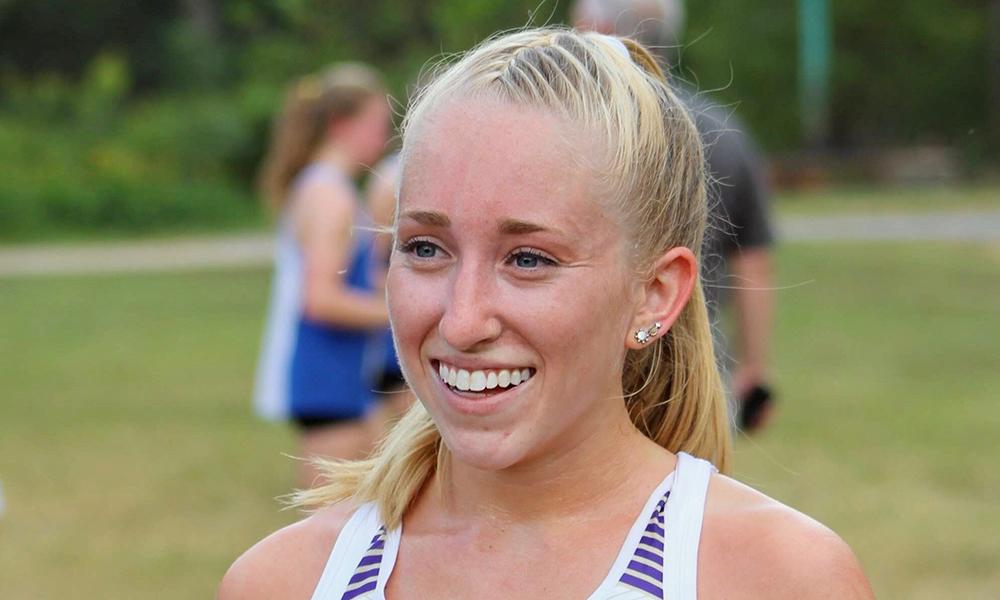 JMU's student athletes are fierce competitors, and outside of sports, many are successful students in diverse fields of study. Kayla Connelly is a junior health sciences major with a pre-occupational therapy minor who doubles as a distance runner on JMU's cross country and track team. An outstanding student athlete, she continues to break personal records at meets while maintaining exceptional grades.
When it came to choosing a college, Connelly, who started running in the fourth grade, knew she wanted to continue competing. While the inclusiveness and team morale of JMU's cross country and track team impressed Connelly, it was her future career interests in occupational therapy that influenced her final decision to come to JMU. "I wanted to find the right fit with a team on a competitive level, and JMU seemed like the perfect fit academically and athletically," said Connelly.
Connelly was inspired by her family to follow an OT career path. She was familiar with the field because of family members who are practitioners, and after seeing the difference it made in her grandmother's life while battling Chronic Obstructive Pulmonary Disease, she knew it was the career she wanted. Her career goal is to either work with the elderly or work with children with disabilities. "I love working with kids with special needs," said Connelly. "I just really have a special place for those kids, and then also the elderly are so sweet to work with."
Since being at JMU, Connelly has excelled – making Dean's List her first three semesters, and then President's List spring 2019 – and hopes to get into a Master's level  OT program in the future. She finds encouragement to succeed from her team, who collectively support each other in academics.
 "I think it's just the nature of our sport and being an athlete in general. We want to understand what our bodies are doing and how we can help them." said Connelly.
Balancing classes and a training schedule is a challenge faced by all student athletes. With daily practices and meets most weekends, Connelly has to proactively communicate with her professors to complete assignments on time and work out alternate exam schedules during travel. According to Connelly, one of the biggest keys to success as a student athlete is time management. It's important to plan ahead to get assignments done before meets while also allowing some down time. 
"Most professors are really flexible in working with us, and they'll let us do assignments while we're traveling," said Connelly. "JMU has been really great and accommodating, we have a great support system for the athletes."
During her athletic career, Connelly competed in cross country (XC) and track all throughout middle school and high school. What started out as honoring her father's legacy as a college runner turned into a passion of her own as she found success, winning 1st place at the XC District Championships all four years of high school. While attending JMU, she has been a member of the 2017 CAA Women's Cross Country Championship team, and continues to place at meets. Connelly will no longer run competitively after graduation, so until then, she plans to continue working to break personal records and perform well in her academics.
"Looking back, I am proud of everything I have accomplished, academically and athletically," said Connelly. "I'm really proud of my grades and how I've performed, so I think that's my biggest reward – seeing how much I've done. I love being able to represent JMU and be a part of something bigger than myself."