News
Julie Strunk becomes a Fellow in the AAN
---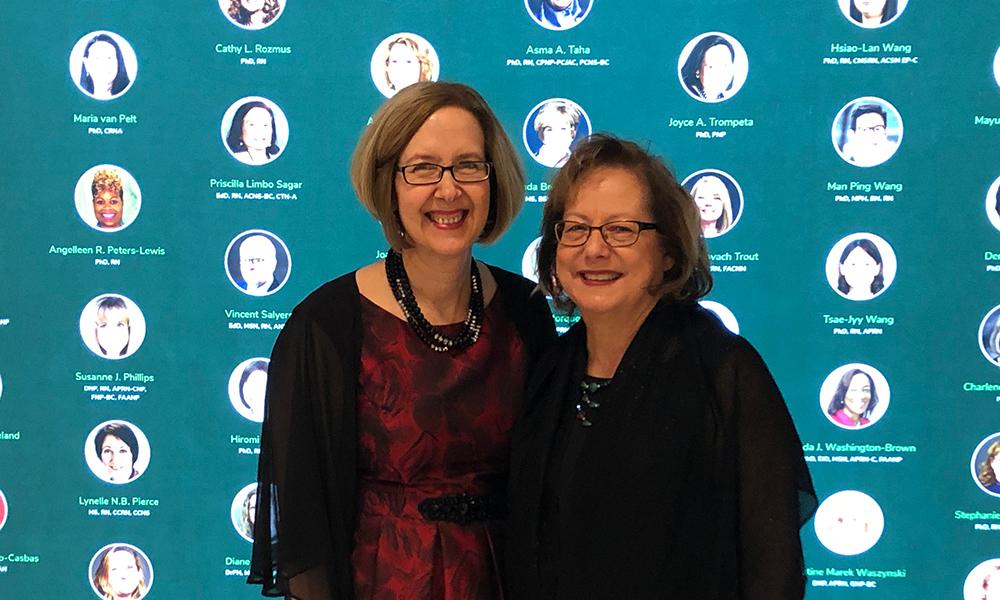 By: Sara Banton
Creative Services Student Writer
Fellowship in the American Academy of Nursing (AAN) is one of the highest honors a nurse can achieve in their career. Fellows are recognized nursing leaders who, through the Academy, aim to transform America's health system. Julie Strunk, a professor in the School of Nursing, recently received the designation of a Fellow in the AAN.
"I really wanted this to be the pinnacle of my career," Strunk said. "It's a goal I had set for myself."
Strunk earned two bachelor's degrees and a master's degree from JMU before earning a Ph.D. in nursing from VCU. "My time at JMU prepared me quite well," she said.
After working in a hospital setting for a few years, Strunk decided to take a position, as a teaching assistant for a special needs class, working with students who needed regular healthcare attention. She then became a school nurse at a high school and middle school in Harrisonburg for six years. "I chose to step out of the hospital and into the education system, which was really good because it helped me to 'speak education'," she said. "I understood the education field a lot more and it helped me to become a school nurse."
Strunk is currently a member of the School Nurse Institute Partnership (SNIP), a state-run program that represents all school nurses in Virginia. Through this program, she helped pilot a program in Richmond for school nurses to learn bleeding control techniques to treat a massive bleeding injury. She also helped develop health policies for schools. "A lot of school nurses don't have nurses supervising them, they have educators who are unfamiliar with the role of nursing," she said. "I helped develop an evaluative tool for clarity for these individuals who might not understand the role of a nurse in the school system."
She returned to the JMU campus as a full-time faculty member in the fall of 2012. She was chosen as the 2013 Virginia March of Dimes pediatric nurse of the year. While on a study abroad in Malta, she completed research that helped lead to the establishment of family support groups there for parents of children with autism. She developed a webinar for school nurses to learn not only how to identify a child with autism, but also how to work with that child. She helped start a nursery at Harrisonburg High School, called Project 4T, for students who needed childcare in order to finish their education. She also helped start the Precious Time program, which provides respite for caregivers of special needs children, utilizing JMU students to care for the children.
Through her fellowship in the AAN, Strunk is optimistic about her opportunities to continue serving others. "I look forward to doing some policy work," she said. "I want to take my influence from this group and be able to speak out publicly at the state or national level."
Melody Eaton, Interim Director of the School of Nursing, also a Fellow to the AAN, supported Strunk's application. "Strunk's work as an educator and with state associations has been a catalyst for change," Eaton said. "Becoming an AAN Fellow is truly an honor that is well-deserved for her."