News
Psyc student completes prestigious internship
---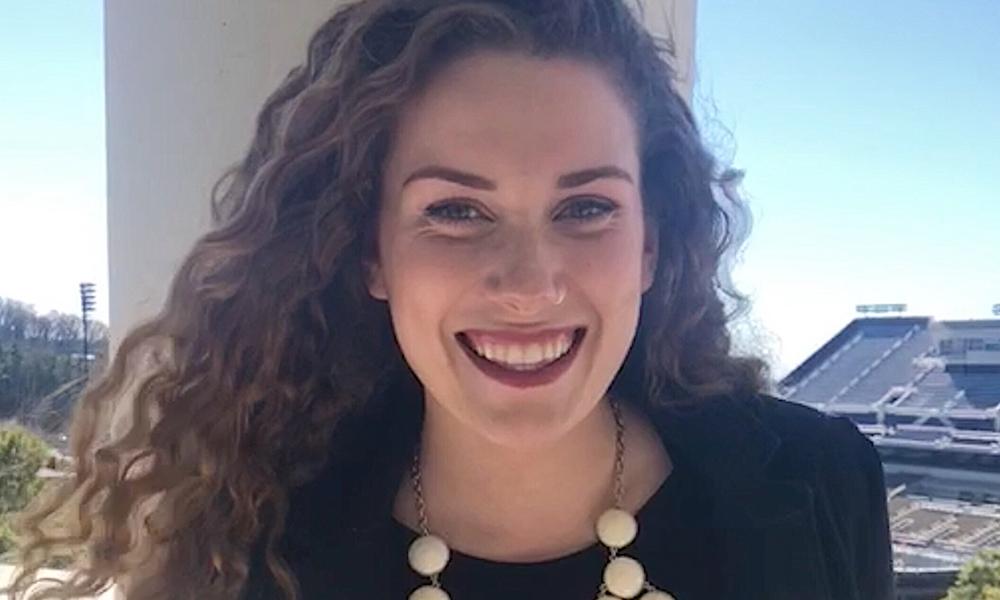 It's often said that life begins at the end of one's comfort zone. While enrolling in an unconventional elective or sharing dorm space requires some discomfort, junior psychology major Mallory Jungles took a major leap outside her comfort zone in summer 2019. From May through June, Jungles completed a prestigious internship with the Brain and Creativity Institute, University of Southern California's (USC) premiere lab for social and emotional neuroscience. Jungles' internship was immersive and authentic, allowing her to gain hands-on experience while exploring her professional ambitions in the psychology field.
A Virginia native, Jungles came to JMU unsure of what she hoped to study. After taking a General Psychology (PSYC 101) course with professor David Daniel in her first-year, Jungles' perspective shifted. She dove deeper into the field and discovered an interest in the psychological and neurobiological processes of emotion. She explained, "The way people think shapes their perception of reality and that's a powerful thing. I'm really interested how thoughts and feelings shape our perceived reality, as well as how they interact with biological factors."
Through more advanced coursework and research, Jungles discovered the work of Mary Helen Immordino-Yang, a distinguished professor of education, psychology and neuroscience at the University of Southern California. Immordino-Yang has dedicated her career to advancing scientific understanding of social emotion, self-awareness and culture. Inspired by Immordino-Yang's work, Jungles hoped to get involved and contribute to these important research questions. With the help of Daniel she found a prestigious and competitive internship opportunity working directly with Immordino-Yang, who rarely invites undergraduates to do research in her lab. Jungles secured the internship in spring 2019 and prepared for an impactful summer.
Thanks to the JMU Honors College and Career and Academic Planning (CAP) who provided scholarship support, Jungles was able to spend six weeks in downtown Los Angeles for her internship. Her experience was productive and rewarding, as she gained a deeper understanding of complex questions in social affective neuroscience.
As an intern, Jungles was responsible for a wide range of activities. From coding qualitative data to conducting MRI scans on research participants, Jungles gained hands-on experience in nearly every aspect of psychology research – even the less glamorous parts. Jungles recalled, "Research is different every day. It takes you wherever the wind blows and it's not always the most exciting thing." She added, "It's so important to be pushed by an inner curiosity, diligence and desire to learn. You have to be motivated by what you're trying to discover. If you can push through the tedious and less exciting parts of research, you'll truly be able to see people and understand them on a deeper level."
USC invited Jungles to continue completing long-distance research and data analysis for her last two years at JMU. In addition, she hopes to help build a satellite lab for USC at JMU next semester which she will manage alongside professor Daniel. While next steps for Jungles are not set in stone, she plans to go to pursue a Ph.D. in psychology. She eventually wants to teach at a university, but hopes to take the next two years to explore what concentrations she is most interested in. Wherever her career path takes her, Jungles knows her passion for discovery and innate curiosity will push the boundaries of her comfort zone.