News
National association recognizes JMU doctoral student
International student receives awards
---
By: Brittany Bell
Creative Services Student Writer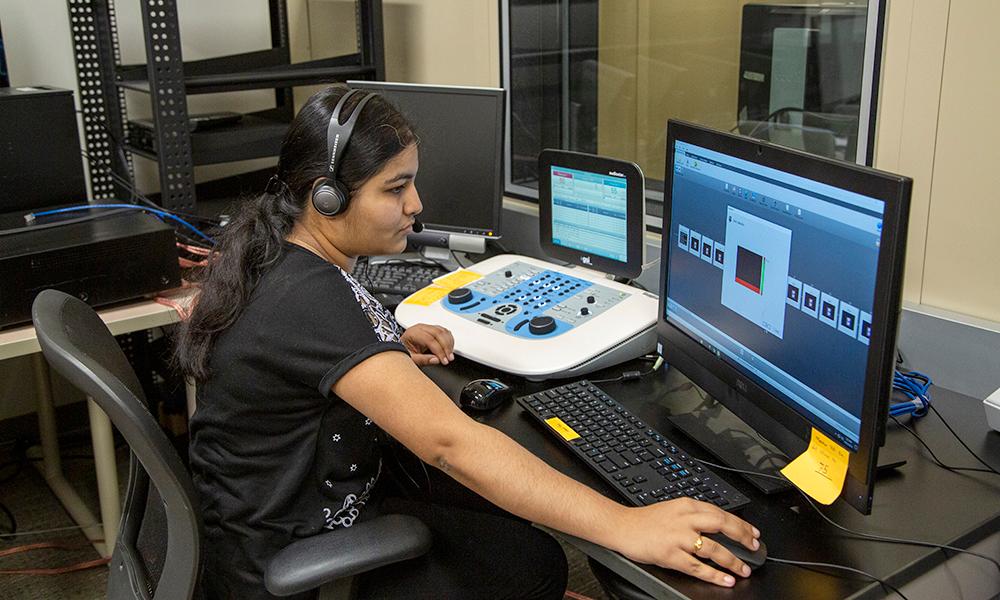 When Lakshmi Magudilu Srishyla Kumar came to JMU from India to pursue a Ph.D. in communication sciences and disorders, she planned to study audiology. Now, her research has landed her in the spotlight, having received both the Minority Student Leadership award and the Audiology Research Travel award from the American Speech-Language-Hearing Association (ASHA) this year.
ASHA is the professional organization that sets standards for curriculums, certifies professionals, funds research and provides networking opportunities for professionals and students. The Minority Student Leadership Program (MLSP) focuses on teaching leadership skills to minorities that are underrepresented in the profession, while the Audiology Research Travel Award (ARTA) supports the research of emerging professionals by giving them the opportunity to attend the ASHA Convention.
The ASHA Convention will take place November 21-23 in Orlando, Florida. This year, Lakshmi will attend the event and participate in various meetings, informational sessions, a hearing research symposium, networking events and more because of her awards. The MLSP includes additional leadership trainings and activities to help students transition into the profession.
"They promote leadership in students and they encourage them to participate in programs that hone their leadership qualities so we can be leaders in our profession," said Lakshmi.
Lakshmi looks forward to the leadership training, along with the opportunity to meet other professionals and see the current research in audiology. 
"It's always important to reach out to people who are working outside or in the same area of expertise and put forth your ideas and have discussion and collaboration," said Lakshmi.
Her research focuses on how noise and levels of loudness affect how people hear – especially people with hearing impairments. As of now, there are no standardized tools that test the effort people put into listening to speech in the presence of noise. Lakshmi is studying physiological measures and behavioral measures to find the perfect combination of methods and tools to measure the listening effort. 
Lakshmi hopes to present at the ASHA Convention in the future. For now, she is excited to explore the benefits from her awards, and looks forward to the opportunity to interact with other professionals at the convention. Her plan is to get more experience in teaching and research before returning to India and becoming a professor at a university.
"I feel like I have been in the best place that I could ever be," said Lakshmi. "All the faculty in the department have been very supportive in building professional development and being a better a student in terms of developing our personality and being more open."
Published: Thursday, October 24, 2019
Last Updated: Monday, October 28, 2019