News
Health sciences initiative creates student resources
---
By: Brittany Bell
Creative Services Student Writer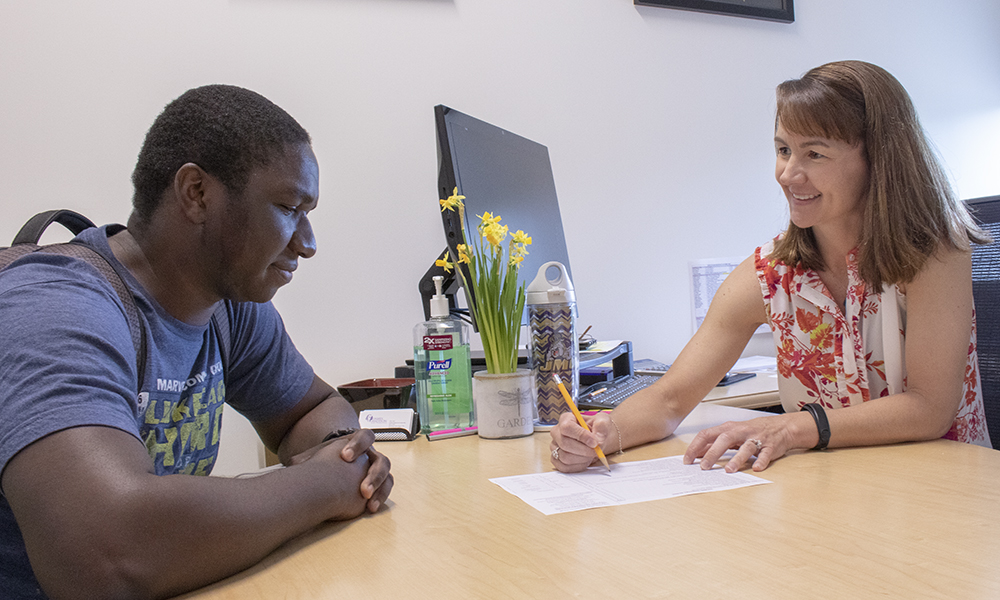 Every year incoming freshmen get a week before classes to acclimate to JMU and campus life, but transfer students have a different orientation experience than freshmen. This semester, health sciences adviser Laura Blosser started an initiative to help her transfer students better integrate into the department.
Blosser's initiative is the first of its kind for the health sciences department. She created a Canvas page just for health sciences transfer students to engage in discussions and share information, and has begun scheduling group meetings for these students. All health sciences transfer students since last spring have been invited to participate.
"The department had not concentrated on just transfer student programming until this point," said Blosser. "My hope is the increase in communication can help put students in better positions academically, but also help them to feel more a part of the JMU community from the get-go and not right as they are about to graduate."
Transfer students face several difficulties when coming to JMU — not only are they challenged with adjusting to different academic expectations, but they are also learning a new campus.
"It wasn't so much as a workload challenge, but a psychological challenge because I just felt sort of like I was in a different role than my fellow classmates," said Emily Broyles. "I just thought that they had more experience than me."
While Broyles is not a traditional transfer — having come to JMU with dual enrollment credits — her academic status as a junior set her apart from other incoming freshmen. She was still able to participate in regular freshmen orientation experiences, but socially struggled in classes due to her young age.
After seeing Broyles excel academically yet have difficulties connecting with peers, Blosser was inspired to start her initiative to give transfer students more experiences that add on to their orientation, allowing them to integrate and communicate better.
"When Blosser started the initiative this year, it was a time where I had a chance to speak to other people from my transfer session," said Nershon Kamara, a junior transfer student. "We all just chatted about how things were going, how classes were going and how we were adjusting to JMU life."
Blosser's aim is to facilitate peer advising, socialization and create opportunities for transfer students to meet others in similar situations and learn from them.
"It is helpful because it shows that whatever struggles you're going through, you're not alone. There's other people that are going through the same things with you," said Kamara. "It was also nice to talk to people who were in my same program and see how their classes are going for them. Experience is different from person to person."
The positive feedback that Blosser has received encourages her to continue the initiative. This semester was a bit of a test-run, but she wanted to start small and develop her method to help students integrate more comfortably into their classes.
"I think that the initiative definitely could help, especially if it means that transfer students are more well-informed and they feel more connected to the school and to the health sciences program," said Broyles.