News
Health sciences students take alternative spring break trip to Chicago
---
By Creative Services Staff Writers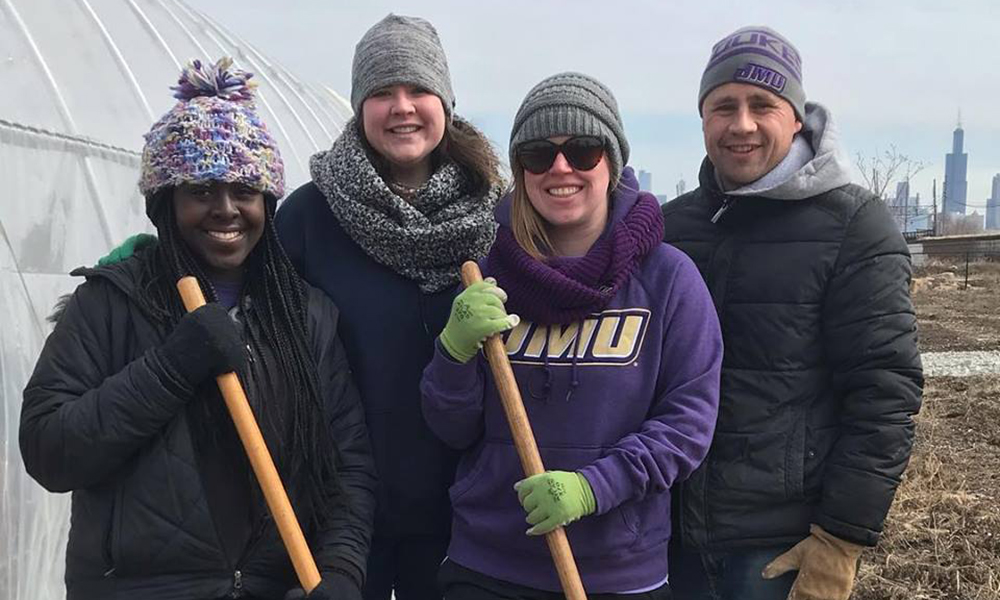 Every year the JMU Community Service-Learning (CSL) office organizes alternative spring break (ASB) trips that offer opportunities for students to engage in volunteer service both nationally and internationally. This year, three health sciences students participated in a trip to Chicago to work with the Heartland Alliance, one of the world's leading anti-poverty organizations.   Heartland's  mission is to serve those who are homeless, living in poverty or seeking safety.  While in Chicago, the students volunteered at several partner agency locations.
"We don't go on this break thinking we're going to solve all the community's problems, we're going to meet the community where they are," said Emma Malloy, co-leader of the trip.
Malloy felt prepared to co-lead this trip by the training provided by CSL.  An important component of the alternative break philosophy is being fully engaged in the experience.  By committing to live simply and sustainably on the trip the participants can more fully appreciate the communities they are serving.  While on the trip, access to technology is limited to enable mindfulness and engagement.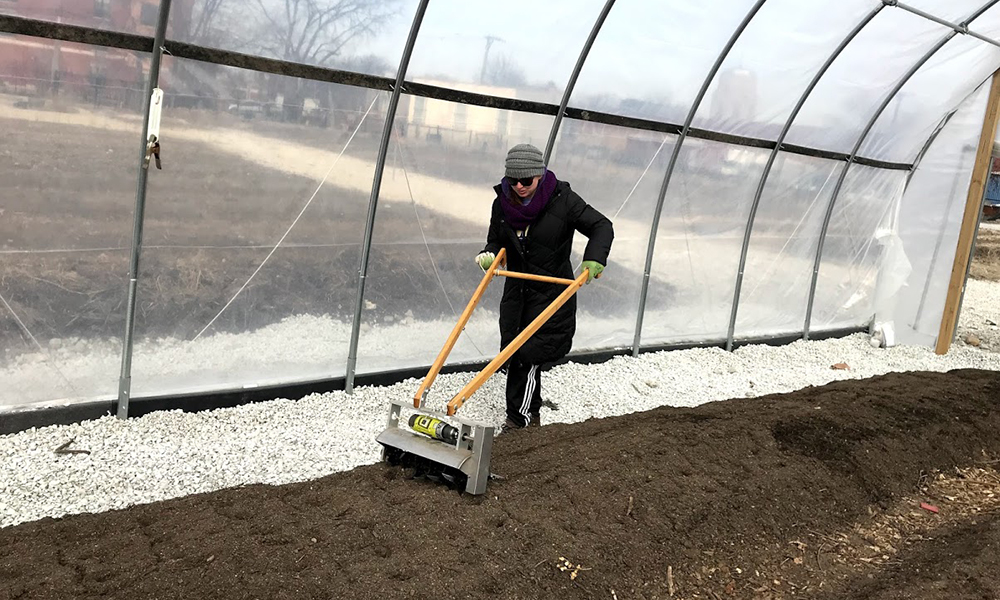 For two days, the students worked at Heartland's sustainable food garden called Farm Works, where they planted over 1,500 seeds and performed maintenance on their greenhouse. Last year alone, Farm Works produced over 30,000 servings of vegetables which were distributed among three community food pantries that cater to people with HIV/AIDS.  Malloy explained, "We put them two weeks ahead of planting season because we got to plant all those seeds that will be able to germinate ahead of schedule, and then they put them in the ground sooner."
Another day was spent at Vital Bridges, a food pantry where they focused on helping to clean out storage closets and filing paperwork.  While mundane, these tasks were much needed and had been neglected due to a lack of manpower. 
 "I think that we were able to help the people that help the community," continued Deborah Adelugba, "In that sense, we gave the community workers the ability to focus on helping the community."
The students also spent two days working at an affordable housing complex called Harvest Commons and helped maintain their community garden. Residents also work in the garden and all the food raised is distributed among them. 
"The amount of sheer work that goes into keeping a non-profit up and running was just mind-blowing," said Malloy. "The work we were doing might have seemed small to us at the time, but Heartland was extremely grateful because it's just little things that keep them going that they don't have time to get to because they have other bigger things to do."
All three locations allowed the students to witness the different aspects of Heartland's approach to combat poverty. Both Malloy and Adelugba agree that their experience was enlightening and connected to their studies in health sciences.
"The trip was great for everybody to go on, but certainly for health sciences students," said health sciences professor Tim Howley. "I could see a very direct connection to the things that we were doing to the things that they learn in their curriculum."
Howley was the learning partner for the trip who accompanied the students. His familiarity with ASB trips began while he was an undergraduate student at JMU when he went on three separate trips.  This trip was his sixth.  His class lessons on health inequality, access to health care and population determinants directly related to what they observed on the trip.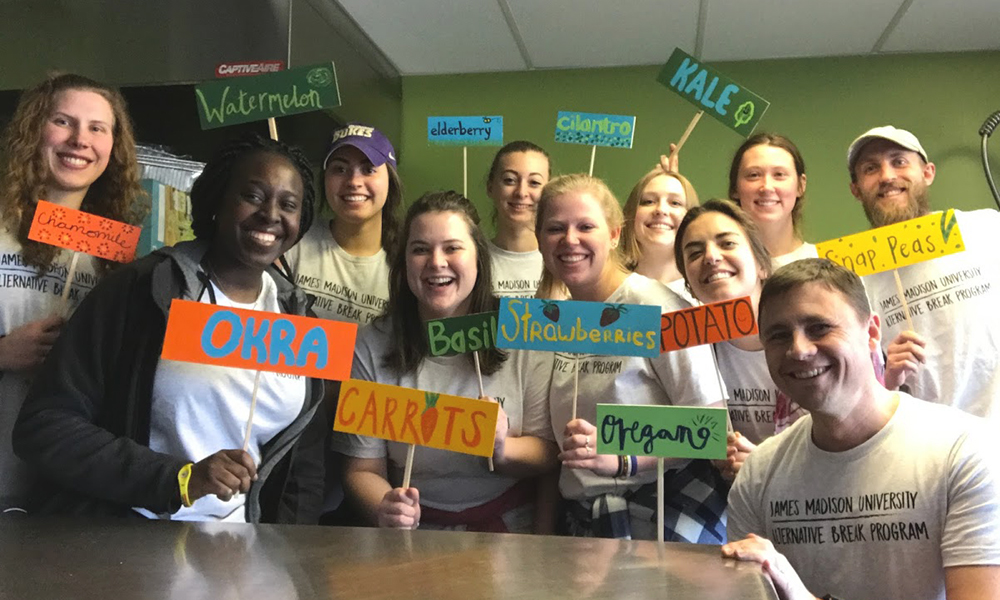 Witnessing how Heartland's gardens and food pantries combat poverty illuminated how devastating food deserts are to a community. Many neighborhoods didn't have any grocery stores and relied on convenience stores.  Howley explained, "We talk about food deserts and access to fresh fruits and vegetables being a big issue for folks who are experiencing poverty in urban environments."
The students agreed that it was inspiring to volunteer for Heartland Alliance. "I know everyone says it's life-changing, but it really is life-changing," said Adelugba. "You just learn so much about yourself as a person, and you're helping people. What better way to spend your time than helping people?"
Malloy added, "It was very eye-opening just to see how you can only understand what someone's going through if you put yourself in their shoes." 
They encourage all students to participate in an alternative break.  The CSL office has an extensive list of opportunities to meet all interests.  Howley agrees, "I tell everybody it should be on their JMU bucket list. I went to JMU, and as a student, I can pin-point my first break as a life-changing moment for me. I really feel like my world-view started to shift and I really started to become the person that I am today."