News
Students with Schizophrenia founder Cecilia McGough visits JMU
---
By: Sara Banton
Creative Services Student Writer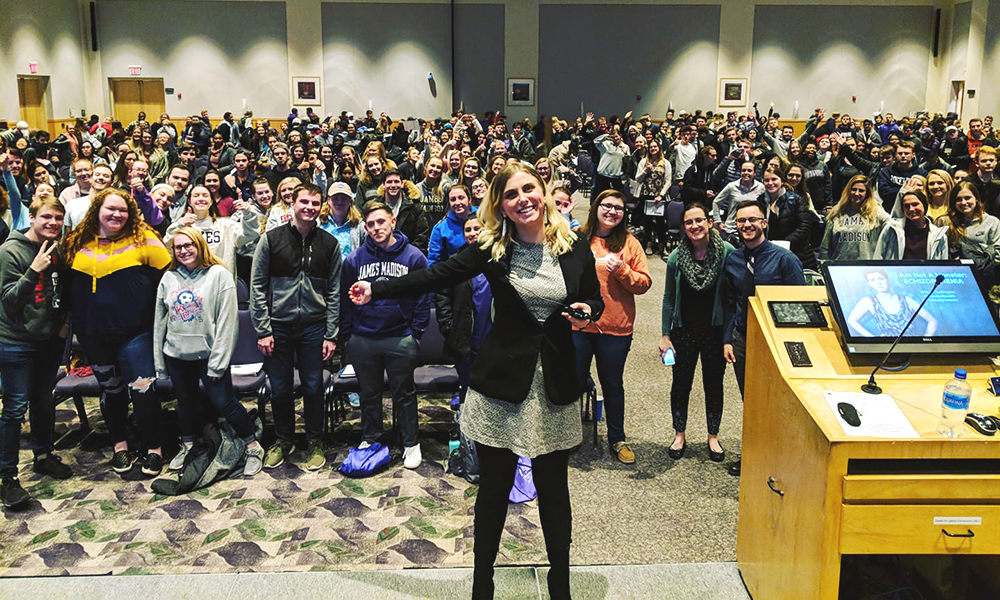 At the age of 17, Cecilia McGough co-discovered pulsar J1930-1852, a celestial object that emits regular pulses of radio waves along with other electromagnetic radiation and had her findings published in the Astrophysics Journal. After making an important discovery at such a young age, McGough went on to study astronomy and astrophysics at Penn State. She also has schizophrenia.
Throughout her entire life, McGough recalled experiencing symptoms of schizophrenia, specifically hallucinations, but it wasn't until her first year at Penn State, when the symptoms became very prominent, that she was formally diagnosed. When she couldn't see an end to her suffering after the diagnosis, she attempted suicide. During her recovery, McGough came to the realization of the love she has for learning and relied on that to regain control of her symptoms. Afterwards, she decided to open up about having schizophrenia and share her experiences and help others facing similar situations.
Since then, McGough has become a mental health activist. In 2017, she delivered a TED Talk aimed at removing the stigma associated with schizophrenia. Her talk has been viewed over three million times. She founded a nonprofit organization, Students with Schizophrenia, to provide resources to help students afflicted with the disorder be more successful. She currently tours college campuses presenting her latest vlog project, "I Am Not a Monster: Schizophrenia."
Senior political science major, Brandon Stone, was a high school classmate of McGough. After watching McGough's TED Talk in professor Debra Sutton's Health 100 class, he approached Sutton with the idea of inviting McGough to JMU. She liked the idea, so he reached out to McGough.
On February 25, nearly 900 students attended her presentation, "An Evening with Cecilia McGough." She addressed mental health issues and stigma and talked about her non-profit, Students with Schizophrenia.
"She has a wonderful organization that helps students with schizophrenia know that they are safe, that they are not alone and that mental illness is a common occurrence," Stone said. "I saw my connection with her as an opportunity to get her organization some recognition at JMU and as something that can really help students dealing with schizophrenia on campus."
Senior health sciences major, Courtney Nelson, attended McGough's presentation and was inspired by her story. Hearing McGough's first-hand experiences was very beneficial to Nelson as a future health professional.
"One of the things I hadn't thought of before was how I would interact with a person when they were hallucinating or having a hard time in general with the manifestations," Nelson said. "I'd want to be able to relate to the person in what they're experiencing, but Cecilia noted that asking lots of detail-specific questions, especially during an episode, takes away from how she feels as a person and puts more attention on the things that aren't actually there."
As Emily Bradford, a senior health sciences major, prepares to go into the healthcare field, she knows she may come into contact with individuals who have a form of mental illness. McGough's presentation opened her eyes to helping patients be more comfortable around her as a healthcare provider, but what stood out the most to Bradford was how McGough has broken down some of the stigma society has attached to individuals with any sort of mental illness.
"Cecilia is the perfect example of someone not allowing their health condition or situation determine what they are able to accomplish in life," Bradford said. "Cecilia and I are roughly the same age and to know the impact she has already had on the mental health community alone is inspiring. It challenges me to stretch myself in my own career."