News
Health sciences students place third at state conference
---
By: Sara Banton
Creative Services Student Writer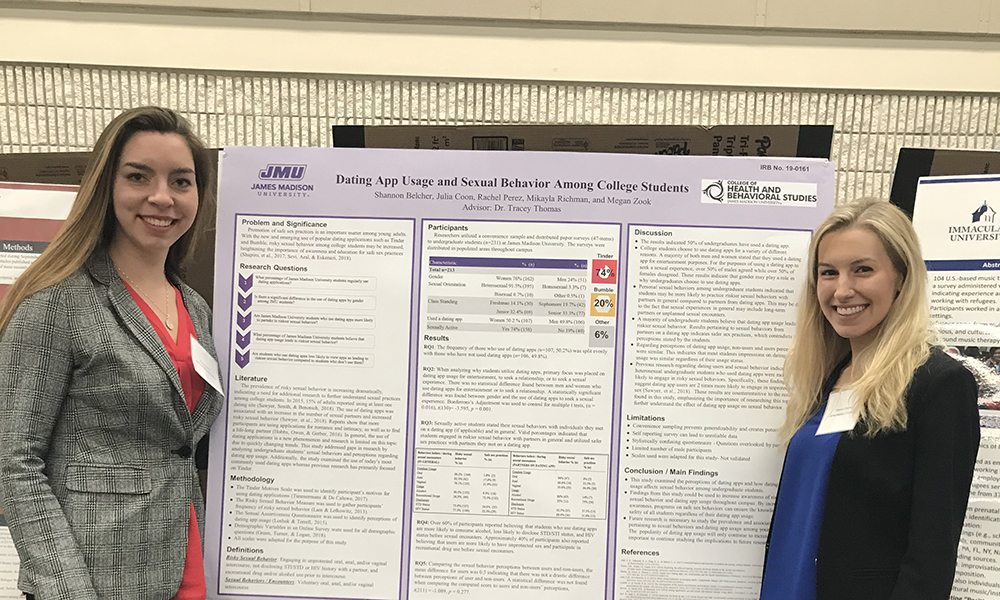 After winning the Top Project Award at the Health Sciences Undergraduate Research Symposium in December, Shannon Belcher, Julia Coon ('18), Rachel Perez, Mikayla Richman and Megan Zook ('18) were encouraged to submit their abstract to the Virginia Public Health Association (VPHA) Annual Conference. Their abstract was accepted and Belcher and Perez traveled to George Mason University to present the team's research, "Dating App Usage and Sexual Behavior among College Students," in March. Of the 29 presentations at the VPHA conference, Belcher and Perez were the only undergraduates presenting; they also received third place. 
The students from the winning team were enrolled in professor Tracey Thomas' Health Research Methods (HTH 408) course in the fall. She served as their adviser throughout the research process. 
"We were already impressed that they were at the conference when we heard that they were the only undergraduates presenting, but we were even more impressed when they got third place," Thomas said. 
Perez is thankful for the feedback that the team received throughout the experience, both researching and presenting, especially from Thomas. "Thomas has been so supportive and helpful," Perez said. "She really wants us to take our research to its fullest potential. Without her encouragement, it would have just been an assignment we did to fulfill a task." 
To gather data for their project, the team surveyed 200 students around campus, asking each student nearly 50 questions regarding motives for using a dating app. The research required the team to follow the Institutional Review Board (IRB) process and create a poster detailing their data and findings. The team was really invested and interested in the research, which Perez believes made the experience much more enjoyable. 
Belcher hopes to attend additional conferences in the future. "It was a very worthwhile experience to be given the chance to present at a regional conference," she said. "We were really excited and a bit nervous to present our topic to judges and graduate students, but when the first judge approached our poster, we got into a comfortable groove." 
For Perez, presenting at the conference changed her opinion on research, allowing her to see the many opportunities it can bring. Belcher also recognized the importance of presenting at conferences and especially the value of sharing their research beyond JMU. 
"For our topic specifically, dating apps are a new phenomenon and are rising in popularity among undergraduate students. Many are not aware of this, so it's necessary to touch upon the effects they have on risky sexual behavior," Belcher said. "We hope to inform people outside of JMU about dating app usage and how prevalent they are becoming throughout college campuses." 
Perez described the atmosphere of the conference as very supportive, as they received a lot of positive feedback. Everyone who approached their poster asked questions to learn more about their research. Many attendees were surprised to find that they were undergraduates and encouraged them to publish their findings. 
The team plans to submit their findings to an academic research journal focusing on college health soon. They have also considered running different types of analyses on the remaining questions in the survey to continue their research on the topic. Perez explained, "I'm excited to see where the research goes next."