News
Psychology instructors combine classes to discuss research
---
By: Sara Banton
Creative Services Student Writer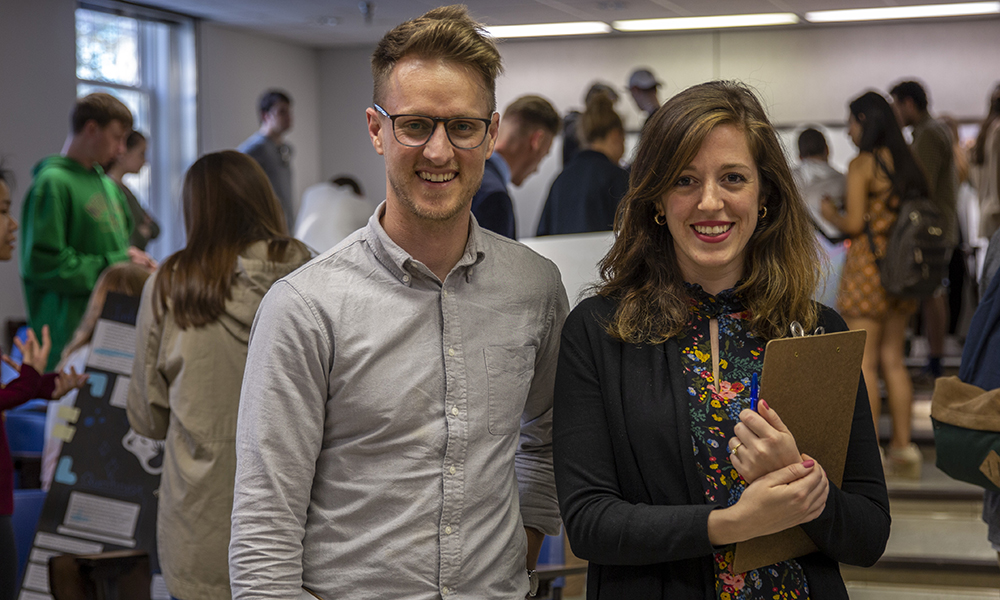 To liven up class material, Julia Dobner-Pereira and Christian Haase, graduate students in the Combined-Integrated Doctoral Program in Clinical and School Psychology, brought their PSYC 101 classes together to recreate an academic conference. Haase hosted a similar conference for his students in the fall semester and enjoyed the results. Julia did some similar interactive presentations with her students. When they spoke about their plans for the upcoming semester, they decided to expand the research poster presentation idea, merging their classes for the project and incorporating a different audience.
Dobner-Pereira viewed this collaboration as a break from the usual routine, adding that many students wouldn't expect something like this from a general education course. "I don't remember a single class in college where we combined classes to work together," she said.
"The idea came from a place of wanting the students to engage with the material in a fun, active way," Haase said. "We asked, how can we bring something that may seem boring, like this research, to life and make students think about it more critically?"
The course curriculum includes understanding what a research study entails. Through this opportunity, students were not only able to learn from each other, but also discuss research and understand the process in a more engaged way.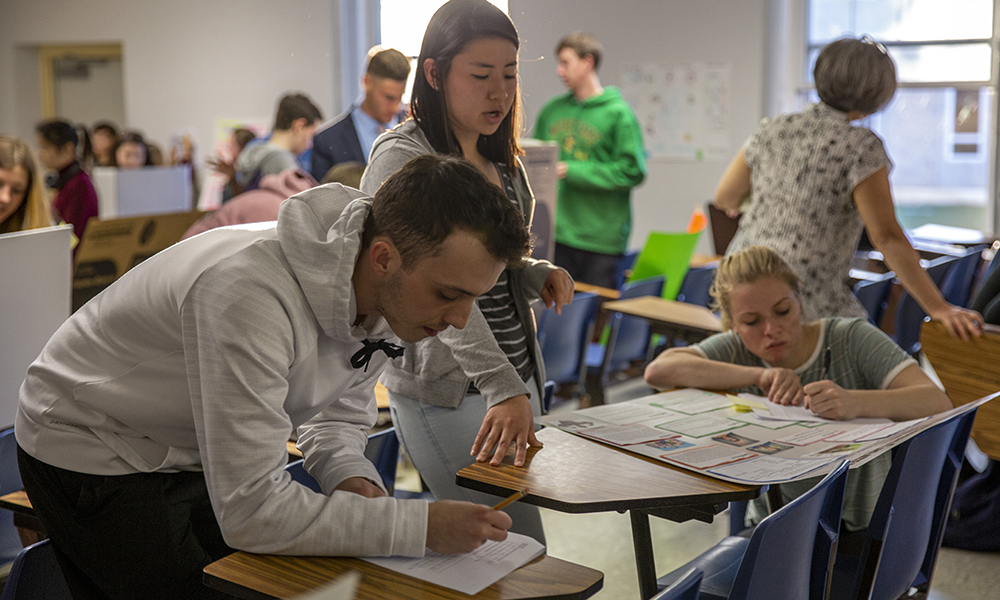 Students chose an existing study and analyzed the article for how the researcher laid out their methodology, how they collected data and its effectiveness. Dobner-Pereira and Haase provided posters from previous conferences for students to use as examples as they created their own posters.
The posters were arranged in rows and the students split their time between being in the presenter role and walking around, observing the posters and talking to the presenters. Dobner-Pereira and Haase also brought in two outside researchers who judged the posters, selecting a few that really stood out. These selected posters received extra credit.
This collaboration served as an introduction to an academic conference. If students continue with a career in science, some of the first presentations they encounter will be poster presentations.
"This sets them up for the future, when they go to a real conference," Dobner-Pereira said. "When you're at a conference, you don't want to wander around blindly. You want to have an idea of how to evaluate someone's work, make sense of it and know what questions to ask."
Interacting with other students' posters required a high level of engagement. Students analyzed three posters and answered corresponding questions, such as what the purpose of the research was, what methods the researcher used to understand their question, what the findings mean and what they learned from the poster.
"It's different to explain your study to someone you're comfortable with than someone who you don't know their background or if they understand your research. You have to make the language accessible," Dobner-Pereira said. "That's part of this assignment, helping students practice for a conference environment, but still be comfortable because it's their classmates or other college students. We incorporated new people. It's that added element."