College of Health and Behavioral Studies
Students participate in health policy summit
---
By: Shannon Shevlin
Creative Services Student Writer
Understanding the intersection of health and public policy can help communities build more affordable, effective and accessible care systems. Every semester, JMU's Health Policy Collaborative provides a forum for students to engage with compelling public health issues while exploring how legislative advocacy can improve wellness, work and quality of life for many Americans. In March 2019, more than 200 students and faculty – along with Virginia House of Delegates representatives Dawn M. Adams ('86) and Tony Wilt – attended the Health Policy Summit (HPS) where they analyzed issues related to the opioid epidemic and discussed innovative solutions to minimize gaps in care.
Opioid misuse and addiction are widespread and costly public health concerns. According to the Center for Disease Control (CDC) more than 400,000 Americans died from an opioid-related overdose between 1999 and 2017, and the crisis generated nearly $78.5 billion in annual economic loss. The U.S. Department of Health and Human Services (HHS) declared opioid overdose a public health emergency in 2017, but the crisis continues and demands comprehensive solutions. While prior HPS events have tackled issues including Medicaid expansion and the Affordable Care Act, this year's topic represents another multifaceted case with no clear solution.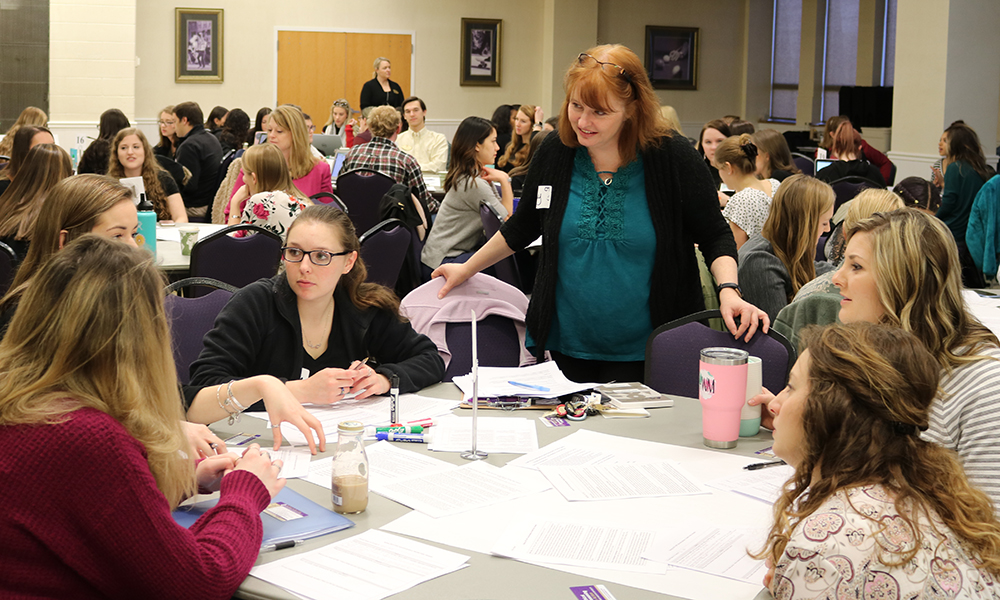 Prior to the summit, students researched 15 current bills and familiarized themselves with the nuances of each. Putting their research into action, they applied JMU's ethical reasoning framework and considered how it could strengthen each bill. During the event, students used a Team-Based Learning (TBL) approach that allowed for inter-disciplinary collaboration in a small-group learning environment. Students from nursing, social work, occupational therapy and health sciences as well as students from business and political science contributed to the dialogue.
Professor and BSN program coordinator Jamie Robinson is passionate about issues in public health and was excited about the opportunity to facilitate the HPS event. She discussed how inter-professional education events not only support accuracy, longevity and success in patient-centered care, but also improve students' confidence to tackle complex challenges. She explained, "All together the HPS broadens students' perspectives of advocacy regardless of their discipline. Each discipline brings its own lens to the table but it is when we take into account each diverse point of view that we can reach innovative, feasible and sustainable solutions to big problems."
Students were then tasked with brainstorming solutions to the crisis and developing detailed legislative proposals to amend current legislation. They designed posters to share their ideas and took a gallery walk to observe other teams' recommendations. Next, they voted on the top three and those teams presented their proposals in full. The event generated several excellent policy recommendations, ranging from a task force to prevent illegal sale of narcotics to education and addiction resources for local clinics.
Social work professor Laura Hunt Trull reflected on the power of this event, emphasizing how it inspired a meaningful discussion across diverse program lines. She expressed, "Everyone brings unique perspectives, resources and expertise to the table which can be really important and valuable," she continued, "Necessity breeds empowerment as students are in a place to speak up and raise concerns others might not have considered."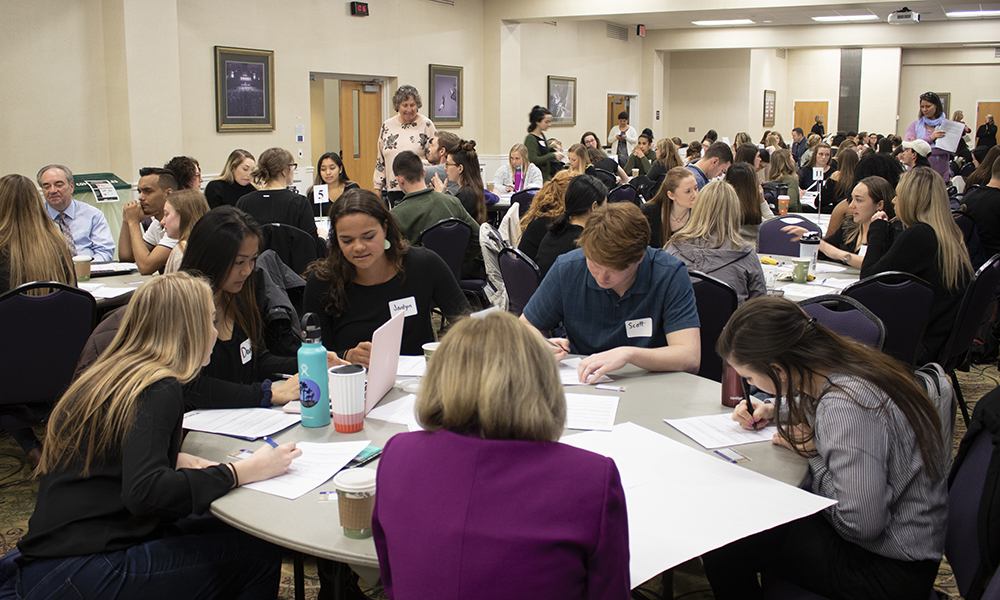 Delegate Dawn M. Adams is a JMU Nursing alumna ('86) and represents Virginia's 68th district. She attended the HPS along with Delegate Tony Wilt who represents Harrisonburg in the 26th district. Adams encouraged students to lead advancement in their communities through civic engagement. She said, "As a clinician and a policy maker, hearing the proposals of the participants was super interesting. Students bring the voice of the next generation to Virginia's legislature and it is through civic engagement that law makers are made aware of issues most important to those they represent."
The HPS concluded with a discussion and reflection about how society can work together to prevent disease, prolong life and promote health through organized efforts and informed choices. Practitioners are both the constituents and experts on public health concerns and they are ready to use their voice to make a difference.
Published: Tuesday, April 16, 2019
Last Updated: Tuesday, July 2, 2019