News
Psychology alumna continued education around the world
---
By: Sara Banton
Creative Services Student Writer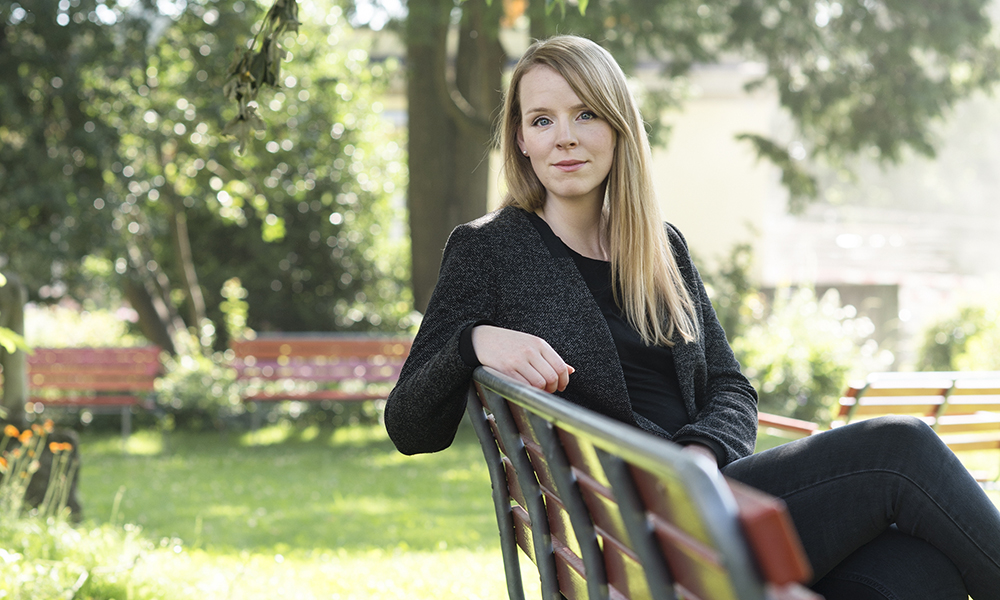 At the age of two, Jessica Lampe ('11) moved from Virginia to Germany, kindling what has become a lifelong passion for international exploration.  She returned to the U.S. during high school and attended JMU to study psychology. She spent her junior year at Oxford University in England as part of an exchange program. Since graduating from JMU, Lampe has traveled to Scotland, China and Switzerland to continue her education.
At JMU, Lampe completed an honors thesis with psychology professor Jeffery Andre. As a member of the JMU equestrian team, Lampe spent extensive time riding and observing the ways that horses interact with humans. Her love of horses and interest in psychology sparked the idea that became the research topic for her thesis—cross-modal perception of humans in horses.  She and Andre studied the ability horses have to differentiate between familiar and unfamiliar people by using multiple senses such as smell and hearing.
Lampe's study was the first equine research project in university history. She submitted their findings to the scholarly journal, Animal Cognition, in summer 2011, and was published in May 2012.  "Going through the peer review process with an international journal already at that stage of my career was a valuable experience," Lampe said.
When it came time to think about graduate school, Lampe found herself looking abroad again. "My time at JMU offered many opportunities, such as honors seminars and international programs, that helped to prepare to further my education overseas," Lampe said. She was intrigued by the work being done in applied animal behavior and welfare at the University of Edinburgh in Scotland. "I was seeking to combine my background in psychology with my love for animals and fascination with their behavior and this seemed like a perfect fit," she said. She was accepted to the program and completed a master's thesis on the effects of horse-human contact prior to riding sessions, which focuses on the impact of physical interactions between horse and rider.
By 2012, she had finished her master's degree and was exploring options for Ph.D. programs. Never one to miss an opportunity to research and learn in a new country, she completed a two-month research stay in China, with Animals Asia, looking at social dynamics in Asiatic black bears.
Lampe applied to several Ph.D. programs and found a good match with the University of Bern in Switzerland, to do research on emotional contagion. For her doctoral dissertation, she worked with rats, observing play behavior, positive emotions and emotional contagion—when one's emotions trigger similar emotions in others.
As she approached the end of her doctoral program, she came across a project in psychology of religion, coincidently at the same university, while she was applying for jobs all over the world. She liked its interdisciplinary approach and decided to try yet another focus in psychology.
Since 2018, Lampe has worked as a post-doctoral researcher in the division of Psychology of Religion at the Institute of Practical Theology at the University of Bern. She is currently working on a project within the Interfaculty Research Cooperation, called "Religious Coping Styles among the People Treated with Internal Religious and Spiritual Struggles." This project will be her "habilitation," which is the equivalent of a second Ph.D. in Europe. She has also started working with the Center for Space and Habitability at the university to host a conference on the relationship between and limitations of science and religion, which will take place this November in Bern.
In addition to her post-doctoral position at the university, 2018 also brought additional honors for Lampe. In May, she was selected by the German edition of the Forbes magazine for their 30 Under 30 list. In September, she delivered a TED Talk, focusing on inner struggles caused by religious and spiritual conflicts. She was part of the TEDxBern series entitled, "Anything is Possible," which was created as an opportunity to introduce visionaries who are impacting Bern. "All this attention gave me the challenge and opportunity to grow into my new position very quickly," she said. This March, Lampe had the honor to be a speaker at the Forbes Women's Summit in Vienna, entitled "Writing Future Codes," an "empowering meeting of inspiring women and men fighting for diversity and equality for the coming generations."
Published: Monday, April 8, 2019
Last Updated: Thursday, April 11, 2019