Inclusive recreation in action
News
---
By: Shannon Shevlin
Creative Services Student Writer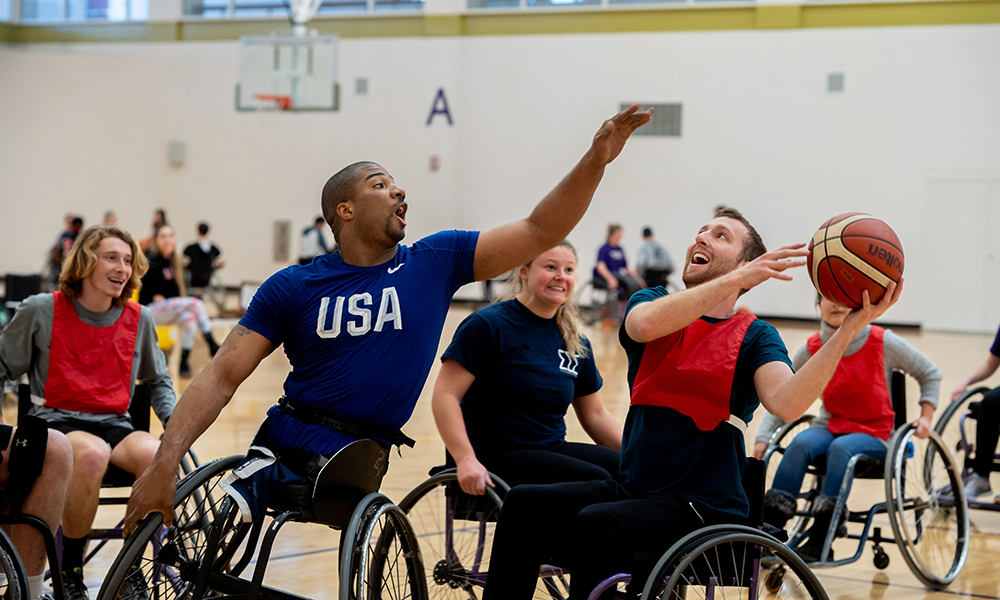 Support the Paralympic Skills Lab
How can universities build communities that reflect values of diversity, inclusion and equity? Kinesiology students and faculty lead by example, showing how the integration of disability sport education creates spaces where all are welcomed, accepted and supported. On February 21, more than 200 students from select Kinesiology 100 classes participated in Paralympic Skill Lab (PSL) where they learned to play wheelchair basketball, sitting volleyball and goalball alongside Paralympic and other distinguished athletes. The PSL not only inspired an authentic learning experience surrounding adapted sports, but it also represented a platform to celebrate diverse talent and ability at JMU.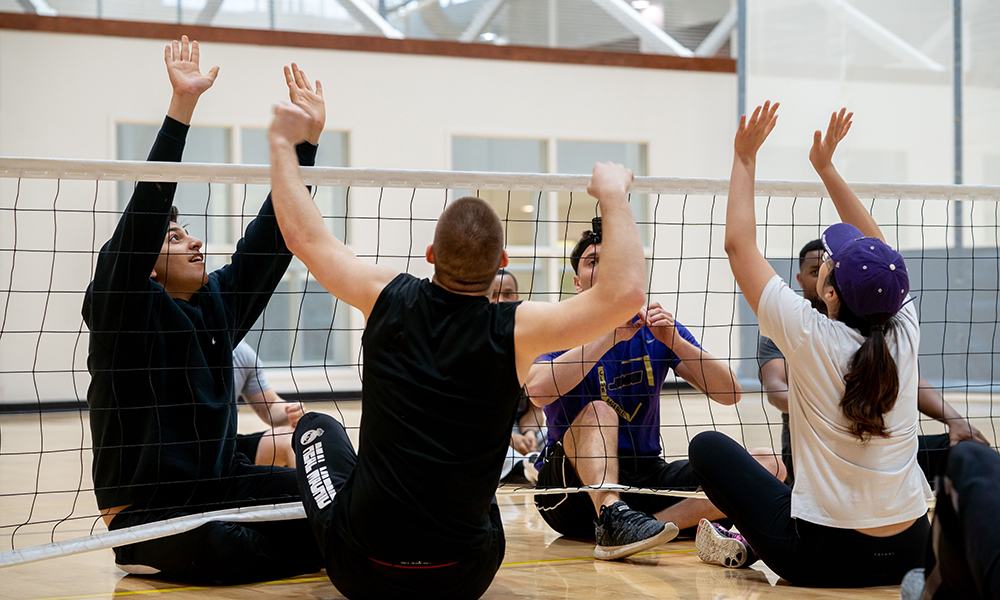 Part of UREC's inclusive recreation initiative, the PSL is in its fourth year and growing. This year, two separate skill labs were offered simultaneously – the first introduced sitting volleyball and goalball, while the second taught wheelchair basketball. During the sitting volleyball and goalball lab, students rotated through two 30 minute stations where they learned sitting volleyball skills and discussed the Paralympic movement and the sport of goalball, while also practicing a variety of goalball skills. During the wheelchair basketball lab, students rotated through three 20 minute stations where they learned how to operate sport wheelchairs while handling a ball and playing on a team. The third station was a space for discussion and reflection about equity, access and inclusion related to the award-winning documentary The Rebound: A Wheelchair Basketball Story. Directed and produced by JMU alumni Shaina Allen ('10) and Mike Esposito ('10), the film follows athletes from the Miami Heat Wheels wheelchair basketball team through daily life with a disability as they reach for new heights both on and off the court. The Rebound challenged students to rethink how they define ability and why lessons from their PSL experience matter beyond UREC.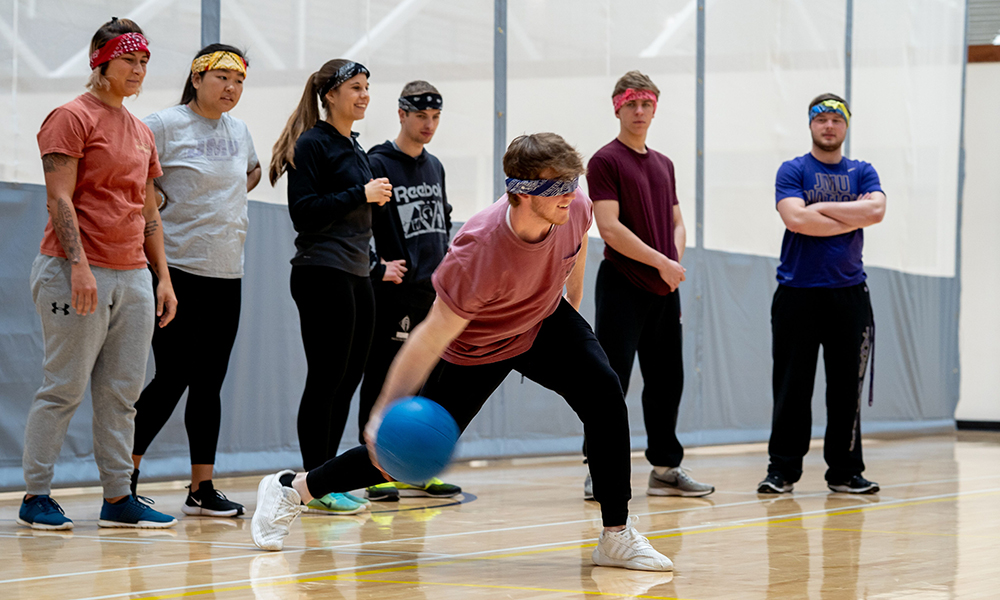 Kinesiology professor and PSL director Cathy McKay reflects on the power of this experience, emphasizing how play and discussion allow students to fully immerse themselves in adapted sports while building empathy and cultural understanding. She expressed, "The PSL offers a wide cross-section of new experiences and diverse perspectives that [students] wouldn't have exposure to otherwise," she said, "Students will graduate and have jobs in diverse workplaces so this event helps them become more engaged and aware community members."
McKay is passionate about Paralympic and disability sport as well as topics like attitude change and inclusion. She has conducted extensive research in the field surrounding psychologist Gordon Allport's contact theory which suggests that social contact with others – who are different from oneself – leads to improved attitudes and relationships between groups.
Putting her research into action, McKay wanted to understand how contact theory applies at JMU. She collected both qualitative and quantitative data during the PSL on the attitudes and perspectives students without disabilities have toward individuals with disabilities, as well as on the lived experiences of students taking part in the lab. While her research from this year is still underway, McKay's findings from previous PSLs show that students experience a profound shift in cognitive attitudes toward people with disabilities after participating.
She articulated, "Research shows that PSLs make a difference. In the data, we're seeing that people have more positive attitudes and perceptions about people with disabilities after this event." She expressed, "For me, that's where the magic is. We offer the space for awareness and collaborative contact, and students gain a new understanding. To me, that's what Being the Change is all about."
Senior participant Joseph Capuano felt inspired by the event, detailing how meaningful the experience was. He said, "It showed me that regardless of physical or other differences people have, there are so many more similarities between us." He expressed, "Inclusion is necessary in every aspect of society, and sport is a beautiful way to start."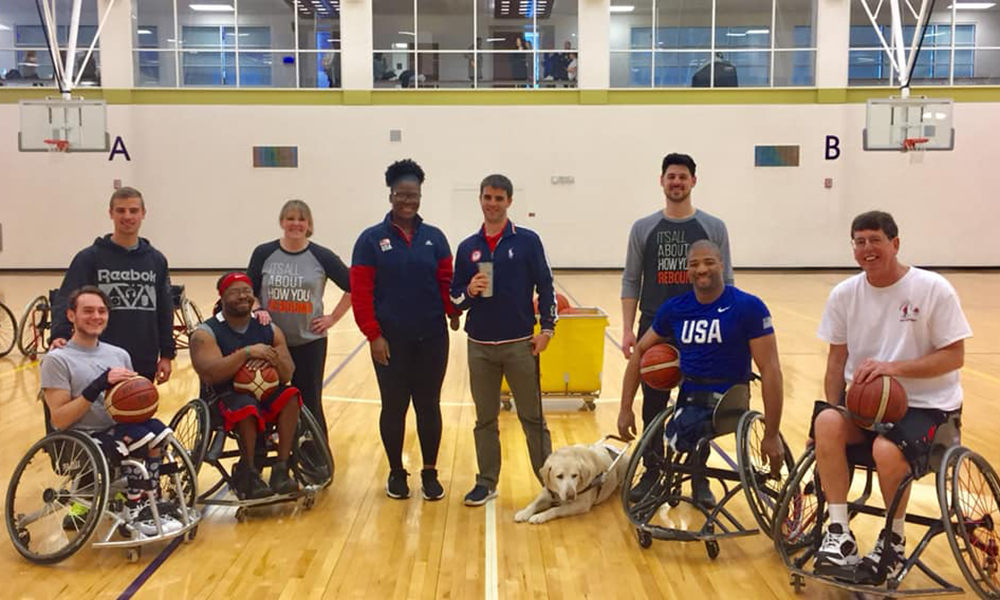 In addition, participants learned about opportunities to engage in adapted sports beyond the PSL. From attending UREC's wheelchair basketball information session to checking out sport wheelchairs for an impromptu game with friends, McKay hopes students feel empowered to participate in inclusive recreation.
"It was fun to learn something completely new and be taught by some of the best players," said senior participant JT Sorrells. "Everyone should be able to play a sport if they want. I think it's great that wheelchair basketball is gaining exposure so more people can start playing," he said.
Capuano noted, "I had never been in a sport wheelchair before but the athletes were there guiding me," he continued, "I got pretty good at passing and controlling the ball while I moved, but I didn't make a single shot!"  Although the adapted sports will take some practice, the PSL is supported by research and McKay's findings are loud and clear: everybody wins when all have the opportunity to play.