News
Student symposium provides engaged learning experience
---
By: Sara Banton
Creative Services Student Writer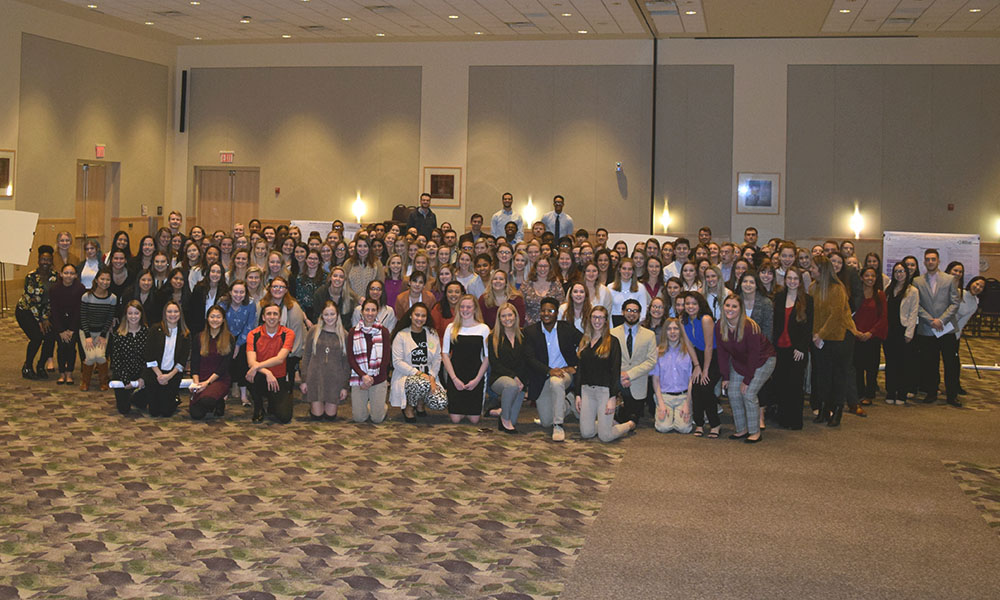 37 teams of students presented their semester-long research projects at the Health Sciences Undergraduate Research Symposium on December 5. The projects were presented before classmates, research professors and judges, with hopes of receiving the Top Project Award.
The semester-long assignment provided students with the skills to conduct evidence-based research. Before conducting their specific projects, students learned the basics of qualitative and quantitative research, ethics of health studies research and techniques of sampling and analysis. Students were also required to follow the Institutional Review Board (IRB) process for research that involves human subjects. Faculty advisers were also assigned to each group to guide the research.
Judges chose "Dating App Usage and Sexual Behavior among College Students" as the Top Project Award winner. For this project, the team conducted surveys around campus with a variety of questions involving motives for using a dating app. The survey asked whether students use dating apps for entertainment, to seek a relationship or for sexual experience. Other questions included the frequency of students engaging in risky sexual behavior and their perception of dating app usage.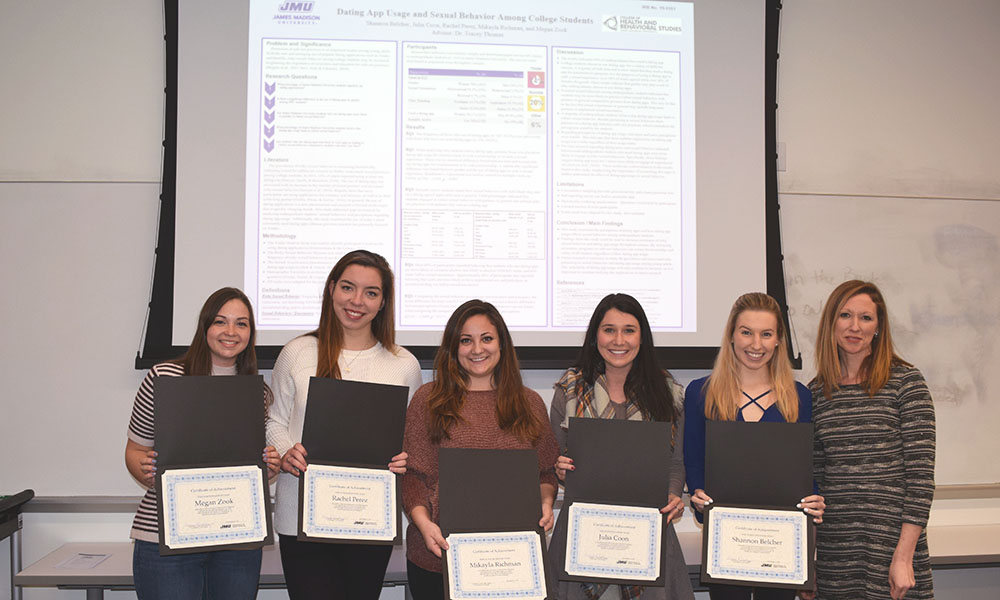 Shannon Belcher, Julia Coon ('18), Rachel Perez, Mikayla Richman and Megan Zook ('18), the students behind the winning project, were initially interested in this topic because of the rise in popularity of dating apps. The team found only a small amount of previous research on dating apps, which encouraged them to address the gaps with their own research.
"Everyone in my group was interested in physical health and then we narrowed that category down to sexual health and sexuality," Belcher said. "From there, someone brought up dating app usage and how popular it is becoming at colleges. The group, as well as our professor, was intrigued and excited to see the interesting research we could gather from this topic."
Tracey Thomas advised the dating app usage team and Coon is thankful for her guidance during the whole research process. "She educated us through lectures in class and worked with us outside of class to put all the final pieces together. She gave our group the support and confidence to work through every step, including the challenges that arose." 
After presenting at the symposium and receiving the Top Project Award, the team was invited to present at the Virginia Public Health Association Annual Conference at George Mason University in March 2019.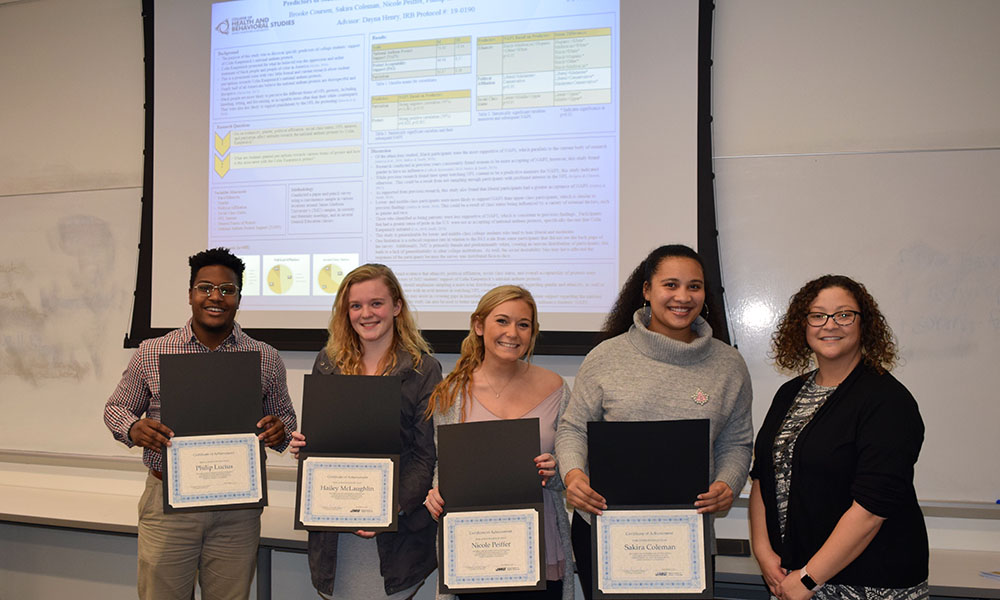 At the symposium, students Sakira Coleman, Brooke Coursen, Philip Lucius, Hailey McLaughlin and Nicole Peiffer ('18) won Best Poster and second place for the Top Project Award for their presentation, "Predictors of Student Support for National Anthem Protests." Dayna Henry advised the team through the process.
The team conducted a research survey on how supportive JMU students are of NFL player Colin Kaepernick's national anthem protests and looked at associating factors such as the student's race, gender, political affiliation, interest in NFL, patriotism, social class and support for general forms of protest.
"The amount of work that we put towards this finally paid off and was the most rewarding thing ever. This project was by far what I will remember most about my JMU academic experience," Peiffer said.
"I think it's a great opportunity and health sciences majors should see this as an amazing opportunity to grow," Zook said. "It's not common for undergrads to conduct their own research, but it has provided me with useful tips for grad school and my career. At times it may seem overwhelming to complete the study in a semester, but it is possible and it is worth the time."