News
Emotional intelligence and occupational therapy
Wenos and Kirchen present at leadership in higher education conference
---
By: Shannon Shevlin
Creative Services Student Writer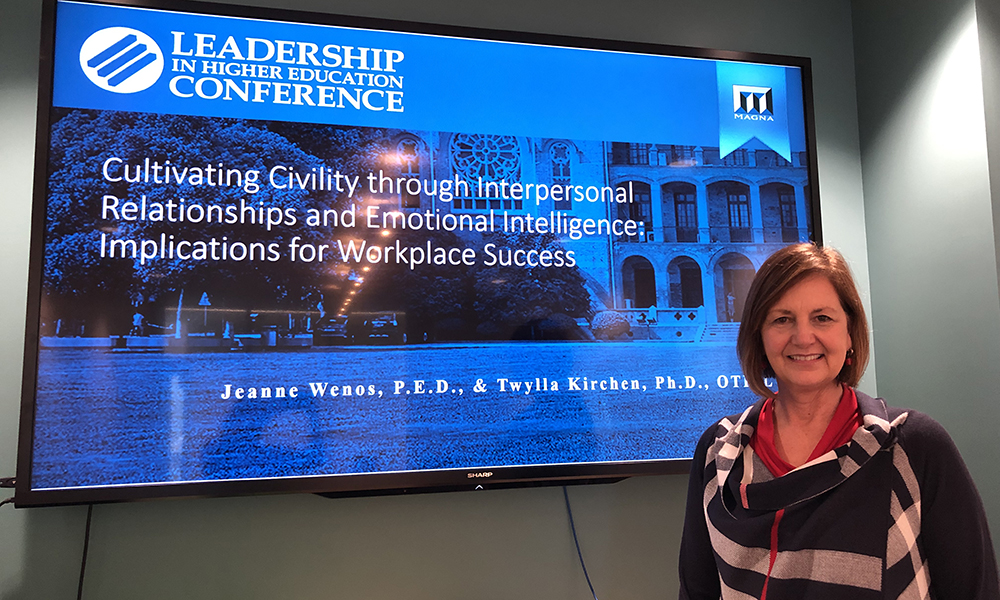 Professional competencies come in all shapes and sizes, yet fundamental skills like kindness and empathy are often overlooked in the workplace. In the occupational therapy (OT) field, professionals demonstrate how these ideals improve their work, relationships and communication with others. In October 2018, associate professor Jeanne Wenos and former program director Twylla Kirchen led an evidence-based presentation at the annual Leadership in Higher Education Conference, showing how emotional intelligence creates better and healthier workspaces for all.
Originally from Bloomington, Indiana, Jeanne Wenos moved to Harrisonburg in 1990 after working as an assistant professor at Western Washington University. As director of research for JMU's OT program, Wenos has extensively studied topics like bullying, relational aggression and emotional intelligence, often working collaboratively with OT students, and faculty from diverse programs. Her work with professors Andy Peachey and Stephanie Baller has contributed to the literature on bullying, aggression, and victimization. More recently, Wenos applied these constructs to explore issues of civility and interpersonal conflict in the workplace.
In order to dive deeper into the topic of workplace civility, Wenos recruited Kirchen because of their shared interest in dignity and the development of professional behaviors that evolved from her vast knowledge and experience. A military veteran and seasoned occupational therapist, professor Twylla Kirchen came to JMU in 2014, serving as OT program director for three years. In 2018, she returned to her home state of Montana to teach and practice OT in an underserved area. Kirchen is passionate about the lived experience of combat-survivor veterans and their access to quality health care. In addition to her work with military personnel, Kirchen recognizes the importance of workplace climate as it relates to university settings and OT-client relations.
Kirchen said, "Work climate is so incredibly important – regardless of what you do," she added, "people don't realize how a healthy workspace and feeling valued by your leadership can make a significant difference in outcomes and performance."
While Wenos conducted one additional presentation individually, Kirchen and Wenos worked together on workplace civility and presented their research findings at the Leadership in Higher Education Conference in Minneapolis, Minnesota from October 18-20, 2018. Kirchen and Wenos delivered their research findings together to approximately 60 conference attendees, discussing how successful workplaces rely on strong interpersonal relationships and emotional intelligence to retain talent, improve performance and enhance organizational culture.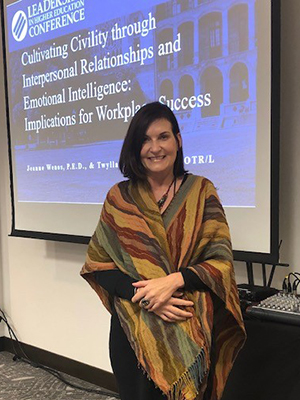 Kirchen and Wenos emphasized how this message applies to all relationships in the workplace – from new patients to organization executives, and in academia from students to administrators. Maintaining a professional disposition while handling diverse circumstances can be difficult as organizational hierarchy, client vulnerability and emotional difficulties matter for OTs.
Wenos said, "We use our thoughts and emotions to help navigate relationships in the workplace, even if we are simply reacting to others and not thinking critically," she added, "But we should all try to be more thoughtful and intentional. Let our thoughts steer our emotions – and our emotions inform our thoughts."
Kirchen agreed, "We can all be more intentional with our words and behavior," she added, "Take one extra moment to make someone feel valued – include them, validate their feelings, be kind. These things make a difference in workplace and in life."
For JMU OTs, Kirchen and Wenos are not only impressed by the important work students do, but also by the group dynamic and camaraderie among students. Wenos said, "Our program is smaller in size, so these students are connected in a unique way," she added, "The research is all about how we can support and trust one another, model good habits and facilitate positive interaction for our students."
Kirchen agreed, "JMU is a special place and students are naturally trusting and supportive," she added, "I hope students remember to keep that energy and spirit wherever they end up and they'll always be connected to our OT program family."