News
Kinesiology student finds passion in summer internship
---
By: Brittany Bell
Creative Services Student Writer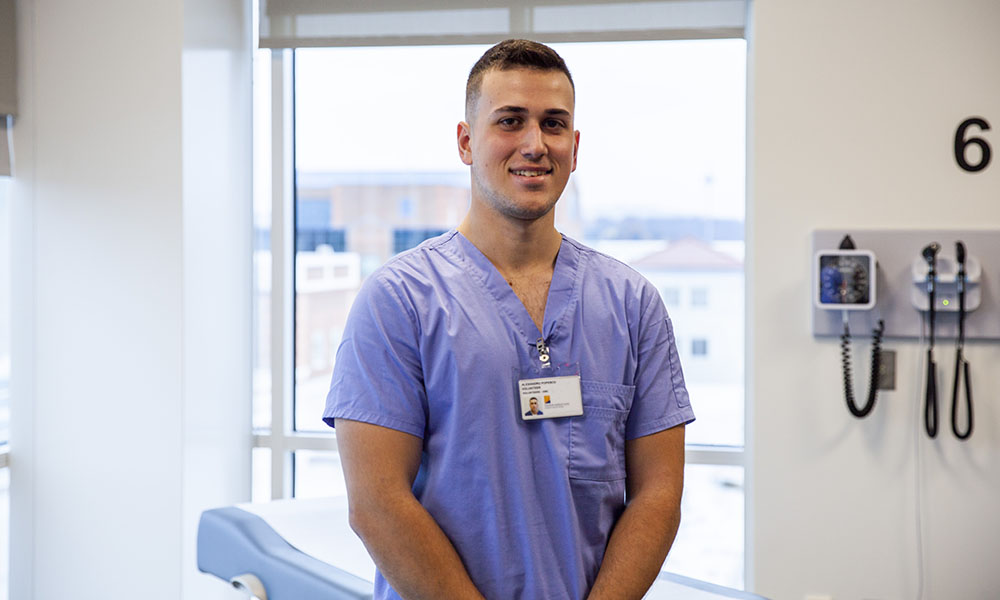 Senior kinesiology major Alex Popescu is planning a future in physical therapy. When looking for an internship for his undergraduate studies, he used the opportunity to gain required physical therapy observation needed to apply to graduate programs. He interned at Overlook Medical Center—a hospital located in Summit, New Jersey. The experience ignited a passion for working with residential patients as opposed to the more common setting of an outpatient clinic.
During his internship, Popescu shadowed a physical therapist on her daily rounds.  "I wasn't allowed to do anything practice-wise because I'm not licensed, but I basically followed a therapist and acted as second pair of hands, Popescu said. "I would gather oxygen tanks when needed, or linens for chairs and orthopedic hip chairs, and sometimes walk with the patient's IV pole while he/she is walking with the therapist."
For most of his internship, he assisted the physical therapist while they worked with cardiac and oncology patients, but was also able to observe patients in everything from neurology and orthopedics to intensive care. Popescu admits that while the orthopedic cases were interesting, the cardiac and neurology patients were his favorite.
"The thing I liked most about my experience is that I saw a lot of things I haven't seen before in terms of physical therapy; it expanded my vision and what I thought the whole field is about," said Popescu.
According to Popescu, he had come to enjoy in-patient physical therapy because of the busy atmosphere of the hospital. "I loved in-patient hours; it's my preferred type of learning environment because it's a collaborative effort in terms of the medical team and care," Popescu said.
Another reason he prefers in-patient care is the flexibility of the treatment schedule. If the patient is busy with other forms of treatment, there is no rush for the physical therapist to see them immediately; they can come later when the patient is available and spend as much time as needed with them. In Popescu's perspective, out-patient clinics are limited because they only see the patient for a short period of time before they have to move on to the next appointment.
According to Popescu, the JMU kinesiology curriculum prepared him well for his internship. One course in particular that helped him was an elective in medical terminology. The course helped Popescu better understand the discussions between doctors and nurses, as well as being able to interpret the doctor's notes with the therapist when examining a patient. 
Popescu's internship experience has opened his eyes to all of the possibilities in physical therapy and helped him realize where he wants to go in his career. He recommends that students searching for internship look early and find a setting that will stimulate their mind.
"Pick something that's going to interest you," Popescu said. "I'm a firm believer that if you enjoy something then you actually learn more than if you're doing something just for the sake of doing it."