News
Internships in Australia result in life-changing experiences
---
By: Sara Banton
Creative Services Student Writer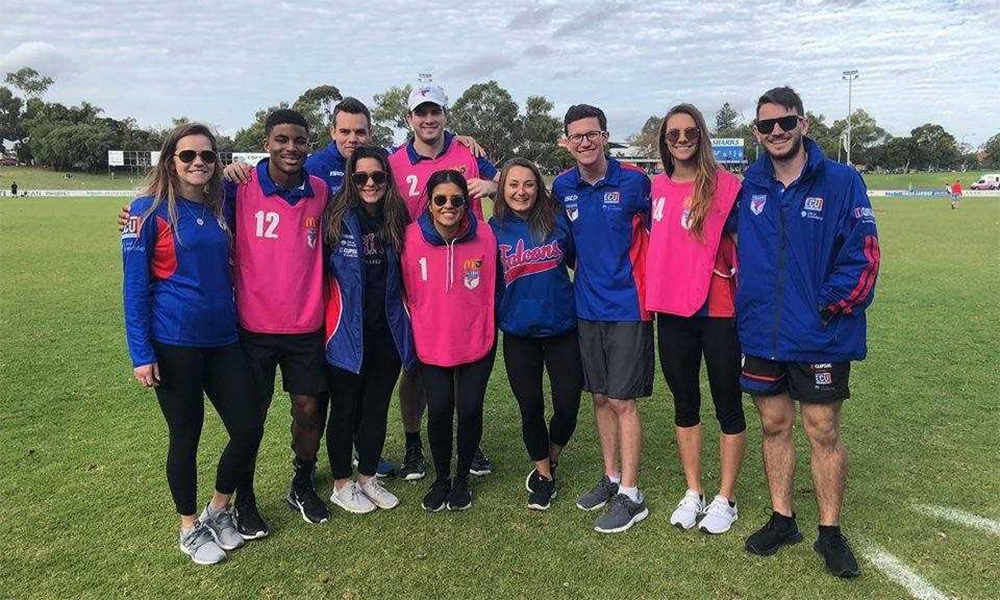 A combination of cosmopolitan life surrounded by natural beauty, Perth, Australia is an ideal place to visit and a dream place to intern. The JMU Internship in Australia is designed to provide students in kinesiology, sports and recreation management and hospitality management a global internship experience. Over the summer, the first cohort of the program embarked on their journey.
The Education Abroad Network (TEAN) partnered with JMU to customize internship placements for students. Upon arrival, students went through a quick orientation to get accustomed to Australian culture before beginning their full-time, eight-week internships, facilitated by TEAN.
Garrett Robinson, a kinesiology major, worked as a sports trainer with West Perth Football Club, a semi-professional, Australian-rules football team. He shadowed the physical therapist, which in Australia are called 'physiotherapists,' for the team. Like all of the interns, Robinson obtained his certification to become a Level 1 Sports Trainer when he arrived and was able to help assess and rehabilitate players' injuries.
"Going into it, I thought that Australia's culture was very similar to ours, but I later realized that there were many differences," Robinson said. "More specifically in the profession of physical therapy, I was able to learn new ways to get to the same results."
Learning and conforming to the Australian culture was Robinson's favorite part of the internship and he believes that it enhanced his college experience. In addition to his internship, he also had time to travel and explore. Through the experiences outside of his internship, Robinson found himself developing more confidence and independence.
"It was an amazing experience. You'll have a great time, you learn a lot and you take-away something new that not a lot of people get to have," Robinson said. "It's a very fortunate opportunity to be able to experience, so go for it if you can."
Brooke Price ('18), also a kinesiology student, had a slightly different experience in Australia. She completed her internship with West Perth Football Club, where she worked for three days a week, taping joints before practices and games and performing massages as needed. On the days that she didn't go to the football club, she worked as a sports trainer for other events around Perth through Sports Medicine Australia (SMA), such as netball tournaments, rugby matches and Aussie rules football games.
Price also converted her experience into a paying job. As her internship was nearing the end, she knew that SMA was short-staffed, so she reached out to see if they were hiring. The timing aligned perfectly for her, as they were beginning to hire at the end of her internship. She filled out all of the paperwork and essentially started getting paid to do the sporting events she was already doing as an unpaid intern. She now lives in Perth, Australia continuing to work with West Perth Football Club, and for SMA as well as working as a personal trainer at a local gym.
"Before I even left to go to Australia, I knew that I wanted to stay but it seemed a bit out of reach and honestly overwhelming to think about when I first left," Price said. "But the longer I stayed, the more friends I made, the closer I got to the players and trainers at West Perth and the more I wasn't ready to leave. I wanted to explore and experience everything that Australia had to offer."
Lauren Contos also interned abroad as part of this program, despite being a dietetics student. "I really wanted to go to Australia and when I saw there was a study abroad experience going there, I knew I had to go," she said. After sending the program director an email asking if she could go as a dietetics student, the program director began to work closely with the internship coordinator in Perth to find Contos a relevant internship.
Contos worked at a local gym, called the Athletic Institute (AI), creating nutrition presentations for young athletes and at the West Perth Football Club writing meal plans for the players.
"It was so cool to see an outside perspective on nutrition, despite the fact that both the Australian and American food systems are very similar," Contos said. "Now, I am looking into sports and performance nutrition as a career path because the drive and motivation that the athletes have to improve themselves is very inspiring and I would like to work with individuals like that."
"Studying abroad is an incredible experience. Interning abroad is even better," Price said. "Both experiences open so many doors professionally, personally and in relation to travel. Just from taking this trip I have scored not one, but two paid jobs, made lifelong friends and even found some future travel companions."
Published: Friday, November 9, 2018
Last Updated: Friday, November 9, 2018